At its simplest, a homework space is a quiet area in your home where your child can focus. It's an organized spot with the materials they'll need to complete schoolwork. Having one can help your children to be more successful in school and beyond.
Designing a Distraction-Free Homework Space
It's perhaps the most important aspect of creating a homework space: choosing a spot that's as free of distractions as possible, MommyBites.com suggests. This means having no electronics other than what children need for homework assignments — removing cell phones, for example, and devices they use to listen to music. (That said, a study by Stanford Medicine found that certain kinds of music can trigger the brain areas involved in memory and focus. This includes instrumental music or white noise.)
Although you don't need much furniture for the space, studies indicate that having a homework space that's similar to testing spaces kids will be in is helpful. So, choose a place where there can be a desk or table and chairs. Wall space is also helpful, according to the learning site TheLadderMethod.com. The site also suggests wall space for shelves, which would be nice, if possible, as well as a calendar where to list important dates to remember like quizzes and tests. 
Get the Kids Involved
As much as possible, loop your children in the planning of the homework space. This can include allowing them to choose their favorite colors — whether that's for the binders they'll use to store their homework or the containers where they'll keep their supplies. If the space feels personalized to their preferences, they'll be more likely to want to use it and keep it organized. 
Keep children's comfort front of mind throughout the process, too. Comfortable chairs and desks at an optimal height will help kids relax and focus on their homework assignments. To double-check the chair height, it should be where your child's knees are bent at 90 degrees. In general, the table or desk should be about eight inches above the seat. Adjustable chairs can help make the setup more comfortable for your children.
Lighting Matters in a Homework Space
Proper lighting matters in a homework space, so choose an area where natural lighting is abundant and/or there's space for proper lamp lighting.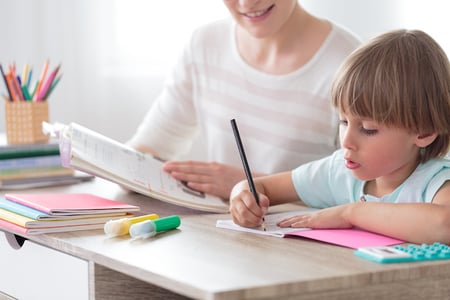 Space matters, too. You'll want the work area to be large enough for your child to spread out supplies without it being so large that items are out of reach. An organizational expert told Staples that supplies that aren't being used for daily homework should be kept off the desk's top.
As another tip, if more than one of your children will share this homework space, have each child choose a color and then buy organizers and supplies in that color for them.
Don't Forget School Supplies
You'll also need to gather or buy the necessary supplies. At the beginning of the school year, each child will likely bring home a list of which ones are required for school — and those can be used for the homework space, too. 
Depending on your children's ages, supplies can range from crayons, scissors, construction paper, and glue to pens, pencils, and highlighters. A homework station may also benefit from a pencil sharpener, ruler, folders, stapler, tape, calculator, and notebooks or notebook paper. Older children may also need access to a computer or laptop and an internet connection. Finally, periodically check school supplies to see if they need to be replenished. 
Horizon Education Centers Provide Homework Help
Horizon Education Centers is also here to help with homework. The staff at all of our highly-rated centers and after-school programs enrich your child's education each and every day.
If you'd like to learn more about our programs or after-school care, contact us at any time.