All My Children Summer Program
Are your children enrolled in our Summer Program?
Summer is just around the corner, and it's time to get excited! Learn more about summer at All My Children.
What's in store in our summer program:
July 3 – August 25In-house shows
Foam Pit
Arts & Crafts
Petting Zoo
Sports
Water Play
Sensory Activities
Music & Movement
Bubble Show
Summer-themed activities
On-site picnics and BBQs
Baking activities
Ages 2-5 years
8 AM – 4 PM with aftercare available
We provide a healthy and nutritious breakfast, lunch, and snacks.
Weekly rates available
Contact us today about our summer program!
(212) 419-5416; info@allmychildrendaycare.com.
Ask about our special program for children ages 6-12 with exciting off-site trips!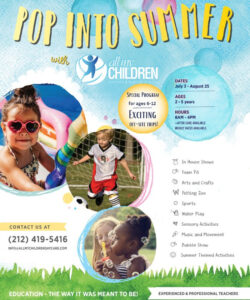 Summer camp is an excellent way for young children to learn and grow. It provides a safe and fun environment for them to explore and develop new skills. Children can make new friends, learn new activities, and gain self-confidence. They can also learn life skills such as problem-solving, teamwork, and communication. Summer camp encourages children to be creative and independent. It provides them with a sense of community and belonging.
With all the fun that summer has to offer, it's no wonder why kids can't wait for the season to begin!
Learn more about All My Children and see the latest happenings on our Facebook page. Remember to follow us!
---