Baby monitors are great because you can get anything from a basic cheap and cheerful one to a super-surveillance high-tech model that monitors your child's every hope and dream. They're all pretty nice because they give you the option of keeping tabs on your baby while you're in another room – which means you can shower or binge-watch Netflix without worrying about phantom baby cries.
If you're feeling overwhelmed trying to find the best baby monitor for your nursery, here's a good way to break it down. You basically have three types to choose from: audio-only, video, and sensor/movement monitors.
Here's how they differ:
Audio Monitors
👍 Why They're Great
Audio monitors are generally the most inexpensive.  Because they are cost-effective, it also means they are a good option for a second monitor if you travel a lot or spend lots of weekends at grandma's.
They're a nice, simple way of knowing when your baby is awake or needs you, without having to over-monitor.
🧐 Things to Consider
Sound quality is one of the most important things to look into when choosing an audio monitor. You want a monitor that's clear, easy to hear and has a good volume adjustment.
You'll get the best results by placing the monitor at least 3 feet and up to 10 feet away from your baby's crib.
Range is another key feature. Try to look into indoor range test results to get a good idea of how well it will work.
Sound or voice activation is also a great feature to consider because it means that any background noise is filtered out – so while your baby is quiet, the monitor is quiet. When your kid cries, the monitor turns on right away.
Top 3 Audio Baby Monitors:
✅ VTech DM111 This monitor's range covers up to 1,000 feet, lets you go about your day and stays connected with your baby from another room or even from the yard. It's inexpensive and gets top points for reliability, which are two of my favorite features in a baby item.
Best if: You want to hear what's going on at any given time at an affordable price.
Get it at: Amazon and Target,
✅ Philips AVENT Audio Baby Monitor This monitor is a very popular choice because it is hard to find another monitor with better sound or longer battery life. It has some great features like a night light, lullabies, two-way talk, a long range and a temperature sensor on the baby unit.
Best if: Battery life is key and/or you're on a large property where you'd need to be notified that you're out of range.
Get it at: Amazon
✅ Motorola PIP12 Travel This compact, rechargeable baby monitor is fantastic for camping, staying at a grandparents' house, going on a beach vacation, etc. The parent unit holds to the baby monitor with a strong magnet, packing it up into a compact cube for car or airplane travel. It's non-WiFi and has a 1500-Foot Long-Range.
Best if: You are out and about with the baby a lot and/or need something nice and compact.
Get it at: Amazon and Target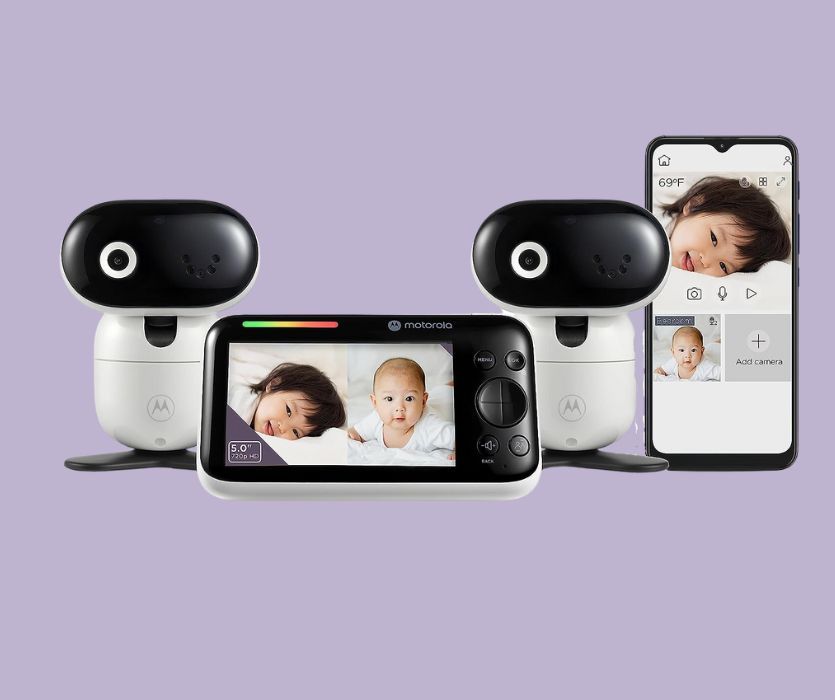 Video/Visual Monitors
👍 Why They're Great
Video monitors are one of the most popular options because they're still relatively affordable and the camera allows you to see what's going on without heading into your baby's room and waking them up with creaky floors and doors.
They're also great because they allow you to see why your baby is crying – which means you can decide whether or not it's worthy of a trip out of your warm bed or if they'll be able to self-soothe.
You can choose between two basic types: Dedicated Video (you have a 'parent unit' – like a mini TV to see your baby in their room) or Wi-Fi (your phone, tablet or computer is used as the parent unit using a smartphone app) which lets you check on baby from anywhere.
You have pretty much every extra option under the sun to choose from, including zoom, pan & tilting, two-way speaking, voice/sound activation, extra cameras, night vision and size of the screen.
🧐 Things to Consider
Image quality typically goes up with the price. Some people might want the most expensive camera with the best quality but others might only need enough to visually confirm the baby is okay and where they left them.
Carefully consider where you put your camera. You want it close enough to your baby so you can see them clearly – but not too close to pose any safety risks of getting tangled up in cords.
If you want to use your monitor for a long time, the ability to add extra cameras is something you'll want to think about. With extra cameras, you can monitor multiple rooms or different parts of a larger room – so you can watch your whole crew or just keep tabs on your kid conked out on the floor in the corner of their bedroom.
If you go with a WiFi baby monitor just remember if you have no WiFi you have no monitor. This option is great because you can check on baby from work or if you are traveling but you need to make sure you have an extra phone or tablet for whoever is home with baby so they can use the monitor as well.
Some parents have mentioned feeling uneasy about privacy concerns related to their smart baby monitor. While it's true that it's possible for some weirdo to tap into your monitor's radio frequency or WiFi connection, using precautions like using a strong password for your devices and WiFi and a secure internet connection are a good defense.
Top 3 Video Baby Monitors:
✅  VTech VM924 This is a solid monitor that checks a lot of boxes and is relatively inexpensive. The display screen is a nice size, there's noting to pair (no WIFI) so it's easy to set up and it has a Pan, Tilt and Zoom Camera.
Best if: You want an affordable video monitor but it doesn't have to be secret ops level of surveillance scrutiny.
Get it at: Amazon
✅  eufy Baby SpaceView Pro This monitor is easy to set up, gives you a crystal clear view and you can connect up to four cameras. Their customer service is also notoriously good.
Best if: You want a super clear view of what's going on at anytime day or night.
Get it at: Amazon and Target
✅  Motorola PIP1610-2 HD CONNECT Motorola tends to make good monitors and this one has a night vision HD camera, a high definition 720p display and high sensitivity microphone. The monitor can be wall or table-mounted, letting you move it when you need to. This version has two cameras and can connect to an app. (The PIP line also has a single camera and non-WIFI versions as well.)
Best if: You have more than one child (or twins) and want flexible monitoring options.
Get it at: Amazon, Target and Potterybarn Kids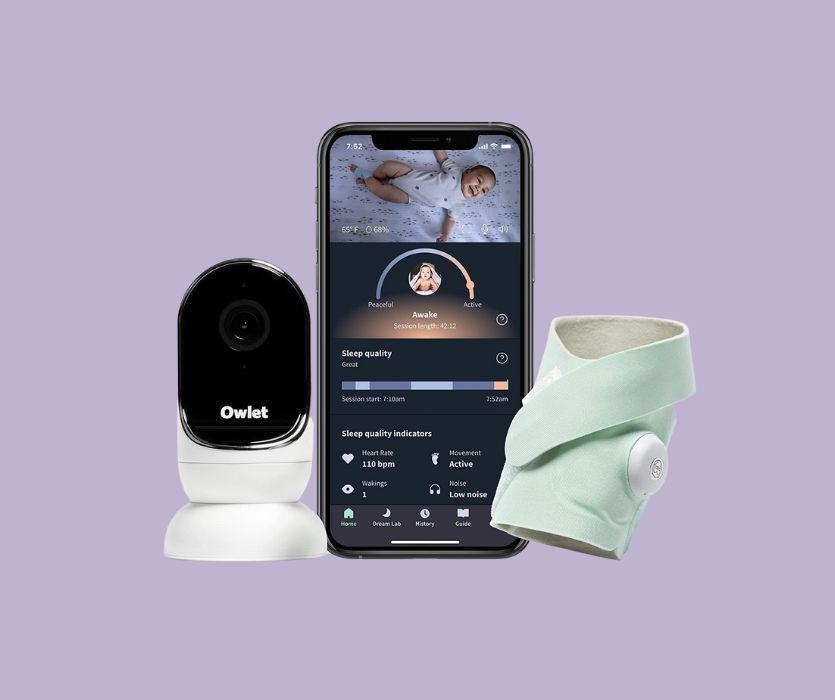 Breathing and Movement Monitors
👍 Why They're Great
These types of monitors keep track of your baby's movement, pulse and heart rate – and alert you to anything serious, like if your baby stops moving or breathing.
Although they're not technically proven to prevent SIDS (no one knows the cause, so don't buy anything that says it prevents it), they have the potential to warn you of a risky medical situation, which gives you that peace of mind we're all looking for.
🧐 Things to Consider
Know your personality with these suckers. Are they going to give you peace of mind or make you nutty?
These do not replace safe sleep practices. Don't put your baby in an unsafe situation thinking that a breathing monitor will save the day. They are a helpful tool – not a safety device. (You can find out more about safe sleep here.)
If you want a portable movement monitor, the Owlet may be the way to go. They stay with your baby so you can monitor them in a bassinet, portable crib, etc.
If your baby is always going to be sleeping in a crib, then smart video monitors may be a better option.
Halo might be a good choice if you don't care about video and you're going to be out with your baby a lot.
The Owlet, Halo and Nanit both have apps. The Owlet and Halo apps are free and the Nanit app is free for one year, and then you need to purchase a subscription to keep using their Insights.
Top 3 Breathing and Movement Monitors:
✅  Owlet Dream Duo 2 The Owlet is cool because it has a soft "Smart Sock" that goes on your baby's foot while they're sleeping to monitor sleep patterns. (You can find my review on it here.) It uses the same technology hospitals use (pulse oximetry) and sends you any alerts to your wireless device or you can view live readings via an app.
Best if: You find stats and alerts reassuring (not anxiety inducing) and/or your baby will be sleeping in places other than a crib (bassinet, playard, etc.) so the monitor stays with them vs. the crib.
Get it at: Owlet, Amazon, and Target
✅  Nanit Pro Complete This complete system includes the popular Nanit video baby monitor that tracks baby sleep as well as the "Breathing Wear" that tracks baby's breathing without any electronics touching baby. The Nanit tracks the pattern on their unique swaddles to detect your baby's breathing pattern and sends alerts to your phone or device when something changes.
Best if: Your baby is staying fairly put in their crib most of the time (they won't be sleeping on the go too often) and/or you don't want any actual tech touching your baby.
Get it at: Nanit, Amazon, Target, Potterybarn Kids
✅  Halo SleepSure Sleep Monitor Halo's monitor tracks four sleep measures in real-time: heart rate, rollover, skin temperature, and movement. It has an 'on the go' mode so you can monitor outside the home and track their measures on stroller walks, in the car, and when visiting family.
Best if: Your baby is going to snoozing outside the home and/or you don't need the video function.
Get it at: Halo
Baby monitor brands and types I didn't feature
Baby monitors are an area where people easily get overwhelmed. When people say, "Just tell me who makes the best baby monitors?" it's hard to answer because there are so many factors (VTech and Motorola are probably my go-to brands for traditional monitors) but I will often give this advice on what I avoid.
Infant Optics – Infant Optics is recommended all the time and many readers love theirs. I didn't feature them because they've had a history of sketchy review tactics where they have offered something free in exchange for good reviews, which has always felt shady to me.
Vava – They don't appear to have the best customer service, which is a pet peeve of mine when it comes to tech stuff.
Cheap unknown brands online – There are a zillion baby monitors on Amazon that have five star reviews that I have never heard of. Some of them may be excellent but there's also a chance they will burst into flames and burn down your house. Amazon, AliExpress, eBay, etc. are the wild west for shady companies, so I steer clear of them and stick to brands with a more reputable history.
Tech Hacks – Many parents who are tech-savvy use security cameras – like Nest and Arlo – as baby monitors. This is absolutely fine (and brilliant) but if you're not into that sort of thing it's one extra headache you have to figure out, and prepping for a baby is already a lot of work.
Baby Monitors in a Nutshell
With so many baby monitor manufacturers and design options out there, nobody could blame a new parent for going a little spinny trying to make the final call on what to buy. Ultimately, it really boils down to which monitor is going to give you the peace of mind you need at a price point you're comfortable with.
Some parents are cool with just being able to hear their babies when they cry, making an audio monitor the perfect solution, while others want to keep their eye on the prize, meaning a video monitor is the way to go.
For many parents, knowing exactly what's going on with their baby's breathing, heart rate and more is what's needed to give everyone a decent night's sleep (decent being the operative word here), making sensor or movement monitors a must.
Which monitor camp is your family in?
Is there a specific one that you love or think should be on the list? Lemme know!
Our next reco: Why Parents Should be Aware of Fake Reviews