If this term is new to you, busy bags contain age-appropriate activities that a toddler or preschooler can enjoy on the go. (That said, there's nothing wrong with creating one for an elementary school child!) 
You can take these busy bags when you're going on a road trip or when there might be a wait at the pediatrician's office. Remember the bag when you're going to visit an adult friend when your child might get bored—and any other time when you'd like to provide your young child with on-the-go items to enjoy. 
The Benefits of Imaginative Play
Your toddler or preschooler can use items in the busy bag to invent their own games. The benefits of imaginative play are numerous, including how it allows children the opportunity to plan. If an activity doesn't go exactly as expected, the child can pivot and do something else with the objects. Imaginative play can strengthen your child's memory and help to develop abstract thinking. 
Decorating the Busy Bag
You can simply take an ordinary paper bag to store items—or you can get creative and add the child's name, pompoms, old buttons, and their handprint that you traced and cut out from construction paper. Use your imagination! To help spur decorative ideas, Teaching Mama offers fun, inexpensive suggestions. 
Adding Items to the Busy Bag
Coloring Books: Plenty of children love to draw and color. Put in a box of crayons. Then, add blank paper or a coloring
book. 
Free Printables: There are free printables available online, and you can pick the ones that mesh with your child's interests: from dinosaurs to the planets, cars, dogs, and more. You can also include shapes that you've precut out of construction paper and a glue stick so your child can create a masterpiece or two.
Stuffed Animals: If your child has a favorite stuffed animal or other small toys, putting it into the busy bag can keep your youngster engaged. 
Blocks: A set of blocks can spark your child's imagination and a pack of flashcards will allow your youngster to practice matching colors, numbers, days of the week, or animals while having fun. Depending on your child's age, you can pack a favorite book or two.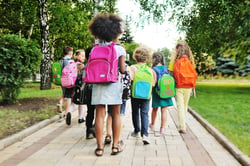 Plastic Eggs: You can include a few colorful plastic eggs normally on sale around Easter time, ones that you can open into two halves. Put the number "1" on each side of one egg, "2" on both halves of the next, and so forth. Take them apart and place them in the busy bag, and your child can put them together again. You can also hide objects in the eggs—ones that aren't a swallowing risk!—and this can take the game in a whole new direction. 
Toy Cars: Matchbox cars can entertain children, especially if you create a "road" on a piece of construction paper. It's a fun way to build motor skills.
A Busy Bag Does Not Have To Be Organized
Miscellaneous Items: Take sandwich bags and put different objects in each one. Then challenge your child to tell a story based on these objects. Put foam beads in a rainbow of colors into a sandwich bag and include a piece of string so that your preschooler can make a necklace. 
Given that the objects included aren't a swallowing risk or otherwise not age-appropriate, there's really no wrong way to create and pack a busy bag!
At Horizon Education Centers, our goal is to support and expand your child's interest in a variety of programs for toddlers ages 18-36 to after-school programs for children ages 6-12.
Our centers are conveniently located throughout Northeast Ohio. Contact the center nearest you for more information about our many programs focused on playing and learning, together.