So, you're looking for North Olmsted restaurants.  But this isn't date night. The kids are coming along. That's OK. There are plenty of great kid-friendly restaurants to choose from.
You already know about the big chain restaurants, but here are a few hidden gems you probably haven't considered. Many of them are not only kid-friendly but provide healthy options to eat. So, let's take a look at some North Olmsted restaurants that your kids will love.
Top Kid-Friendly North Olmsted Restaurants
Canary's Family Restaurant

The Big Egg 

Frankie's Italian Cuisine 

El Rodeo 

Danny Boys Pizza 
Canary's Family Restaurant
You don't have to sing like a canary to get into this family-fun place, but we don't think they'd mind. 
The thing that stands out the most about Canary's is the menu. It's big. So, if you have a family of picky eaters, this is the place for you. 
From burgers to apps and every kind of sandwich imaginable, this place has it all.
The Big Egg
This is one of the most historic restaurants in Northeast Ohio. The Big Egg has been around since 1952. The original location is in Lakewood, but a second one was added in 2019 in North Olmsted.
When the restaurant first opened it was called "The Egg Palace." A Cleveland police officer bought the business in 1970 and changed the name that still stands today. He wanted it to be a place for first responders (and hungry people who are out late) to get a bite to eat.
There's a whole section on the restaurant's website about the history of "The Big Egg," but Officer Bobby Dunn probably never guessed his dive would reach legendary status in the Cleveland area.
The history lesson alone is reason enough to take the kids for dinner here. The menu also doesn't disappoint. In addition to all of the options (including Mediterranean, Greek, and Stir Fry), the kids' menu offers favorites like grilled cheese and chicken fingers.
They also serve breakfast, as the name suggests. In fact, you can get it 24 hours a day.
Frankie's Italian Cuisine
Frankie's has been serving homemade Italian food in North Olmsted since 1967. If your little ones aren't feeling the fried ravioli or spaghetti, there is a kids' menu that they can pick from. It includes "Kids Wings" with potato chips.
El Rodeo Family Mexican Restaurant
If you're in the mood for Mexican food, El Rodeo is a great place to eat. It's described as a colorful cantina serving authentic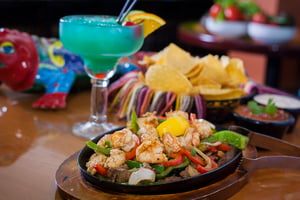 Mexican food.
What's great about going here for dinner is that if the kids are super hungry, the chips and salsa will be served right away, and will help to hold them over until their food is ready.
Speaking of the food, your kids will love the mini-burritos on the kids' menu. Or they can try one enchilada with two mozzarella sticks. And there are lots of vegetarian options, too. 
Danny Boys Pizza and Pasta
If it's "Pizza Friday" and you want to try something a little different, Danny Boys has locations in Rocky River, Sandusky, Canton, Broadview Heights and Tallmadge, and North Olmsted.
This family-owned restaurant features what they call a "crazy nostalgic atmosphere." And you may be overwhelmed by the number of choices you get on the menu. It's not just pizza you're picking from. There are pasta dishes, burgers, and even pizza rolls.
If You're A Fan Of The Familiar Chain Restaurants…
If you're in North Olmsted and the kids want one of their familiar favorites, you can find one. Here are a few of the family-friendly chain restaurants that you can also find.
Chuck E. Cheese Family Fun Center
Chuck's North Olmsted location has fun in store for kids and adults. And there is a variety of food choices—not just pizza. Throw in the arcade games, and live entertainment that everyone will enjoy.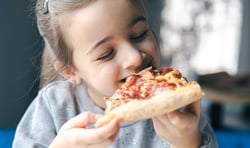 They also have even packages for any size group (and wallet). Some of the types of parties you can have there extend well beyond birthday celebrations. And their website lists exclusive offers.
Famous Dave's Bar-B-Cue 
The name alone should give you a hint that this is a fun place to bring the kids, but the big pig on the sign is the topper. 
Famous Dave's is known for barbecue. The apps are enough to satisfy any hungry child, but make sure you stay for dessert. There are so many options. But if you have a chicken lover in your household, you can't miss Famous Dave's.
Olive Garden
Post Malone loves it and your kids will, too. You just can't beat bottomless bowls of breadsticks and salad. And it's located just down the street from Great Northern Mall.
It's a great place to go for good Italian food and a great family atmosphere. 
Red Robin North Olmsted
Red Robin North Olmsted provides over 25 insanely tasty burger alternatives. And they're the ones serving Bottomless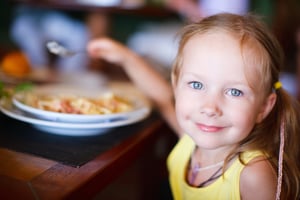 Steak Fries®. On the Red Robin website, they call their fries the ideal side dish for a mouthwatering burger.
However, if you're not in the mood for a burger, their menu also features a variety of flavorful entrées, sandwiches, soups, salads, and appetizers, so the kids are bound to find something they love. In addition, they serve excellent shakes, cool draft beer, and specialty drinks.  
Horizon Education Center North Olmsted
All of the restaurants mentioned in this blog are near Horizon Education Centers' North Olmsted location. 
Horizon Education Centers offers childcare for kids. We welcome infants through school-aged children. And our Summer Camp is one of the best in Northeast Ohio. The location provides the opportunity for you to pick the kids up from Horizon, and head out to a family dinner at one of these great restaurants.
If you'd like to learn more about Horizon Education Centers and the programs we offer, contact us today to schedule a tour.