Ohio City's history is unmatched. From the West Side Market, to Lutheran Hospital, and Saint Ignatius High, the area is known for its diversity, historic housing stock, entrepreneurial energy and devoted neighbors. It's also a great place to take the kids.
There is no shortage of little parks and playgrounds tucked into the neighborhoods that make up Ohio City. But the outdoor fun stretches even further into the surrounding area too.
So, here's a list of the top five places you can take the kids to play in Ohio City.
Ohio City's Best Activities for Kids
Frank Novak Park

Fairview Park

Michael Zone Recreation Center

Clark Field

West Side Market
1. Frank Novak Park
There are over 150 parks, playgrounds and green spaces managed by Cleveland's Department of Parks and Recreation. The Division of Recreation staffs 25 playgrounds each summer. A range of outdoor games and arts and crafts activities are offered by the instructors.
Frank Novak Park is located just outside the Carnegie West Branch Library. It's a winning combination: you enjoy some time outside in the park, and then head inside to pick out some books, or vice versa. 
2. Fairview Park
Fairview Park is on W. 38th Street in Cleveland and is home to one of Ohio City's nicest outdoor playgrounds. There is also plenty of room for the kids to run around and safely work up a sweat.
3. Michael Zone Recreation Center
On the west end of Ohio City is Michael Zone Recreation Center. It offers many activities for the kids, from splashing around in the indoor pool to practicing their skills on the basketball court.
Activities at Michael Zone are geared for children eight years old and up.
4. Clark Field
Just a short drive from Ohio City is Clark Field. It's as historical as it is a fun place to spend an afternoon with the kids. But you can't beat the backdrop. It's as Cleveland as it gets, with views of industrial factories in the distance.
The field underwent a major renovation and offers so much for all ages. There's a walking/bike trail that if you're feeling adventurous, you can ride the short distance into downtown Cleveland.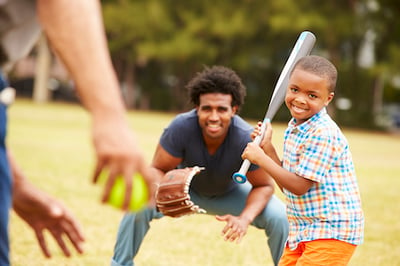 There's also a playground, baseball and soccer fields, and historical markers that will shine some light on the area and Clark Field's history.
5. West Side Market
It's not a playground or a park, but it will sure feel like one to the kids. There are so many things to see and try!
Ohio City's West Side Market is a well-known indoor food market. There are more than 70 merchants here, selling anything from baked goods and pastries to fresh meats and fruits.
You may go here for lunch or to simply shop, but if you want to understand more about the history of the market (and give the kids a lesson in Cleveland history), you can also take a West Side Market food tour.
And if you want to head to a park after you're finished, Market Square Park is located across the street. 
Horizon Education Centers in Ohio City
Horizon Education Centers is proud to call Ohio City home. Our Market Square location is just steps away from the West Side Market. It boasts a Four-Star Rating from the State of Ohio's "Step Up To Quality" Program and offers scholarships for preschool.
If you'd like to learn more about Market Square, or any of our other Cleveland-area locations, contact us at any time.