The Parent Tested Parent Approved seal has been the symbol of instant trust for millions of consumers for over 15 years. It's an award built on authentic testing by real families with real feedback.
They select target audience families from their parenting community to test and review products. Once testing is completed, they review overall scores and feedback to determine if they product is a seal of approval winner.
Here are the products that won the seal of approval in the Baby & Toddler category. You can find all the winners here.
I have always loved the Angelcare bathtub, so I was excited to see this upgrade. It's ergonomically designed to hold baby securely during bath time and can be used in a bathtub, shower, or directly on the floor.
The soft-touch material warms to the temperature of both water and baby and has anti-slip base legs to keep it securely in place. It can be used first, from 0 to 6 months in a lying position and then, in a sitting position, from 6 to 12 months.
It's made from durable, mold-resistant material, and the bathtub is easy to clean and store.
What testers had to say:
"I didn't expect to like this product, and I was pleasantly surprised at how much we did end up liking it. It doesn't use nearly as much water as our other baby bathtub, and supports our 6 month old in a nice sitting position." – Talia
"Baby didn't slide down and had lots or room to kick and splash! Very light weight and portable. It held enough water to keep most of baby covered. It did not slide around in the bath tub and was pretty sturdy, to where it didn't feel like it would tip over." – Kara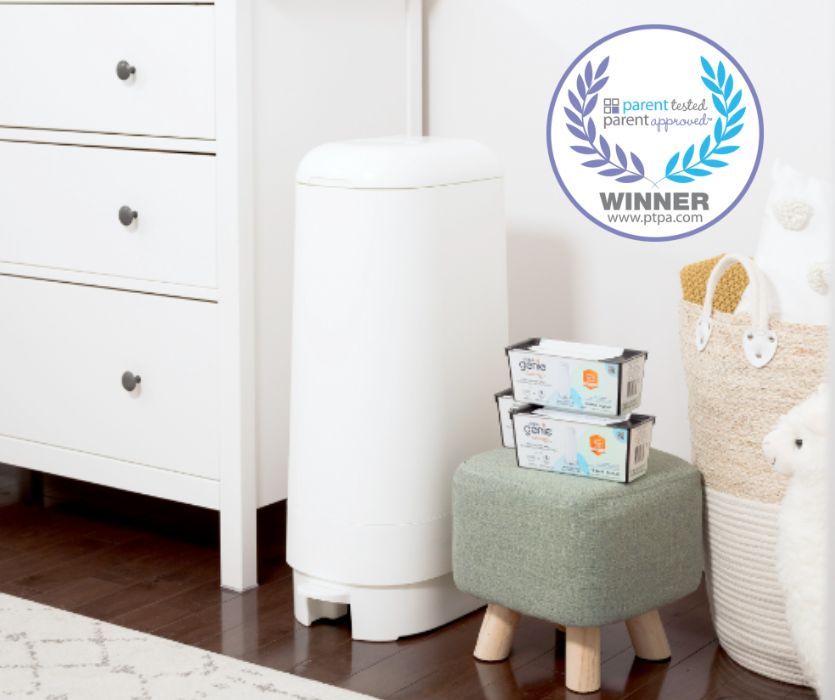 If you are on the lookout for a diaper pail that really seals in the stink, this one might be for you!
The new Diaper Genie Signature pail features odor-locking clamps that help prevent diaper odors from escaping. It has a foot pedal for hands-free operation and a wide disposal opening that requires no bending.
The diaper pail can hold up to 47 newborn diapers and includes a long-lasting refill that can last up to 5 months or hold up to 846 newborn diapers. (That's a lot of crap.) Their 18 easy tear-off refill bags are made from a durable multi-layer antimicrobial film with odor-locking barrier technology, and are perforated for convenient use and disposal.
What testers had to say:
"I cannot imagine managing hundreds of diapers that we run through for my daughter without this. Plus the best part is no matter how smelly it is, diaper genie doesn't let the smell out. I highly recommend this to everyone!" – Kirti
"We have a changing table in our bedroom, and the Diaper Genie Signature Pail contains the smell of our baby's poop, which has gotten significantly more potent after he started solid foods. It performs better than a standard trash bin at containing the smell. It's also easy to refill the bags even when we're sleep deprived." – Jenny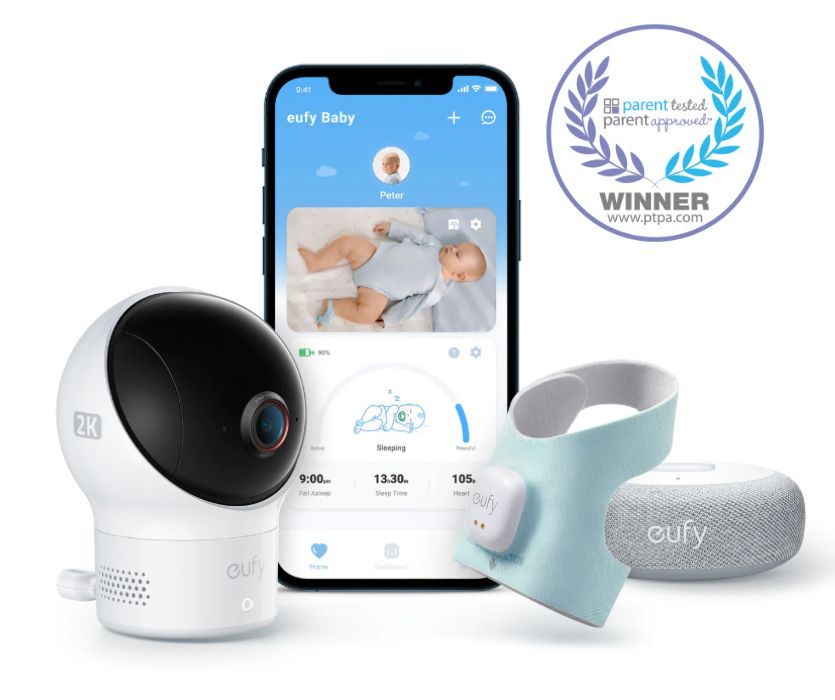 I would have loved this as a new parent. I was super twitchy about not being to hear the baby and obsessed with sleep schedules. This smart sock kit contains a smart sock and eufy Baby's latest baby monitor.
Wellness Tracker and Daily Reports Smart Sock keeps track of your baby's real-time sleep data, including heart rate, sleep status, and movements, and provides daily sleep reports. You get instant notifications when your baby is awake or fussy from both the base and your phone and the base will alert you with a sound and a red light.
The camera comes with non-invasive night vision, and the camera has 2K crystal-clear clarity to see everything happening in your baby's room.
What testers had to say:
"The app gave me some peace of mind and had some interesting metrics. I also liked how clear the camera was and that I could see well into her crib from the app. I'd recommend this to new parents who are wanting to keep track of their baby while they sleep. The price seems to match the quality." – Amanda
"I like that it tells me when my child is crying and doesn't alarm me every minute that he's still crying. It helps with trying to get him to self soothe. The camera quality is great and I love that you can move the camera in the app. The app is easy to use and I like seeing how he sleeps." – Christine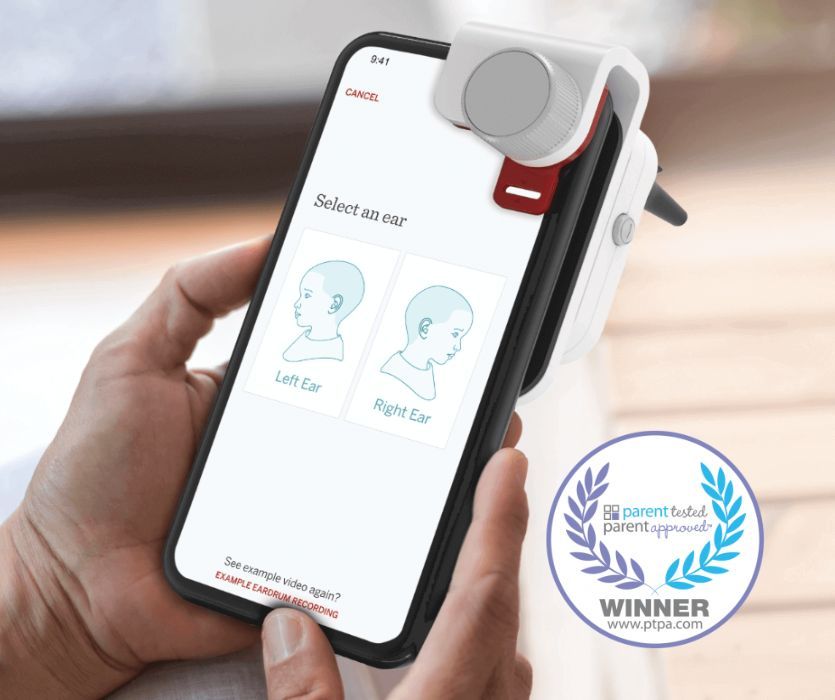 Any parent can tell you that 'ear infection roulette' is a game we play frequently. Is it teething or is it an ear infection? Is it a sleep regression or an ear infection?
This digital otoscope easily connects to your iPhone, allowing you to capture and share recordings of your child's eardrum with a healthcare professional to support a remote diagnosis. Parents can have peace of mind knowing they're prepared the next time their child experiences ear infection symptoms anytime, anywhere.
What testers had to say:
"This is a very handy tool to have on hand and use! Set up took a few mins so do that before it's actually needed. The video quality is great. Instructions are very specific and easy to follow." – Sarah
"SmartCheck has already saved me from taking a sick kid to the doctor's office in a blizzard. We live in upstate NY and my daughter was tugging at her ear and had a fever. I called our pediatrician and mentioned that I had SmartCheck and could send them a video of her ear. The receptionist checked with the doctor and it was quite easy to send the recording via email. He was diagnosed with an ear infection and was able to send her medication to the pharmacy. If I didn't have this device I would have to have dragged her out of the house to have her doctor look at her ear." – Gretchen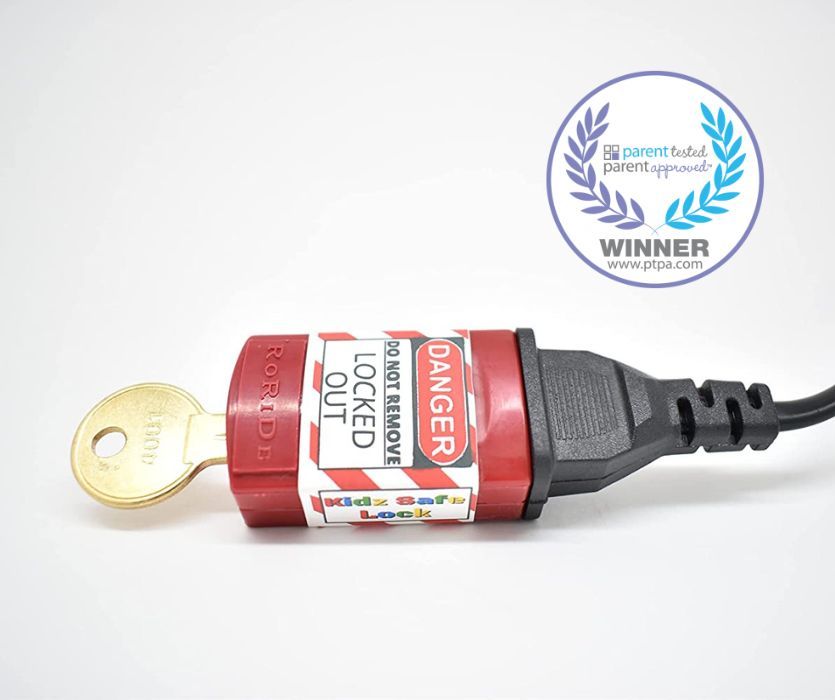 This lock secures most 2-prong or 3-prong power cord plugs, and you need a key to remove the lock once placed on the plug. It helps parents prevent electronic product injuries and regulate video games, TV, and computer usage.
I had no idea this kind of thing even existed. It makes total sense to lock the plug vs. hauling all the equipment off whenever you want to secure it.
What testers had to say:
"I like that I can control the use of electronics by locking it up rather than taking away all of the plugs. I also like the fact that someone could take this to work to lock up their electronics there so no one else can gain access to them." – Bethany
"My favorite way to use it was our Christmas tree. My kids know not to play with cords but when the Christmas tree came out they felt they could plug in the lights whenever they wanted. I really appreciate the simple way to keep them safe with minimal emotional outbursts from them!" – Heather
Want to check out all the previous winners or even become a tester?
Head to the Parent Tested Parent Approved site to see the products that made the cut in all the categories and/or sign up to become a tester.
Also check out: Cool and New Pregnancy & Baby Products in 2023