July 4th Celebrations at AMC
We celebrated the 4th of July at All My Children Daycare!
Check out the summer camp fun happening at All My Children Daycare at Ridge St. Our Igloo and Teepee classes made patriotic fireworks with their teacher, Tracy. We hope everyone had a happy 4th of July!
July 4th is the United States' Independence Day, celebrating the adoption of the Declaration of Independence on July 4, 1776.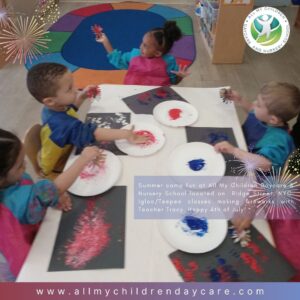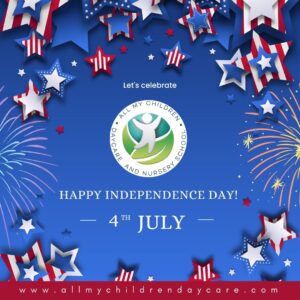 About Independence Day (7/4)
It is the day we celebrate our independence from Great Britain. On this day, we remember the brave men and women who fought for our freedom and the many sacrifices they made. We also celebrate our country and all the wonderful things it stands for. So, on this day, we gather with family and friends to enjoy fireworks, parades, and barbecues. We also fly the American flag and sing patriotic songs.
5 ways kids can show patriotism:
1. Fly the American Flag
2. Participate in a local parade or event
3. Write a letter to a service member
4. Visit a local veterans' memorial
5. Make a donation to a veterans' organization
Follow AMC on Facebook for more happenings and photos from our various locations. We're also on Instagram!
---