Special Education Spotlight
AMC provides in-school and at-home special education services for children with special needs.
Click to enlarge the image below for our special education services and for contact information.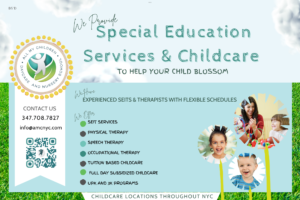 Spotlight on Christina Diglio
Here is what one parent had to say about Ms. Diglio:
I am writing this recommendation letter to nominate Christina Diglio for the Teaching of the Year award. I highly
recommend Ms. Diglio for this award. I first met Ms. Diglio in Oct. 2021 when she started to provide home instruction services to my daughter under the SEIT Preschool Program. 
During the course of more than one year, Ms. Diglio has performed her duties exceptionally well. She understands
my daughter's special needs and works very hard with her. As a result, my daughter has made good progress.
Ms. Diglio is also sensitive to my cultural and family needs. My wife, I, and the rest of my family are touched by Ms. Diglio's kindness and care. I have no hesitation to say that Ms. Diglio goes above and beyond to help my daughter and us. If it were not for Ms. Diglio, our daughter would not have been making the progress she is making currently.
Ms. Diglio gives hope to my daughter and to us.
I have found Ms. Diglio to be a very dedicated and diligent teacher.
Thank you, Special Education teacher Ms. Diglio and the rest of the AMC team!
See Ms. Diglio and her special education student below. Click the images to enlarge them.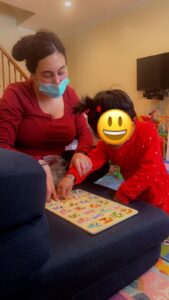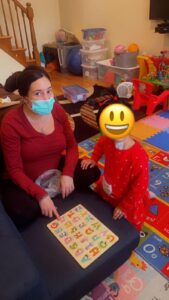 See more photos and stories from All My Children Daycare on our Facebook page, and remember to follow us.
---