How much time do your staff spend manually tracking attendance?
What about managing ratios for all your students?  
Staying on top of where everyone is in your center at all times isn't just a pain – it's nearly impossible. 😓
Plus relying on noisy walkie-talkies, texting staff who are too busy to reply, or watching everyone through your camera system just isn't sustainable… 
Let's talk about how you can make this process almost hands-free and ensure licensing compliance – with far less work…by using an online attendance tracker. 😌
Why digital attendance tracking is important for childcare providers
It's no secret that tracking attendance is important for your business. It's how you make sure families get charged correctly, ensure licensing standards are met, and much more.  
But without the right processes in place, it can be time-consuming and tedious. 
Let's see how digital attendance tracking has helped thousands of childcare owners and directors streamline their day – PLUS how you can use it in your childcare center or preschool. 
LineLeader's online attendance tracker
Benefits of digitally tracking student attendance:
Saving time:

Instead of spending hours manually entering data into your management system or keeping track of paper files, digital attendance lets you focus on other important tasks.

 

Saving money

: Digital attendance tracking systems are usually cheaper than traditional pen-and-paper methods because you and your staff don't have to spend (costly, clocked-in) hours reviewing attendance sheets and can reduce printing costs. This can save you hundreds or even thousands per year, depending on your center's license capacity and daily attendance rates!

 

Reducing errors:

Because digital systems have

built-in checks and balances

(like automatic time stamping), they're less likely than manual processes to produce errors in recording students' hours each day, week, and month.

 
Providing a better experience

: Admins and educators will appreciate being able to review digital attendance records (even while they're away from their desks) rather than searching through stacks of paper just to keep tabs on who's present and who's absent. Plus, parents can easily see who checked in their child and who's checking out their child (if it's not them). Communication between families can be tricky, but pick-up and drop-off don't have to be.
Check out an easy way to digitally track your attendance.
Features of a good online attendance tracker for childcare

  
You've got a lot of options when it comes to choosing an online attendance tracker for childcare. But how do you know which one is right for your needs? Here are some things to look out for: 
Is it easy to integrate with my existing software?

If so, that's great! It means I won't have to spend time learning how to use yet another program (and if there's any chance of messing up my data along the way).

 

Can I export data for analytics purposes?

This will help me understand how many students came in each day and compare them against previous months or years–and make sure that everyone is keeping track accurately!

 
Does this system integrate with mobile apps and tablets so that parents can check in from anywhere at any time?

That way no one will ever miss out on getting credit simply because they didn't have access while away from home during school hours!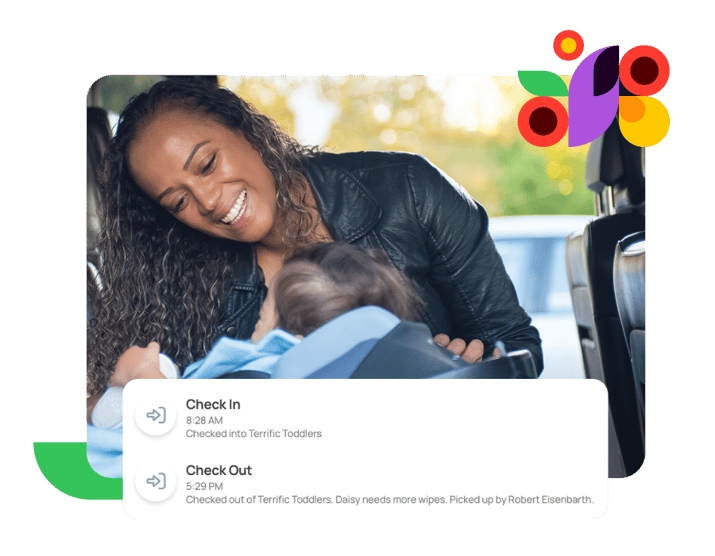 Contactless check-in and check-out
---
How can I get started? Where to find an online attendance tracker to check students in
You may be wondering, "How do I get started?" 
And what are your options for online attendance tracking? 
Option 1: Attendance apps. There are plenty of mid-range attendance tracking apps out there, some even specifically designed for schools and childcare centers. These apps can offer features like automatic notifications for absent students and easy data export options.
However, you may have to pay a subscription fee for some of the more advanced features and many are lacking important automation tools, and licensing features, and don't integrate with your CMS. 
Option 2: LineLeader Engage. This is our personal favorite for digitally tracking attendance because it's simple, easy to use, and affordable.
With LineLeader, you can track attendance in just a few clicks and access real-time attendance reports. Plus, you can use it for other administrative tasks like communication with parents, staff timekeeping, and curriculum management. 
In conclusion, if you want to save time while also keeping track of attendance for your students, go digital with an online attendance tracker.
And if you're looking for a great option, try out LineLeader – it's a game-changer for busy childcare directors and providers! 
Are you ready to make the switch? 
Schedule a demo to see LineLeader in action. 
Already a User or Simply Want to Learn More? 
Learn more about our time-saving products to manage your center, with less work.