As a childcare center owner, you probably love early education. ❤️
You get to spend your days surrounded by adorable little ones, watching them learn and grow.  
But let's be real, there's one thing that's not so fun: the business side of things. 
Sure, you love working with kids, but when it comes to financial statements, marketing strategies, drowning in manual admin tasks, and all that other business-y stuff, there's a lot to manage.  
You work hard. And we want to make sure you get the most you can when you sell your business.  
But fear not because we're here to help. Let's dive into how you can 10x the business value of your center before an acquisition. ✅
---
Improve your business value before an acquisition.
Now, I know what you're thinking. "10x?! How could I possibly make that happen in the next few months?" But trust us, it's easier than you might think. And we've helped thousands of centers do it, too. 
Here are a few tips to get you started: 
1) Spruce up your space.
It's hard to hear… But no one gets excited to buy a car that needs a whole new paint job and a tune-up. 
And it's the same for childcare centers. If your center needs a little TLC, make sure you give it some BEFORE you invite that big, fancy investor over… 
So, make sure your center is clean, organized, and visually appealing. A fresh coat of paint, a new rug, and some colorful decorations (or even just fresh flowers) can go a long way in making your center look more attractive to potential buyers. Elevating your center is one of the keys to increasing your business value. 
Childcare worker 
2) Focus on your staff.
Your staff is the backbone of your center, so it's important to make sure they're happy, well-trained, and supported. Consider offering training and development opportunities, incentives for good performance, and regular feedback sessions to keep your staff engaged and motivated. 
Learn more about easy tips to retain and engage your daycare staff. 👩‍💼
3) Create a strong brand.
A strong brand can make your center stand out from the competition and increase your business value in the eyes of potential buyers. Make sure your center has a clear mission and values, a memorable logo and branding materials, and a consistent online presence (website, social media, etc.). 
4) Expand your services.
If your center currently only offers childcare services from 9-5, consider expanding into new areas like: 
 after-school programs

 

potty training classes

 

enrichment programs

 

summer camps

 

virtual learning programs

 
This will not only increase your center's revenue potential but also make it more attractive to buyers who are looking for a diverse set of services. 
5) Get your finances in order.
Before you even think about selling your center, make sure your finances are in order. This means having accurate financial statements, solid accounting practices, and a good understanding of your center's cash flow and revenue potential. 
Childcare providers can take several steps to become more profitable, including utilizing a CRM (customer relationship management) tool and implementing various fees and policies to ensure timely payment. 
A CRM tool can help providers manage and track interactions with families, including enrollment, payments, and communications. This can help providers identify opportunities for upselling or cross-selling services and develop more targeted marketing campaigns to attract new families. By managing interactions with families more effectively, providers can improve customer satisfaction and retention, leading to increased revenue. 
 Charge waitlist fees, registration fees, and supply fees, and make SURE you collect late tuition fees.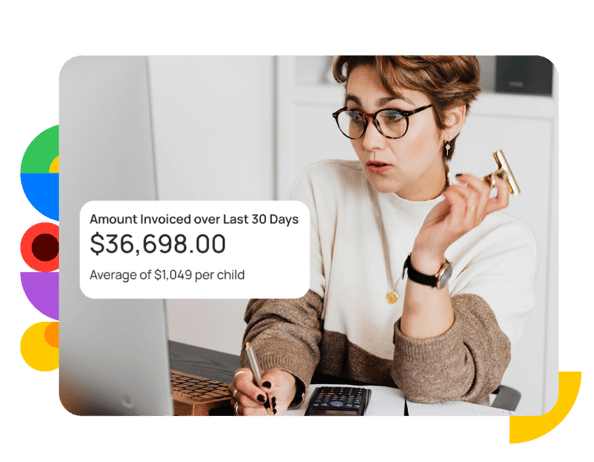 LineLeader: automated billing and invoicing
6) Demonstrate market leadership.
Speak to a specific audience. Choose your daycare target market (ex: Millennial parents, Gen Z parents, etc).
Investors are attracted to companies that are leaders in their markets. Develop a strong thought leadership presence through speaking engagements, your center's website, daycare ads, and community events. 
A CRM can be a powerful solution for childcare providers looking to beat out their competitors and recruit more families. By using the power of personalized communications, timely follow-up, lead tracking, and automated workflows, providers can differentiate themselves from competitors and build strong relationships with families. 
7) Build strategic partnerships. 
Strategic partnerships can help expand your reach, provide new opportunities, and increase your credibility. Look for partnerships that align with your goals and values. For example, find: 
Local pediatricians

 

Schools or other centers you want to build a friendly partnership with

 

Speech pathologists

 

Behavioral specialists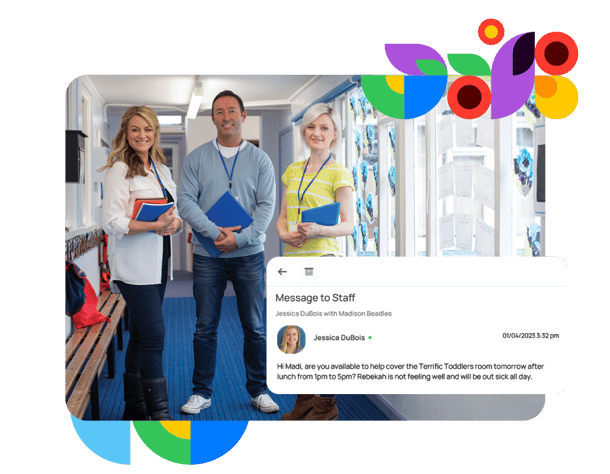 Childcare team
---
Bonus

tip:

Pave the way for technology to streamline operations

.
Now, I know these tips might sound like a lot of work, but trust me, they're worth it!  
Add even more value to your center and improve your acquisition rate with technology. For example, LineLeader by ChildcareCRM customers see a return in less than a year. 
Why not invest in an all-in-one system that pays for itself?
Built just for the childcare industry – LineLeader helps childcare professionals: 
By implementing these strategies and enhancing your center's operations with technology…you can significantly increase your center's value before acquisition.  
Get the best possible price for your hard work and dedication. So, go ahead and 10x your center's value! And don't forget to celebrate your success.  
Not a User Yet?
Check out the Daycare Business Plan to ensure your center is in tip-top shape before seeking help from a franchise. 
Already a User or Simply Want to Learn More?
Learn more about what LineLeader can do to help improve your center's business value.