It's that time of year again when I round up some of the exciting new products that are coming out (or have come out) in the pregnancy and baby space. After running this site for over a decade you'd think it would be hard to catch my eye, but these products made me stop and say, "oh, now that's interesting." I'll keep updating and adding to the list throughout the year, so check back in every so often!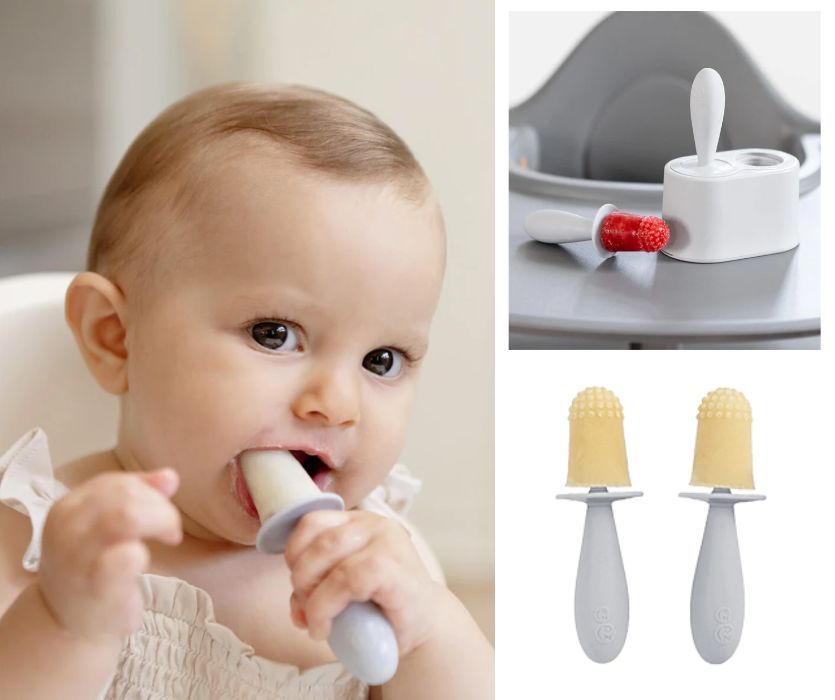 This is a popsicle mold specifically made for infants. Tiny Pops are portion-sized at ½ oz and have a short, fat, round handle for a baby's grasp and sensory bumps for oral awareness. Simply freeze breast milk, formula, or a smoothie so babies four months old and up can have a cold, teething treat. A set is $19 and you can find them on the ezpz site.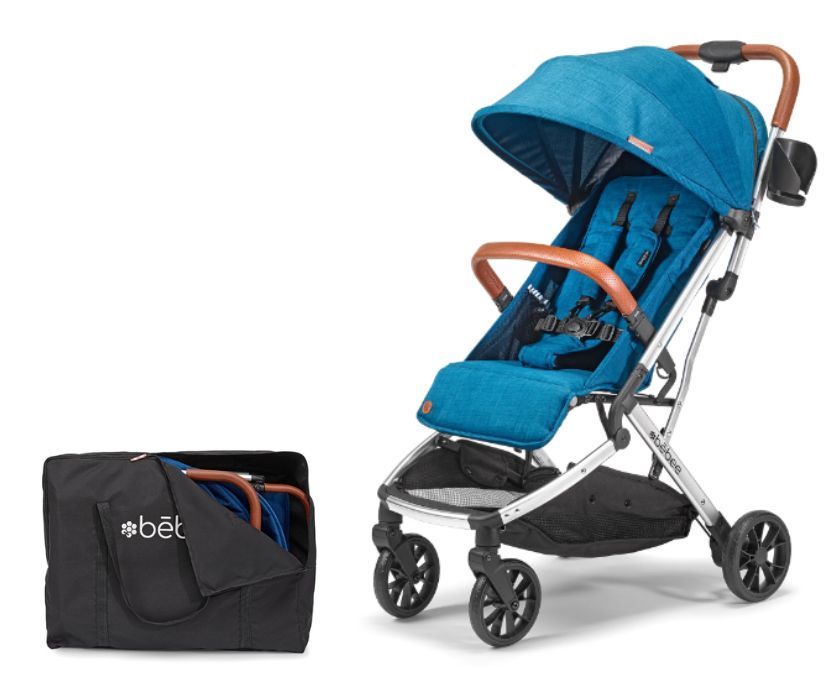 The fabric on this light stroller is made from 100% post consumer recycled plastic bottles and it has a lightning fast one-handed fold. It reminds me a little bit of the Inglesina Quid but at $199, the Bēbee is $100 cheaper than the compact Quid. This eco-conscious stroller company's mission is no single-use plastics, no excess waste & scrap, no packing peanuts & straight forward shipping – from them to you. I like where they are rollin'.  Check it out on the Bombi site.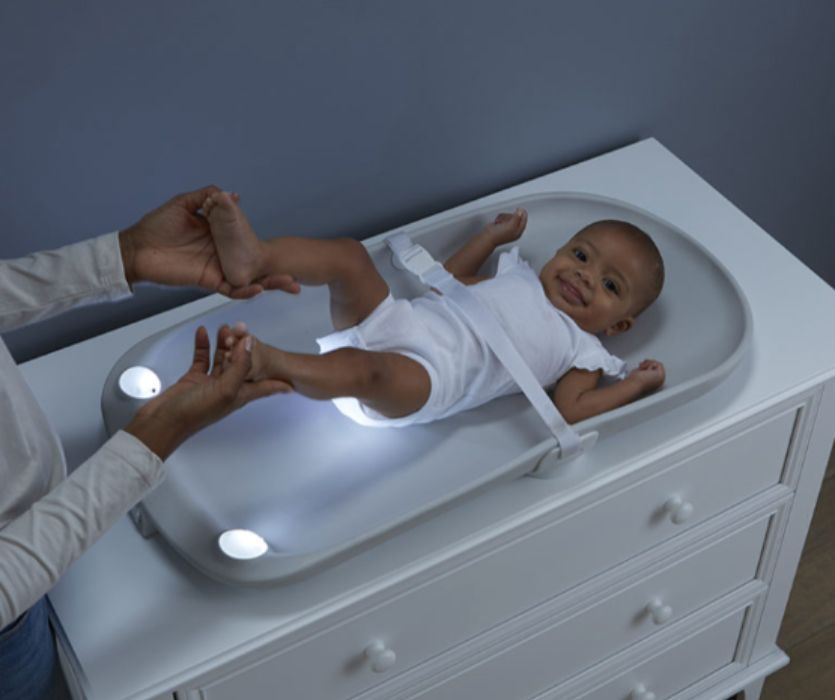 Motion-activated soft glow lights automatically illuminate the diaper area when baby is placed on the pad so you don't have to turn on the lights at night (or wear a miner's headlamp). I would be interested to know how sensitive it is. Would a small baby weigh enough to light it up? Would I accidentally create a strobe light performance if I set my phone down on it when I checked on a sleeping infant before I went to bed? I'll let you know when I see this one in person, but I thought it looked interesting. It sells for around $120 and you can find out more about it on the Contours site.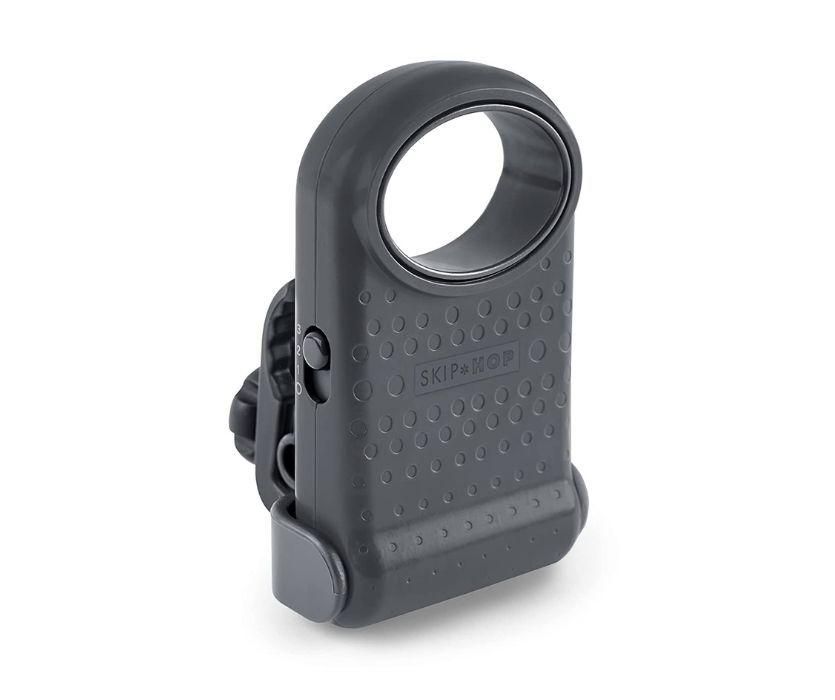 Many stroller fans have softer fan blades but that still doesn't stop the gummy death grip of a curious toddler. This stroller fan has no blades yet still provides a surprising breeze for up to six hours. It's rechargeable, has three speeds, and can connect to most strollers with a universal hub. It's around $20 and you can find it on the Skip Hop site and on Amazon.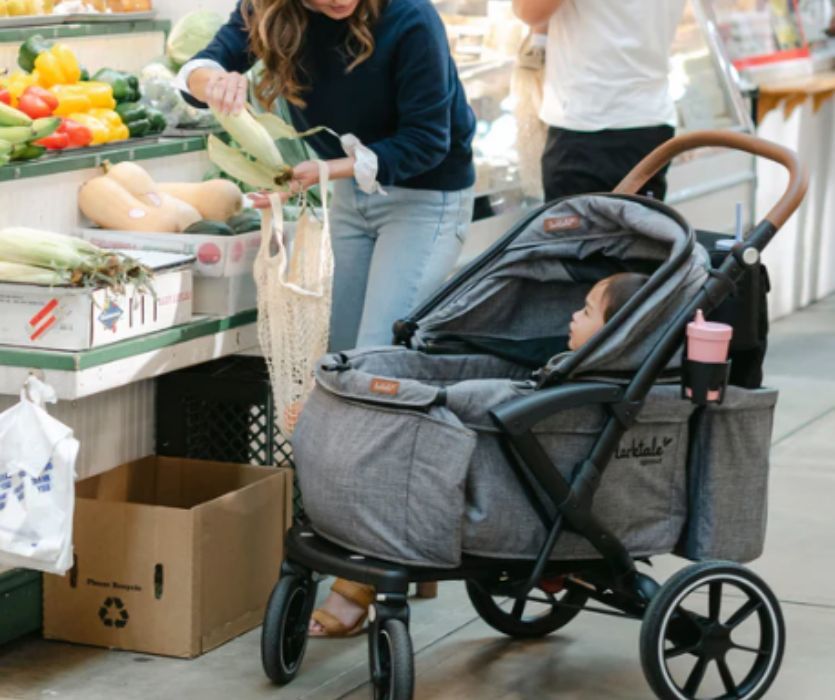 The sprout is a compact single-seater wagon that expands into a double-sized wagon in seconds – no tools or extra conversion kits needed. It has a nice, comfy ride, a great fold, and tons of room to stash extra stuff. I LOVE that it can accommodate an infant car seat, so you can haul and newborn and a squirrely toddler around in it too. It will retail for $699 and will be available March 1, 2023. You can head to the Larktale site to learn more or pre-order.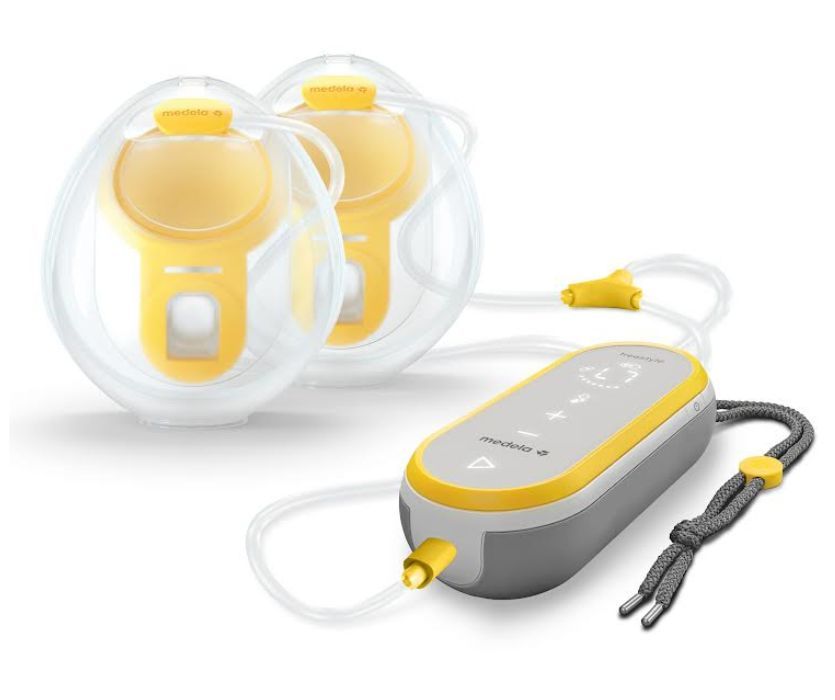 Hands free breast pumps have been on the market for a while now, but Medela is a heavy hitter in the pump world so I took notice when they launched this new hands-free breast pump. It has ultra-lightweight wearable cups with a separate pocket-sized pump. With Willow and Elvie the cups are the pumps whereas this has a separate mini pump, so this is more like a Freemie. It's on the market now and sells for $350. (Aeroflow carries the Freestyle if you want to get your insurance to cover some of the cost.)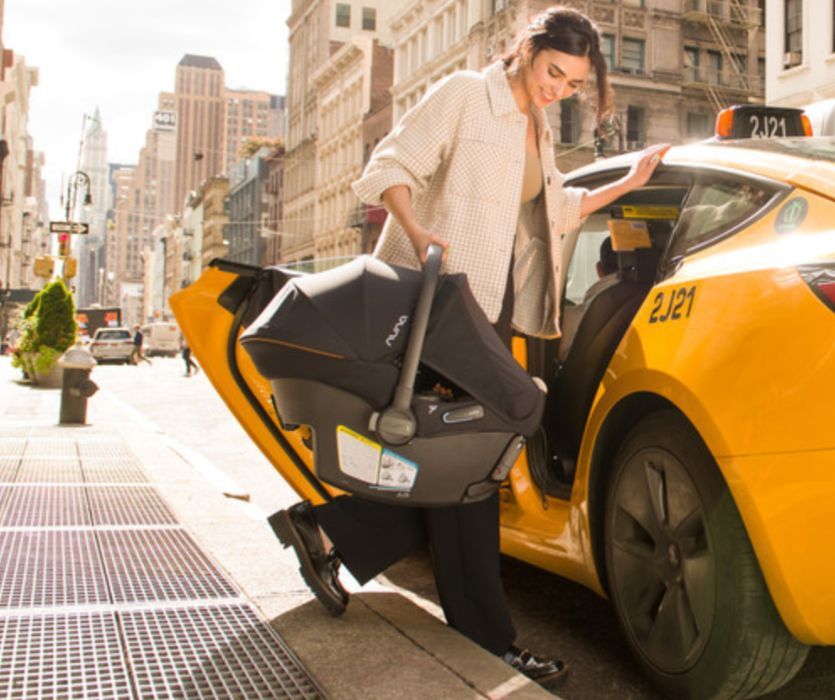 Nuna has come out with an infant car seat with the base built into it so it can be installed (or uninstalled) in seconds. This is a big deal for anyone who uses a lot of Ubers or Lyfts or needs to switch vehicles a lot because you don't won't have to use a separate base or a lap belt to secure the seat. It is shockingly light at 7 pounds. It can be purchased with one of three Nuna stroller bases (MIXX, TRIV or TRVL) and these car seat stroller 'sets' will retail for $900 – $1,200. You can find out more about it on the Nuna site and on Potterybarn Kids.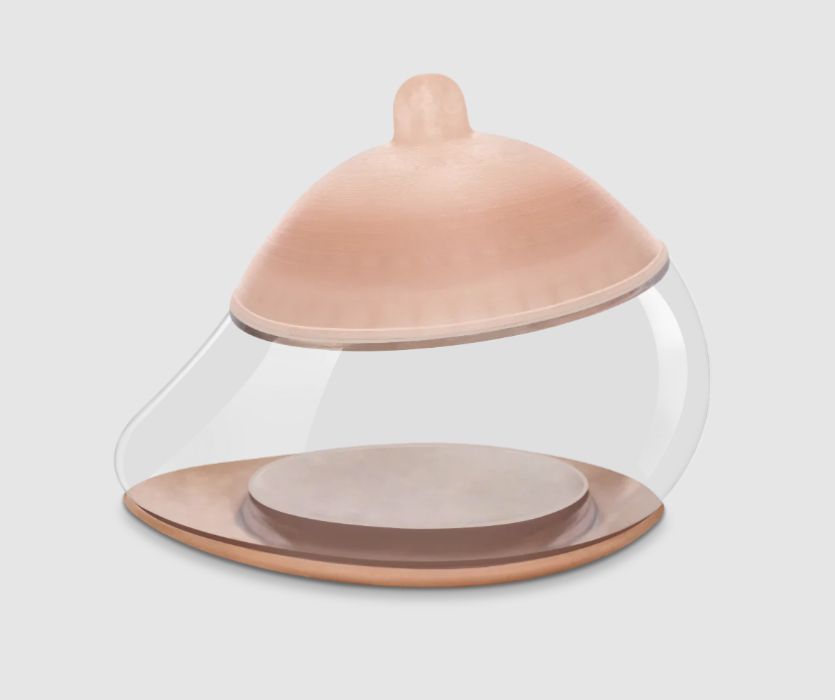 This new company uses 3D-scanning technology to create a baby bottle that matches your own skin tone and anatomy. Emulait bottles come in 25 variations: 5 nipple sizes, each available in 5 specific colors to find the perfect bottle for your baby. You can scan your body with the Emulait app to get matched to a bottle nipple that is tailored to you, or if you feel that's too "hey, send me a pic of your boob," you can still self-measure and select an option that's a match. I think it's an interesting concept – especially if you plan on both bottle and breastfeeding – and I'll be interested to see how they do. They should be available in early 2023.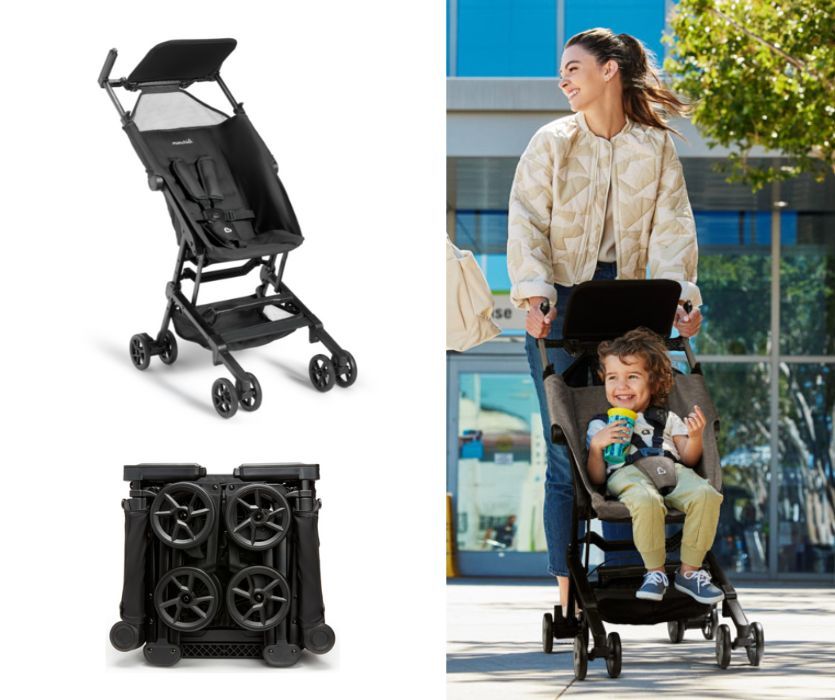 The ultra-compact portable stroller quickly folds down so small it can easily fit the overhead compartment of an airplane. It reminds me of the GB pockit but the fold looked interesting to me and I've always found Munchin products to be well thought out. With all of these ultra-compact strollers, you're trading the canopy, storage basket, etc. for the 'littleness' but it would be great for air travel or public transit where you are getting on and off a lot with a toddler who claims to be able to walk. You can find it on the Munchkin site and on Amazon.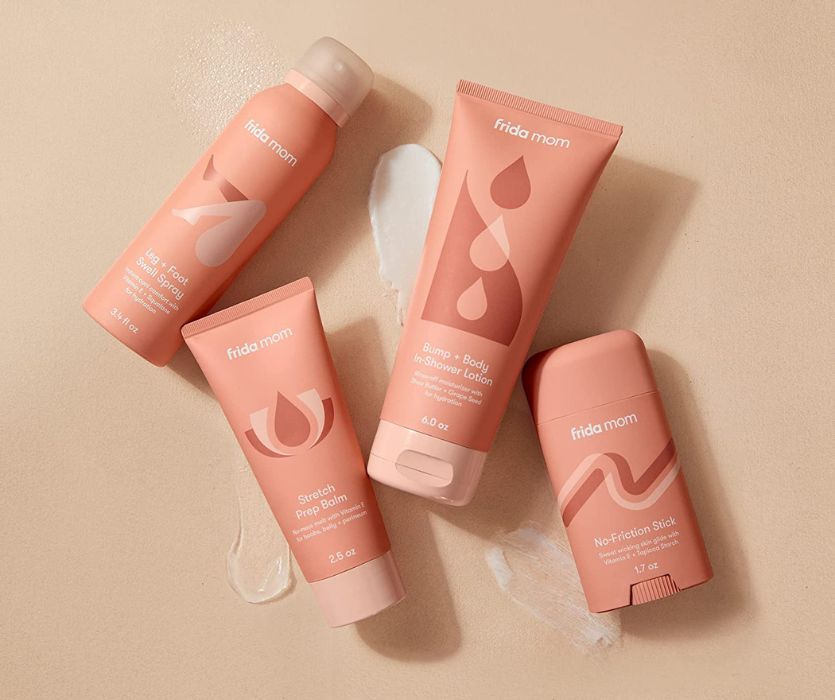 I am waiting for the year that Frida doesn't come out with some smart, new products (it has yet to come). They recently launched a pregnancy care line that includes Bump + Body In Shower Lotion, Stretch Prep Balm, No-Friction Stick, Leg + Foot Swell Spray, a Keep Cool pregnancy pillow, Pain + Strain Relief Tape and Anti-Nausea Bands. You can find them on the Frida site and on Amazon.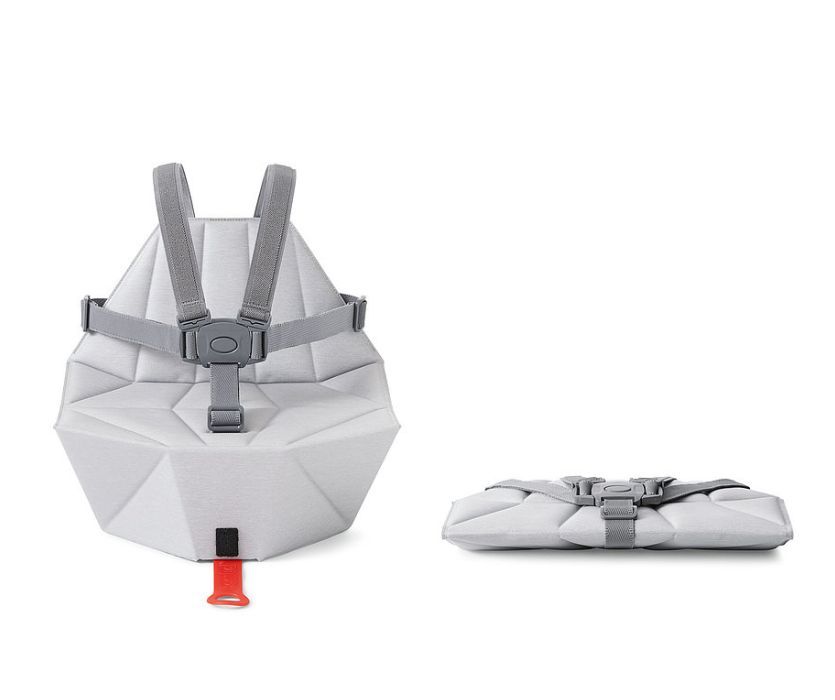 I've known about this for a while but I wanted to see if this origami-style booster seat actually works. It does! This ultra-light, portable booster pops open to become a sturdy, comfy seat when you need it – and folds completely flat when you don't. It's around $130 so it isn't cheap but it's well made and would probably be worth the investment if you eat out a lot, travel, or want a space saver. You can find it on the Bombol site, and on Amazon.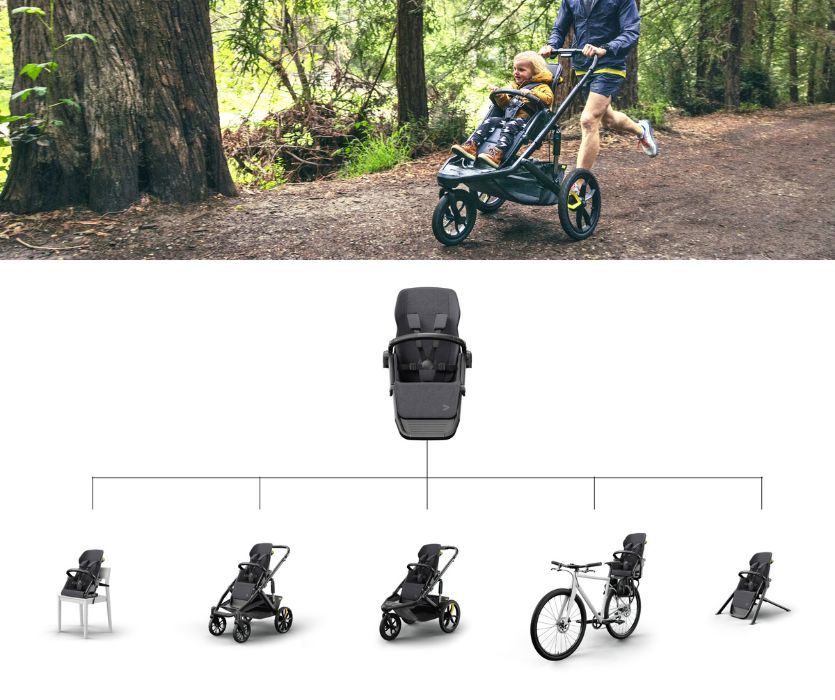 This is a cool modular system that can easily switch to a single stroller, a double stroller, a jogger stroller, a bike seat, a mealtime booster seat, and a camp chair. Veer is known for being pricey but their products are incredibly well made, and they don't skimp on materials or details. If you love the outdoors and you have a bit of cash, this would probably be right up your forest path. You can check out our review of the Veer Switchback for more details or find it on the Veer site.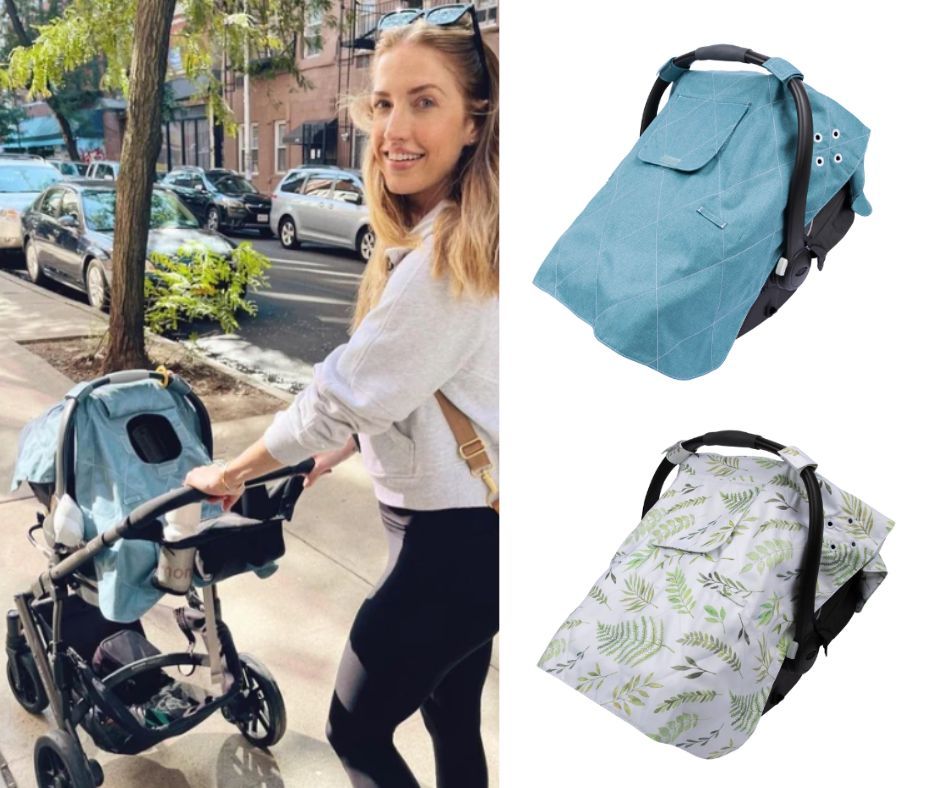 This baby cover is like blackout curtains for your infant car seat – it blocks out light and noise while still remaining breathable. It's rain repellent and even blocks heat from sunlight to help keep your baby cool in the summer. They are a family-owned startup so they aren't cheap ($80) but if you live in a noisy place where you're hoping your baby can grab some zzzs, it might be worth checking out. They come in two patterns and you can find them on the Quilbie site.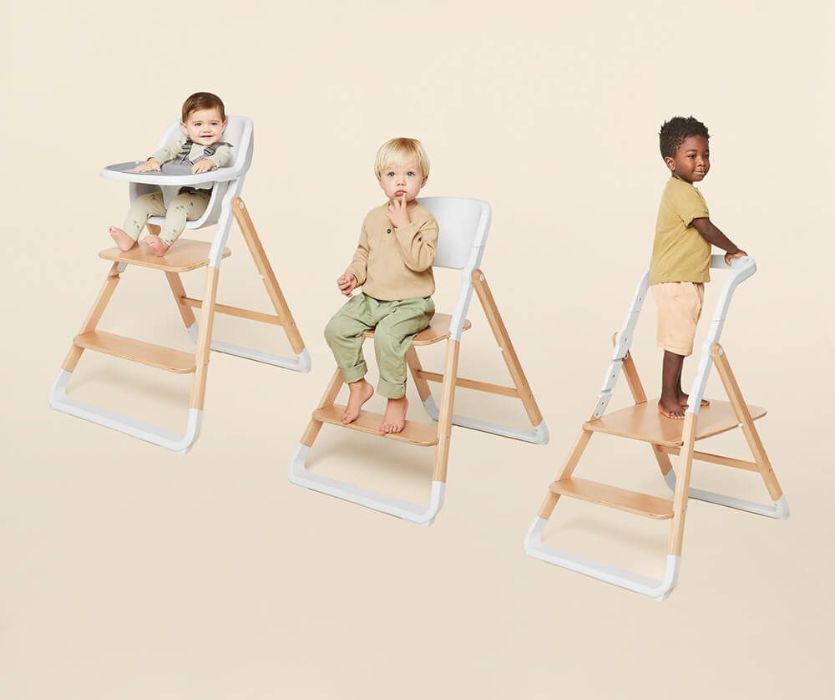 The Ergobaby Evolve converts from an ergonomic highchair to a supportive 'kid' chair to a kitchen helper. I'm a big fan of products that have a long shelf life so this definitely caught my eye. There are a lot of high chairs that convert to low toddler chairs but I feel like you'd get more use out of the kitchen helper. I just wish they included it in the kit rather than as an add on but it's probably better in the long run for people who wouldn't use it. You can find the Evolve 3-in-1 High Chair on the Ergobaby site.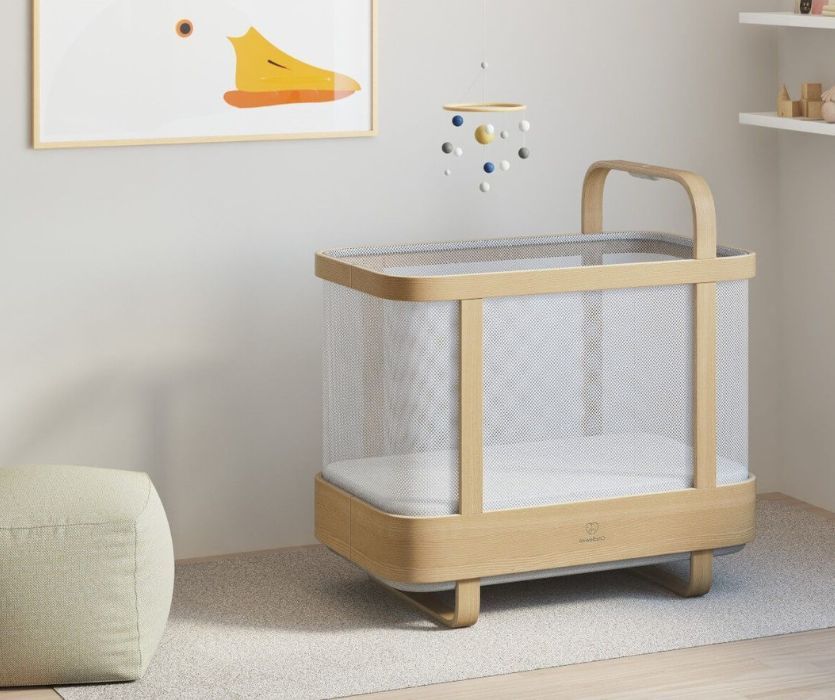 Cradlewise is an all-in-one crib, bassinet, and baby monitor that senses early wake-up signs and automatically bounces to soothe baby back to sleep. The standout for me is that it's a crib vs. a bassinet, so you can use it for a longer period of time (as soon as your baby starts rolling, they have to come out of a bassinet because they can get on their knees and yeet themselves out of there.) It also bounces vs. rocks which is the complaint many people have with the Snoo (you have to use the built-in swaddle so the rocking doesn't accidentally 'rock' them over). It's not shocking that it's pricey but I would have sawed off my right arm to get four consecutive hours of sleep when I had a newborn, so I would have been the target market for this. You can find out more on the Cradlewise site.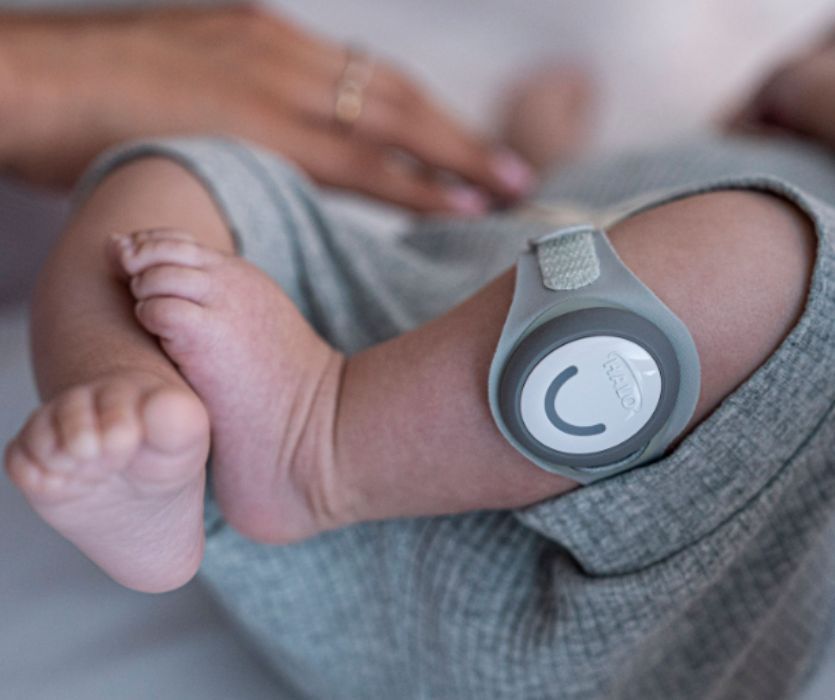 Halo has developed a wearable baby monitor that tracks four sleep measures in real-time: heart rate, rollover, skin temperature, and movement. It has an 'on the go' mode that you don't see in similar monitors and it's over $100 cheaper than the Owlet, which is sure to give it a leg up (happy pun there). There are a lot of wearable monitors on the market, but Halo is a big leader when it comes to sleep safety, so it will be interesting to see how this one does. You can find it on the Halo site.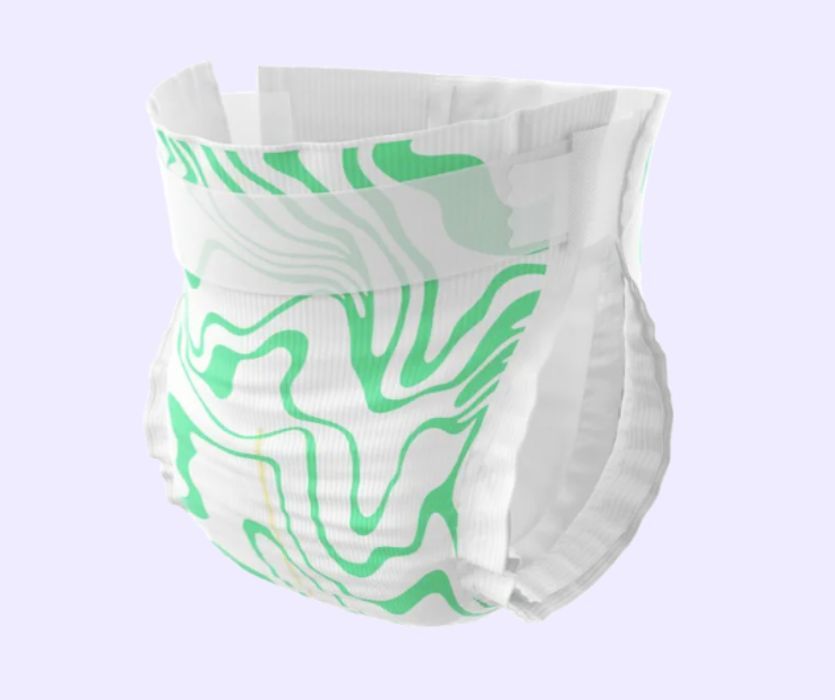 These tree-free diapers are made from 100% bamboo pulp, not tree pulp. (Other bamboo diapers only use bamboo for the outermost liner of the diaper.) They are super absorbent, soft, and – using size 1 as an example – they come in at about 38¢ a diaper with a subscription which is comparable to other premium brands (and some mainstream brands). I'm excited to see how this unique diaper does in the market. You can check them out on the Freestyle website.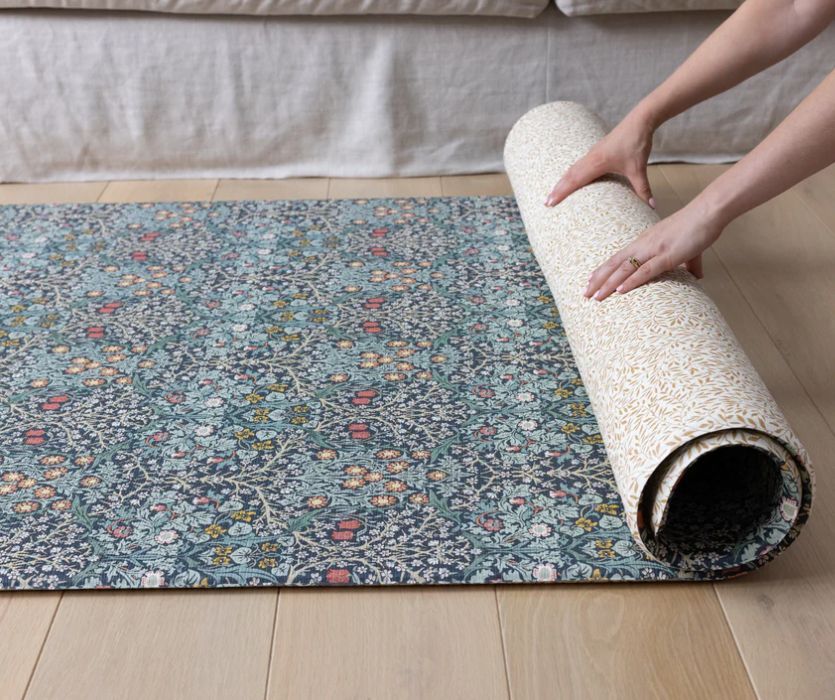 Totter + Tumble has collaborated with Morris & Co on these gorgeous, new playmat patterns. I love these double-sided playmats because they are beefy yet squishy for safe, non-headbonking floor time. They aren't cheap but I feel the timeless styles would serve you long past the baby years. You can find the whole collection on the Totter + Tumble site.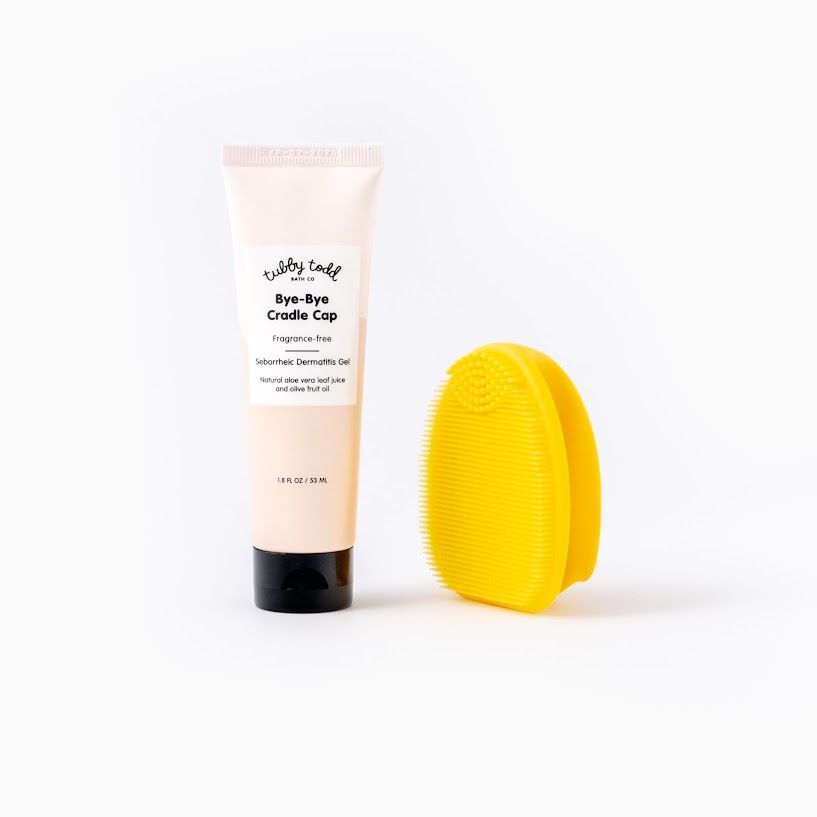 Ah, "cradle crap". This is a fragrance-free Seborrheic Dermatitis gel that features Pyrithione Zinc, alongside hydrating ingredients like aloe vera leaf juice and olive fruit oil. It's FDA-approved and if it's anything like their All Over Ointment, it's going to be a game changer. You can find it on the Tubby Todd site for $12.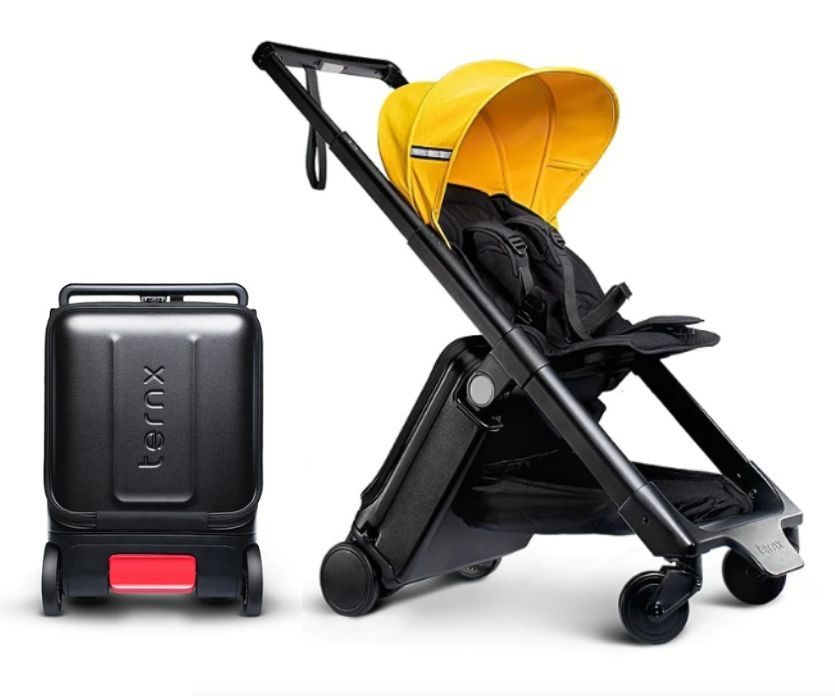 I'm a big fan of compact travel strollers (like the gb Pockit) but there is something very interesting about merging carry on luggage with the stroller. This 'luggage' can hold a backpack's worth of stuff (18 liters) and folds out to a stroller. It's made from aluminum and recycled polycarbonate, adheres to IATA and TSA carry on standards, and can hold a child around 33 lbs (this would be your average 3-year old.) It ain't cheap ($599) but it is definitely cool. You can check it out on the TernX site.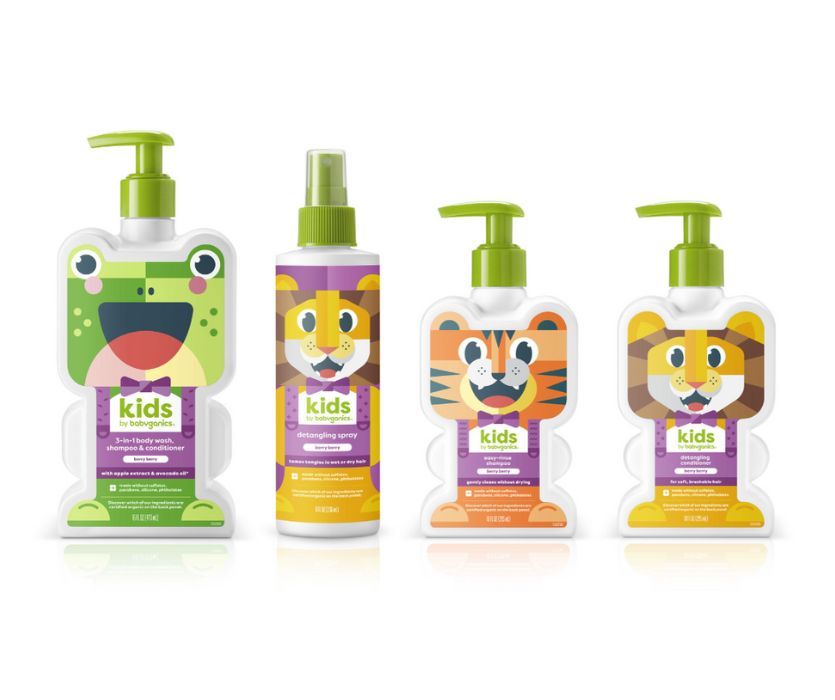 Babyganics recently introduced a new 'grown-up' line specifically designed to support kids with "I wanna do it myself" energy.  The line includes a 3-in-1 body wash, shampoo & conditioner, easy-rinse-shampoo, detangling conditioner, detangling spray, and alcohol-free foaming hand sanitizer. They have been out for a little while but I thought they were worth mentioning because I'm a fan of this affordable brand. You can check out Babyganics Kids on the Babyganics site and Amazon.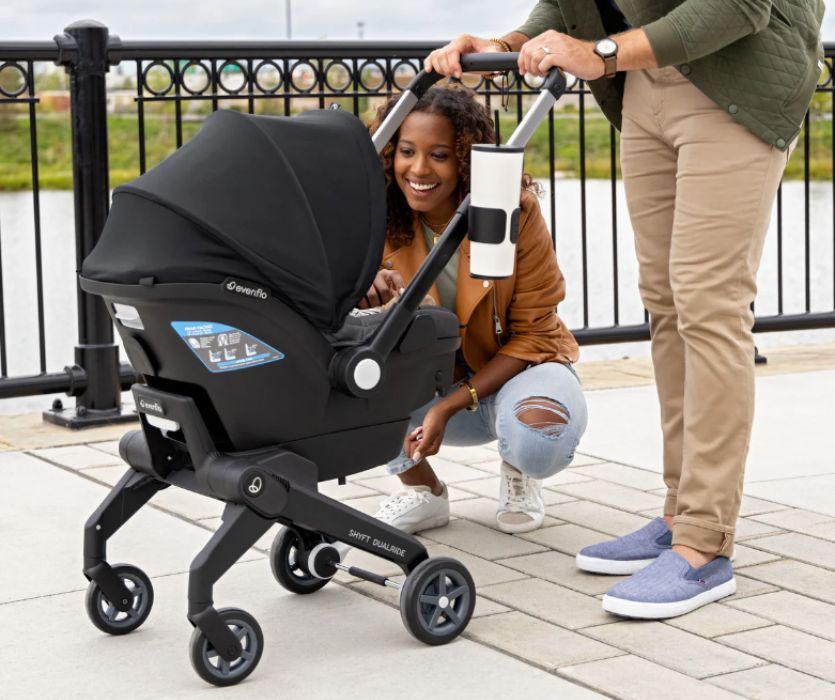 Evenflo has come out with a car seat to give the super popular Doona a run for its money. Both of these car seats are a  car seat/stroller combo so you can go from the car to the stroller mode without any extra gear. The Shyft includes their Sensor Safe chest clip and the seat can be detached from the wheel base (the Doona can't). The harness height is lower than the Doona which is better for newborns, the head rest extends farther which is great for tall kids. It's also about $50 cheaper than the Doona. You can check it out on the Evenflo site.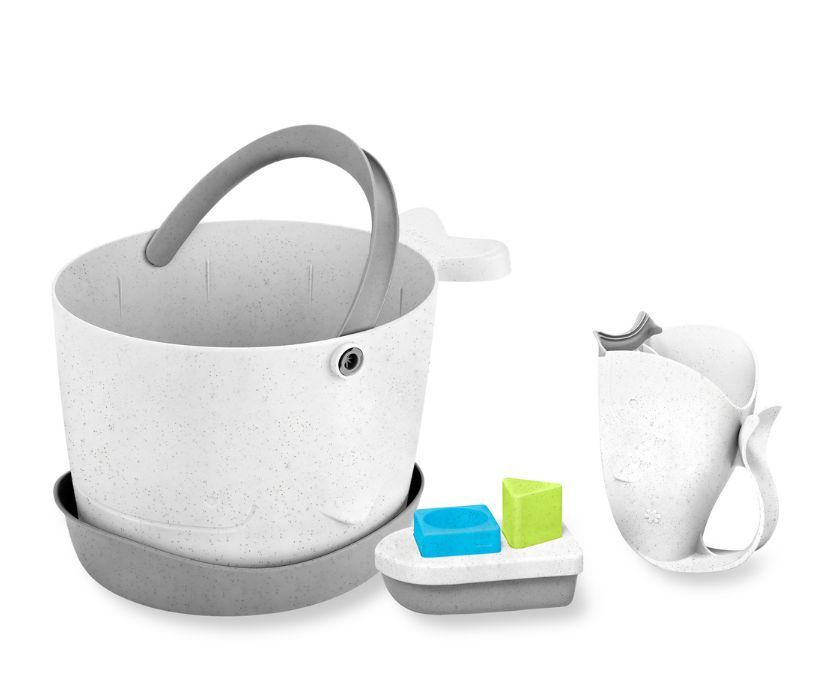 Skip Hop partnered with Oceanworks to create this bath bundle made from 70% recycled ocean-bound plastics. The thing that first caught my eye was the Stowaway Bath Toy Bucket​ because it's larger than most bath toy holders AND it has a tray that catches all the water. The set includes a sweet Stack & Sort Boat Bath Toy and the timeless Moby Waterfall Rinser​. It's out now and you can find it on the Skip Hop site.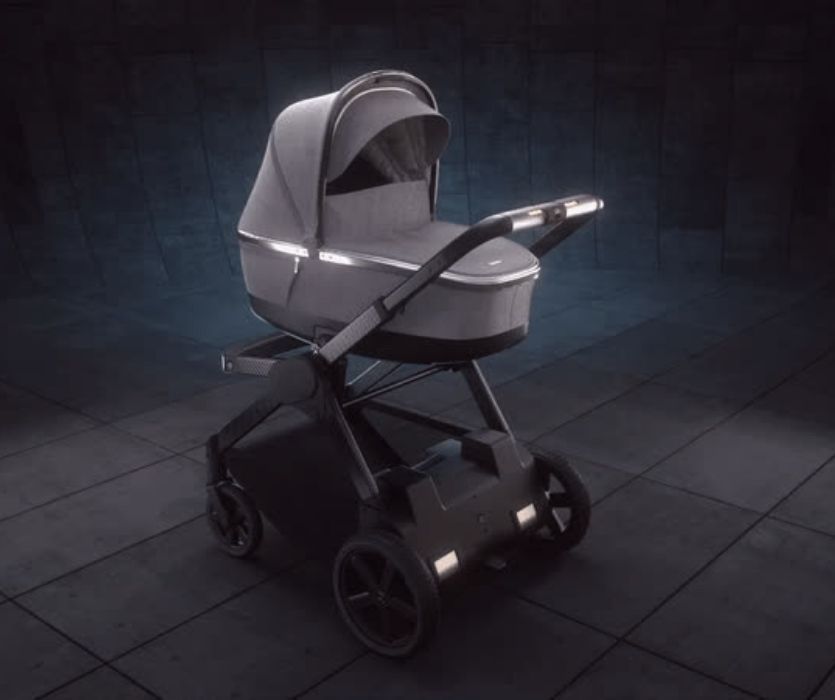 A company called Glüxkind has developed this Ella smart stroller. It contains a motor that automatically assists in going uphill or braking on slopes. (This feature reminds me of the Cybex e-Priam that came out a few years ago.) It has an obstacle warning system, a built-in speaker to play white noise for your baby and a "rock-my-baby" mode. Both the hands-free strolling and the ability to incline the bassinet for 'reflux' makes me nervous and I wonder if the designers are totally in the loop regarding infant safety. Still, I'm a sucker for innovation, Canadians, and umlauts, so this $4,000 stroller is making my list. You can find out more about it on the Glüxkind Kickstarter.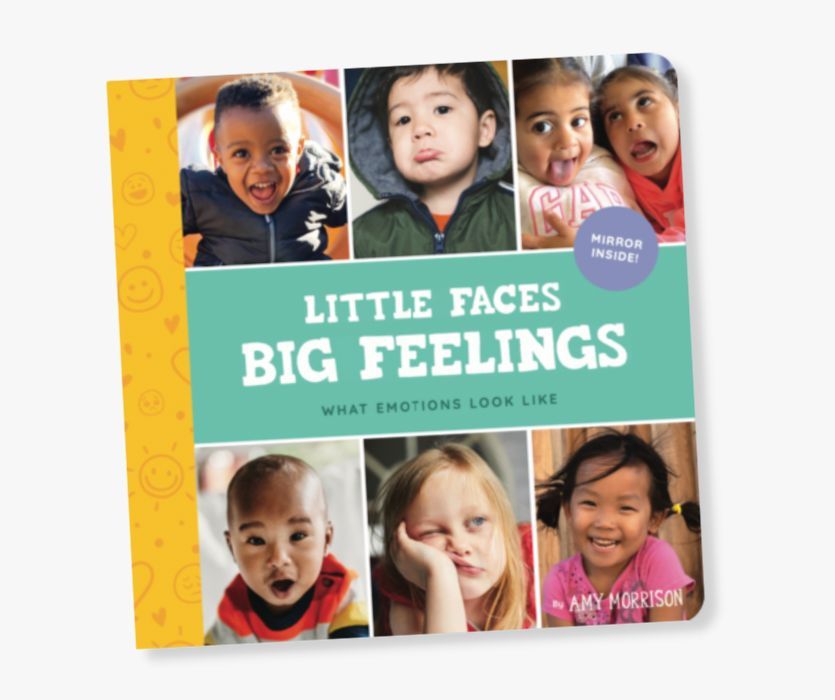 Okay, here's where I toot my own horn a bit. I wrote this book. ::toot toot:: Brittany (the founder of Little Feminist Book Club) and I were talking about how no books show what feelings look like in real faces. Sure, some books show 'happy' with one face or an illustration, but none show the variations that can happen in different faces in different kids. It took FOREVER to put together and I'm really proud of it because I think it will help a lot of kids make sense of the subtleties of emotion. Here's a post about everything that went into it and you can grab a copy from the Little Feminist Book Club website, Amazon, Barnes & Noble, Walmart, or wherever quality books are sold.
Have you heard of anything coming out in 2023 that sounds cool?
Let me know in the comments or email me! I'll keep updating the list throughout the year as new pregnancy and baby gear comes out.
Also check out: Cool and New Pregnancy & Baby Products in 2022 – everything in that list is now available!