Most of us have every intention of creating gorgeous family photo albums to have as a keepsake. But finding the time, the right type of book or even knowing where to start can be tough.
Here's a list of some the best photo book options out there – and what makes each one great. Whether you want something quick and easy to put together or are all about the design and style – there's something to check all the boxes for every parent out there.
Easiest to Use
Making your custom photo album is a breeze using Mixbook's app or desktop browser. In the app, the "Automagic" feature finds and groups related photos from your camera roll into photo books that are easy to edit and share in just a few clicks. Choose the perfect theme, pick your favorite photos, add fun extras like backgrounds, stickers and captions, and choose your cover type, paper finish, and book size, and your book will be on its way to your door in no time!
I've ordered from Mixbook before and was super impressed with the design process and overall quality of the books. Their site often has promo codes, so keep an eye out for a great deal. Start designing your Mixbook here.
Be sure to use the code MIXPC50 to get up to 50% off Mixbook – sometimes, the promos they are running on the site are even better, so check them both. (see below for the nitty gritty.)
Get up to 50% off Mixbook with the code MIXPC50
50% Off $129+, 40% Off $99+ or 30% Off PLUS Free US & CA Standard Shipping on orders $70+: Free U.S. & Canada Standard Shipping applies to orders over $70 within the continental United States or Canada only. 
This offer is only valid with coupon code MIXPC50. 
Enjoy 50% off orders over $129, 
40% off orders over $99, 
or 30% off everything else. 
Order must total $129 or more before discount, shipping and tax is applied to qualify for 50% off discount, or $99 or more before discount, shipping and tax is applied to qualify for 40% off discount. 
This offer cannot be combined with other coupons, vouchers, Groupons, or applied after an order has been placed. 6×6 photo books are excluded from this offer. Discount applies only to completed projects. No adjustments on previous purchases. Taxes will apply. Offer expires 07/31/2023 (11:59 pm PT).
---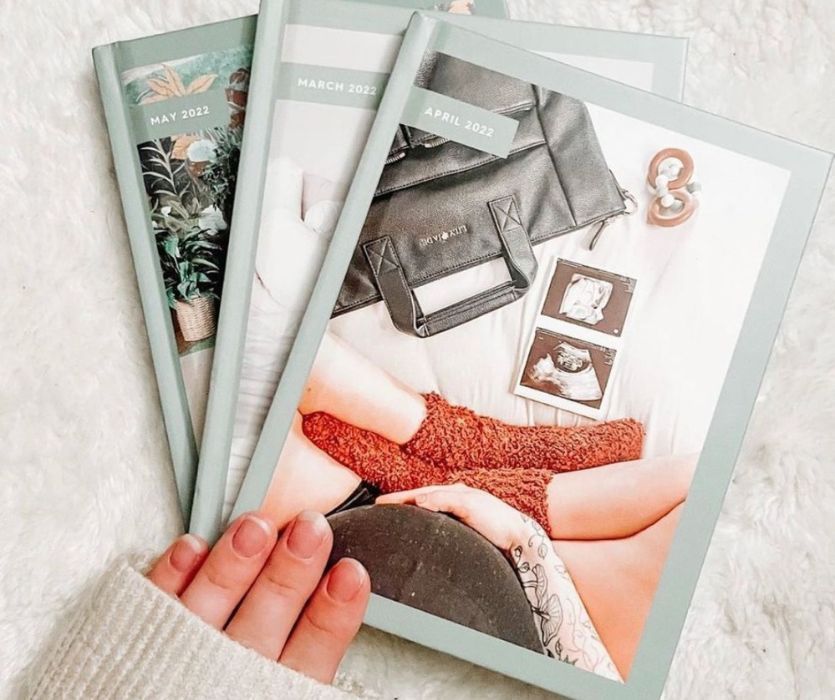 Best Subscription Options
With Chatbooks, you've got two basic options for a high-quality photo book. You can either have your books created on auto-pilot and sent to you regularly, or you can make them custom. Your options for subscriptions are Monthbooks, which are Softcover ($10) or hardcover ($15), 5×7", 30-page photo books or Monthly Minis, which are 5×5", 30-page books ($7).
I love the stunning designer covers from brands like Rifle Paper Co. and Ampersand Design Studio. Chatbooks are my go-to grandparent gift every year for birthdays, Christmas – you name it. They're easy, affordable, and a hit every single time. Check them out here.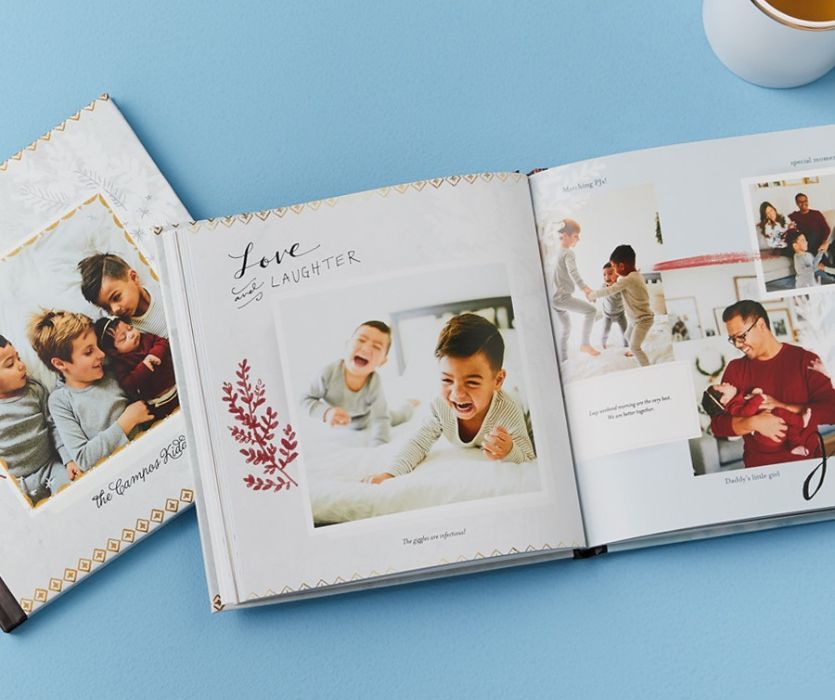 Great Design Options at an Awesome Price (for Costco Members)
Shutterfly has been in the photo book biz for a while now – and it remains one of the most popular choices out there.
They've got loads and loads of 'scrapbook-esque' design and style options and a few different paths to choose from. "Make It Manually" and you can choose every little detail yourself or pick "Make It Fast" to autofill your photos and check out design suggestions and new features.
Their "Kids" section includes special themes like Disney photo books, kids and baby photo books, children's board books and personalized story books. Looking for a certain je ne sais quoi but je ne have the time to put it all together? Hit up the Make My Album Designer Service to have Shutterfly's experts do the work for you. Best of all, you can take the credit and nobody'll ever know. Get started here.
Great for Hardcore Designers
Another great site, Blurb, offers up books with excellent quality, plus the option to choose pre-built templates or free reign to design your own using BookWright, their free design tool.
This site is really great for those of us that like to start with a blank canvas and have a lot of creative freedom. You can import images from Instagram, Facebook, Adobe Lightroom, Photoshop, or your computer – and it can be as easy as dragging and dropping. And if you want to get fancy, you can also design your own cookbooks, kids' books, travel and yearbooks. Check them out here.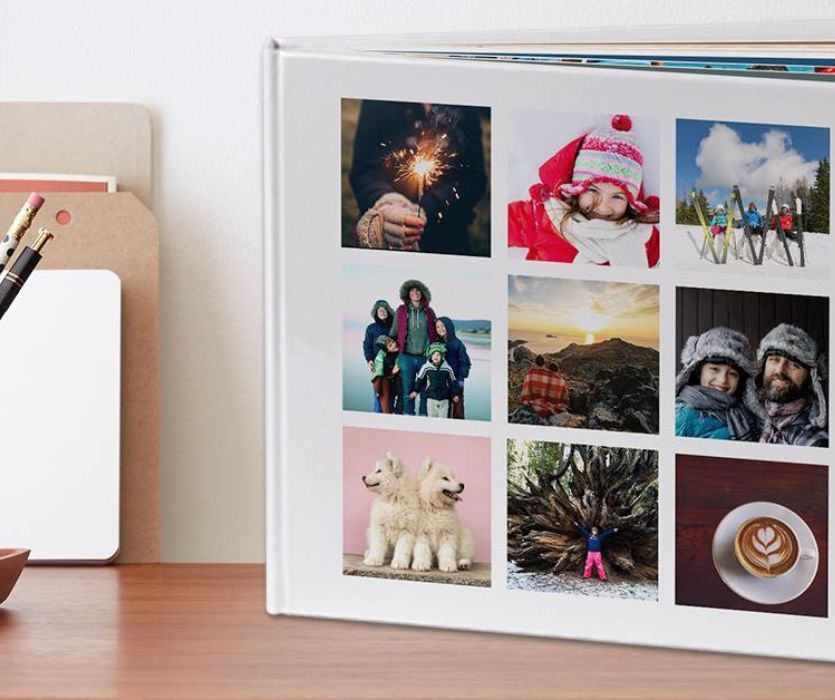 Best Site to Score a Deal
The nice thing about Snapfish is that, like Shutterfly, they offer you the 'scrapbook feel' to their photo books.
You can choose your design theme, arrange your photos, play with your backgrounds and even add embellishments like frames, stickers, quotes and more. It gives your book a 'designy' look with a nice personal touch. Choose extras like layflat pages, matte finish hard covers and glossy, quality paper pages to take your book to the next level of coffee table couture.
Don't miss their Deals tab to save a few bucks! Get your Snapfish photo book here.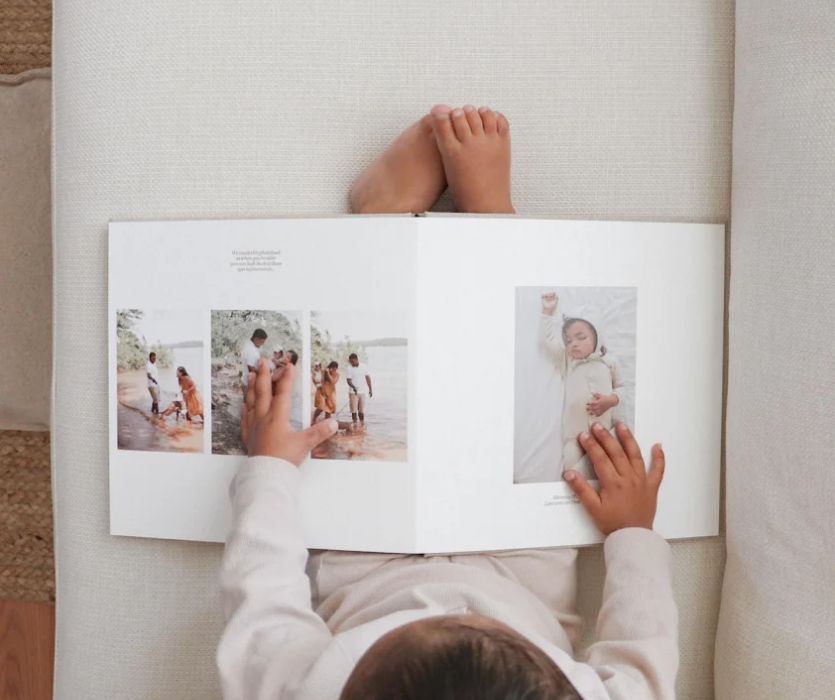 Best "Hand It Over" Option
Artifact Uprising has a really unique and handy photo book service for folks who just don't have the time or energy to curate an album on their own – their designers do the work for you!  
Share your vision on your album and then upload your photos. From there, a design team will create your book and send it to you to preview and proof it. Once you're happy with the layout, you can add the finishing touches by choosing your photo book size, quality, and any special extras like premium paper options, cover material and lay flat pages.
Also, check out their popular "The Story of You" books for years 0-1 and 1-5. These interactive photo journals give you prompts to help document your little's first years including their birth story, mini-milestones and more.
These books come with a code for a free set of Everyday Prints to get you started. Head over to Artifact Uprising here.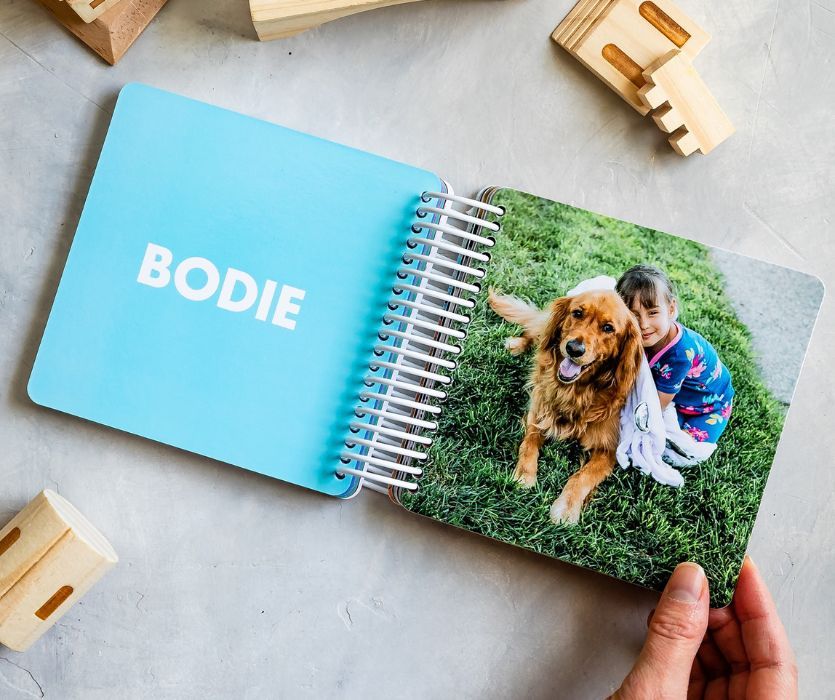 Cutest Board Books for Kids
Looking for a totally unique gift for any special occasion?
These adorable customized board books are so cute and one of a kind – they're the perfect way to capture a few of your favorite baby photos. You can make your own custom photo book design in the board book format, or go the personalized board book route and make your baby's photos into a little story. Either way, they're a baby-proof, cute, sweet way to save your baby pics. Head over to Pinhole Press to start making yours!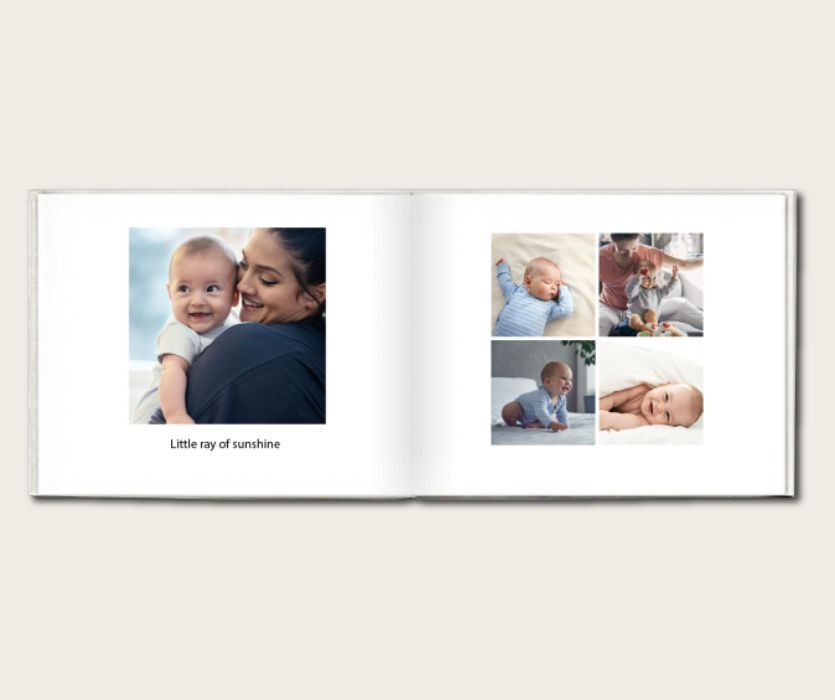 Best "One Stop Shop" Option
Tinybeans is super-cute because it's not only an online baby journal you can share with your family – it's also a great keepsake of photos. (I have a review on them here.) It lets you keep all your little memories and notes in one place and then capture it into a photo book. Simple and easy to make (a must when you've got a wee babe). Start building yours here.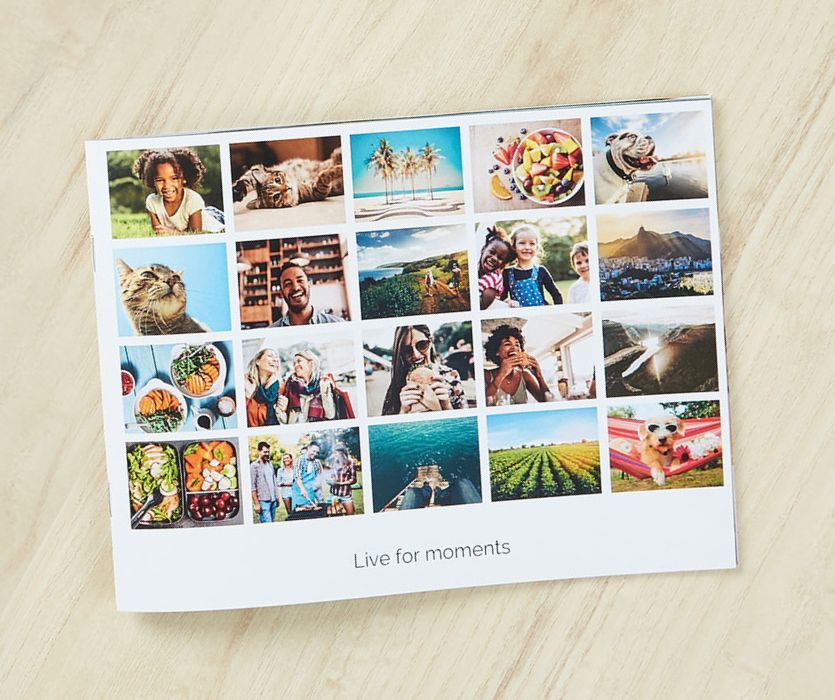 Most Budget-Friendly
For something easy to make, great to look at, and cost-effective to buy, Walmart's got you covered with lay flat, softcover and hardcover photo books that you can pick up in-store or have delivered to your front door. For something a little different, they also have a video photo book with a 7" display that holds up to 75 photos. In a hurry? Walmart can whip up an express photo book in-store that can be ready the next day. Check out Walmart's photo center here.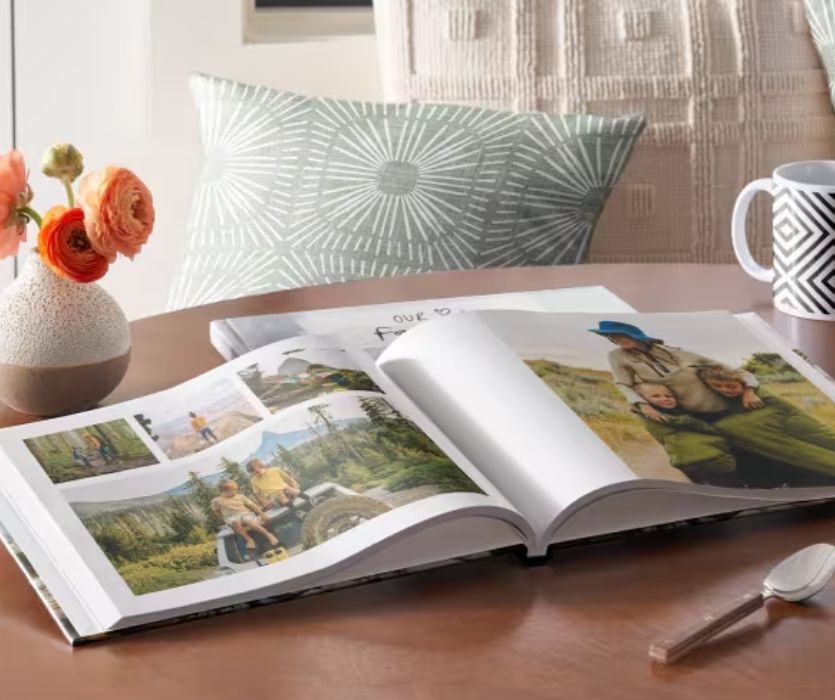 Best if You Already Have a Membership
Costco has recently partnered with Shutterfly to take your photo experience to the next level and save you some moolah in the process. Costco members get 51% off every Shutterfly order and also get free shipping on orders over $49. Find out more about ordering your Shutterfly book at Costco prices here.
Which site does the best custom photo books overall?
With all the photo book options available, making an album your family will love forever is easier and more affordable than ever. If you're looking for a site that makes photobook building a breeze at a decent price, I'd recommend checking out Mixbook first.
Related: Best Online Baby Photo Journals