Your baby's first year is a whirlwind of little sleep, lots of diapers and even more special moments that go by in the blink of an eye. Capturing monthly milestone photos has become a popular way to look back on your itty bitty baby and see all the changes that happen in their first 12 months of life.
Partnering up with Mixbook on this post felt like a natural fit. Not only are they the #1 rated photo book company, but they have some amazing baby books to pull together all these milestone pictures into one keepsake. I also have a fantastic discount code for up to 50% off with the code MIXPC50. Jump to the details at the bottom of this post.
So if you're looking for some fun ways to snap the perfect picture, here are some creative monthly baby photo ideas you can do at home.
Ideas for Unique Monthly Baby Pictures
1. Baby With a Toy
Has your baby got a stuffy that has extra sentimental value? Get it in on the monthly photo action by posing it next to your little to show just how much they've grown. Keep the tradition going even after their first year if you want to keep the magic alive.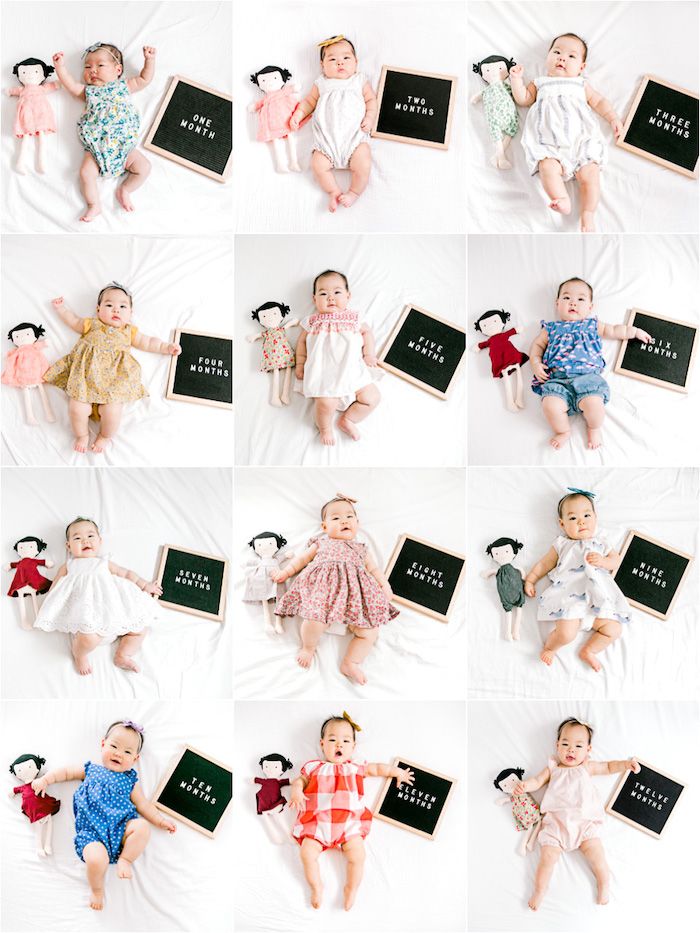 2. Little doll
A letterboard and a special doll or stuffed animal is definitely a slam dunk when it comes to crafting the perfect milestone photo, if you've got both kicking around.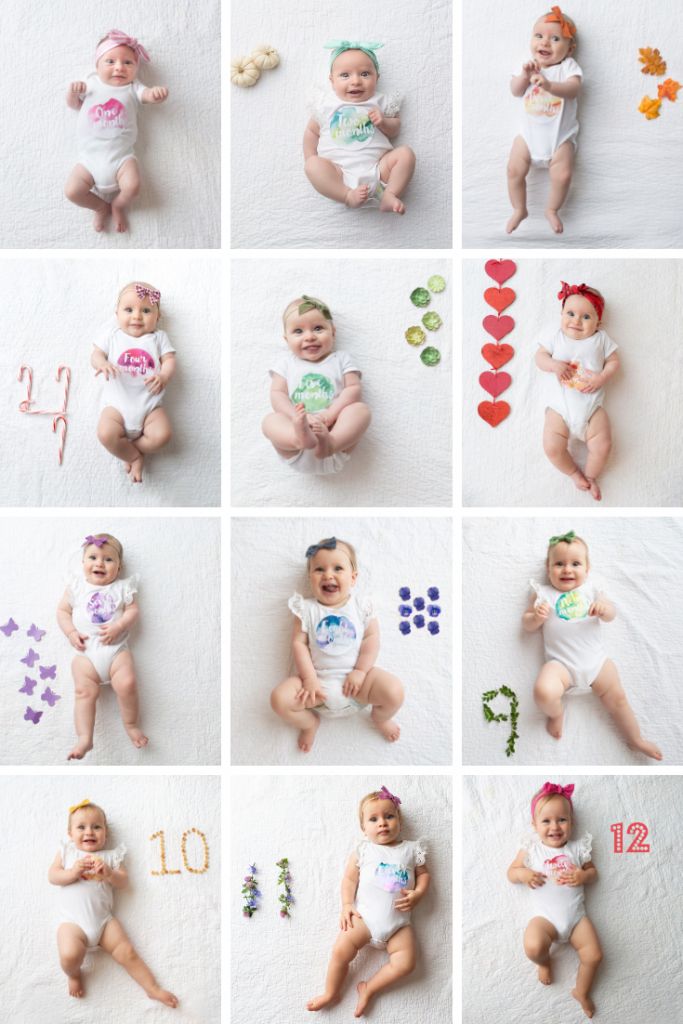 3. Creative Counting
If you love getting crafty and are looking for a monthly outlet, don't sleep on a chance to make cute little seasonal numbers to go with your baby's milestone shots. Actually, on second thought, sleep any chance you get and make the numbers when you wake up.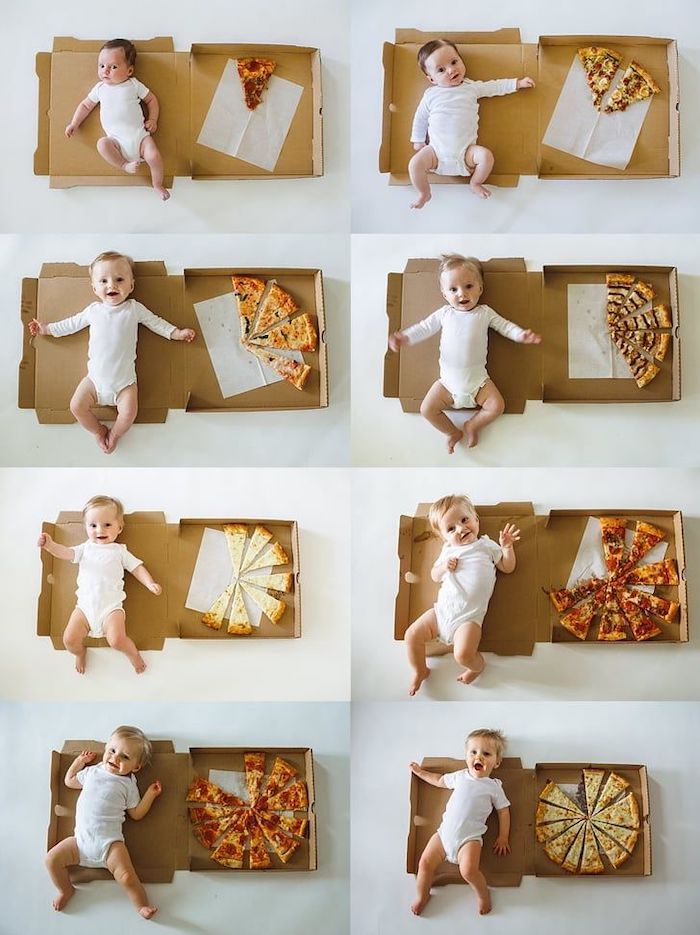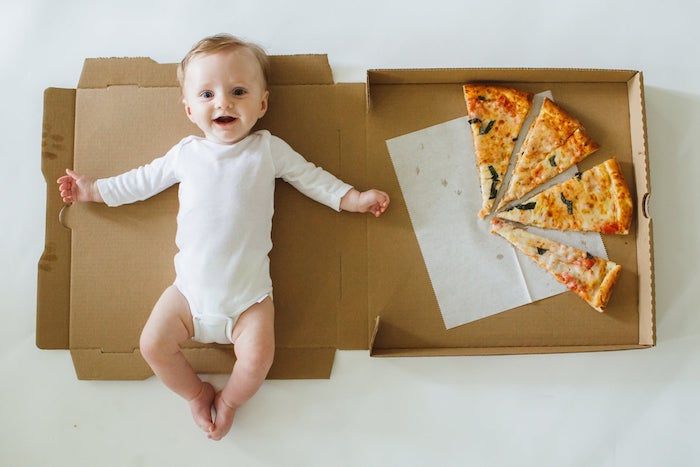 4. Slice of Life
Welp, we've found it – the champion photo milestone marker. Any excuse to order pizza once a month is a definite winner, especially in the early months when your baby is too little to demand that you share. This concept works best with places that have fairly plain pizza boxes.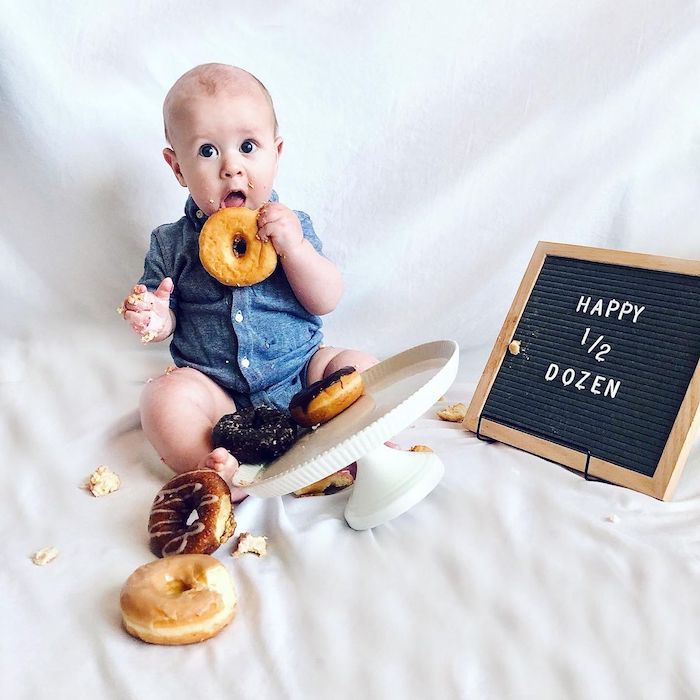 5. Delish Doughnuts
Food-themed photo markers are a fun and delicious way to bribe your baby into posing for the perfect shot. Unless you're into drooly leftovers, I'd probably recommend keeping your favorite flavor on a separate plate somewhere out of your baby's reach.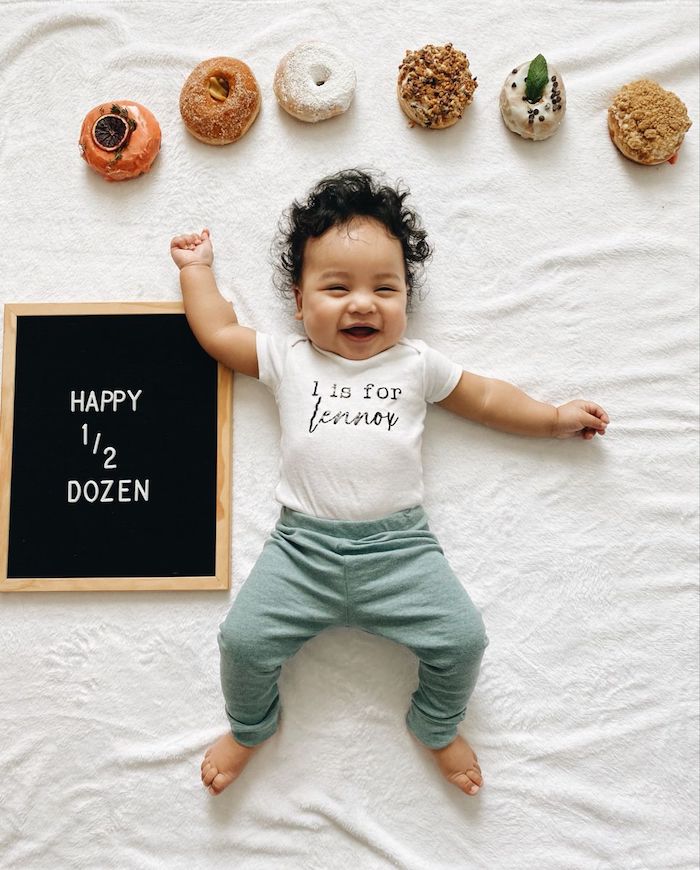 6. Happy Half Dozen
I don't think I can say it enough: there is never a bad time for doughnuts, especially when they look this cute. Get your letterboard and a special outfit in on the action to take your photo to the next level.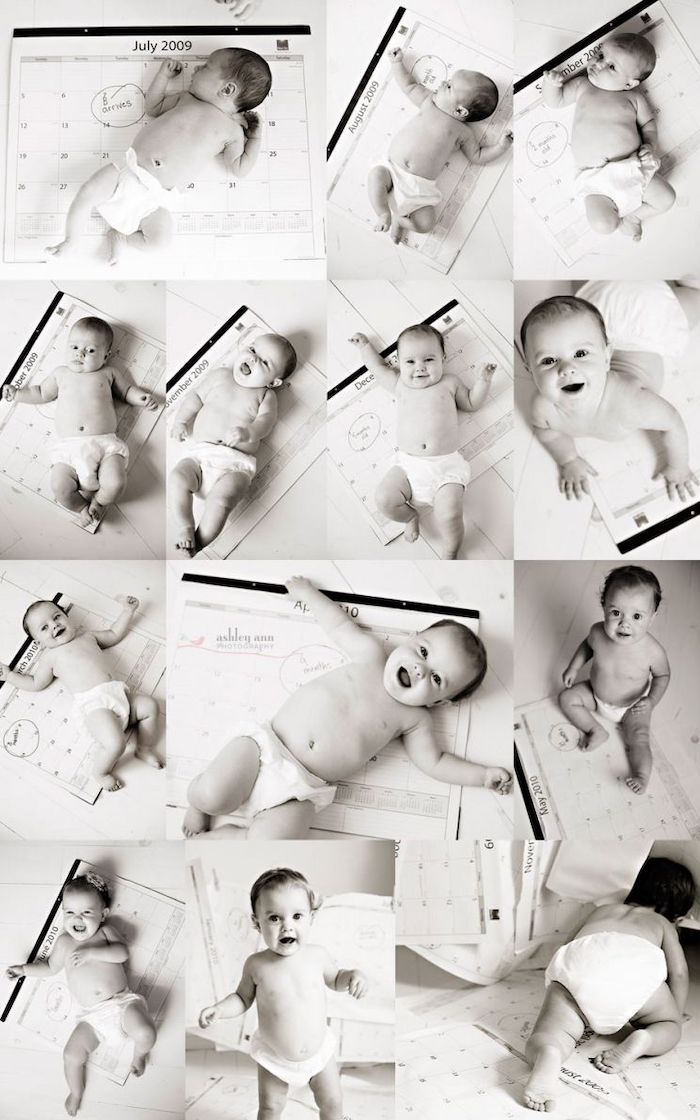 7. Calendar Prop
Getting a gorgeous photo doesn't have to mean buying fancy or customized props. Grab the calendar hanging on the wall, or get a giant desk calendar for cheap, and start snapping. Circle special dates or write important moments on the calendar for bonus points!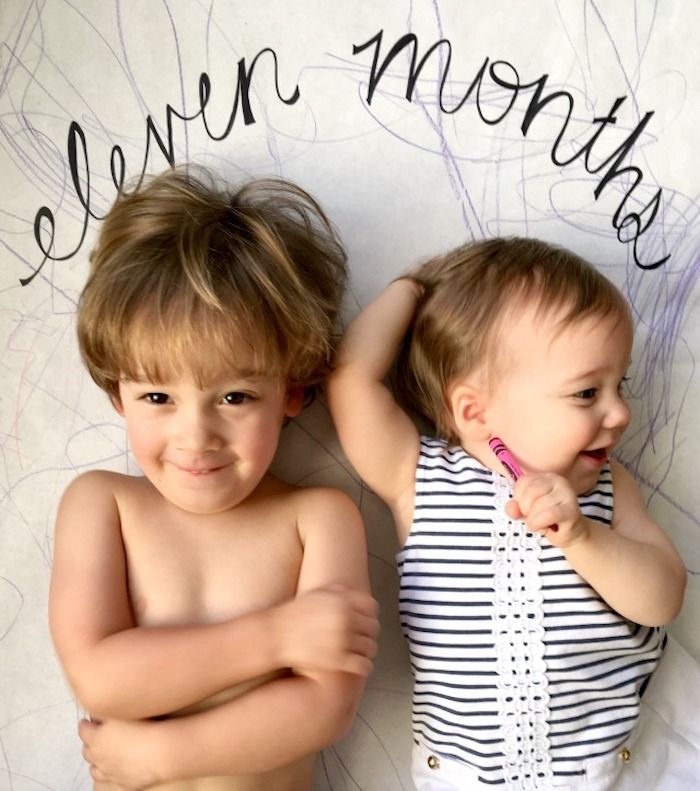 8. Sibling session
If you've got more than one kid in the family, why not take the opportunity to capture some monthly moments with an older sibling, too? Give your kids a crayon and let 'er rip while they get creative designing a one-of-a-kind backdrop you can't buy in any store.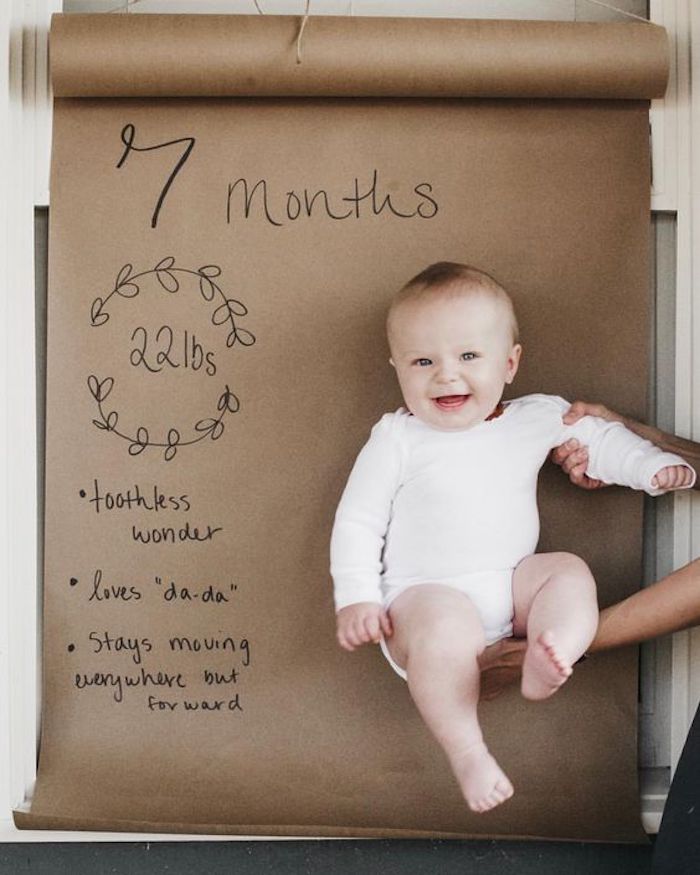 9. Roll with It
Butcher paper isn't just great for wrapping up delicious sandwiches; it also can make for a pretty sweet photo with your own little ham. Write down a few of your baby's favorite moments and highlights from the month, scribble down the date, and voila! You've got a gorgeous and simple photo at your fingertips.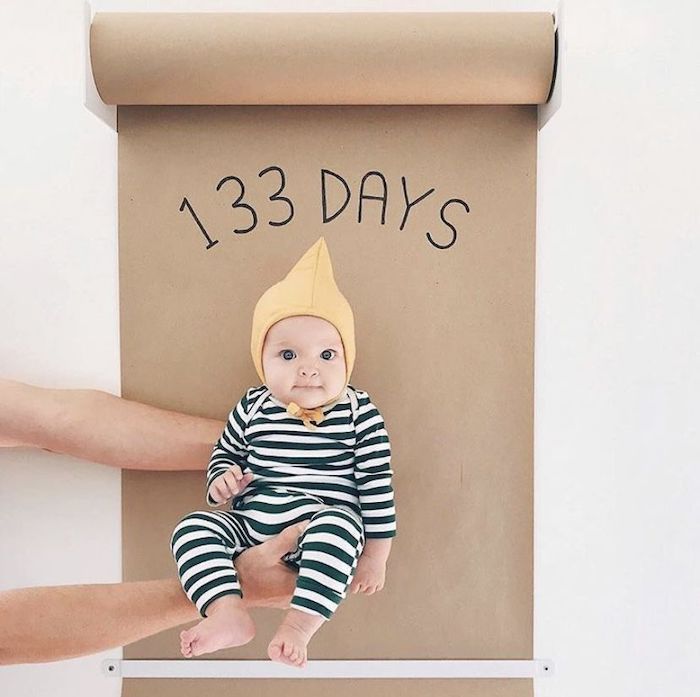 10. Easy Backdrop
See what I mean about the butcher paper? Let this be a sign to go grab a roll now.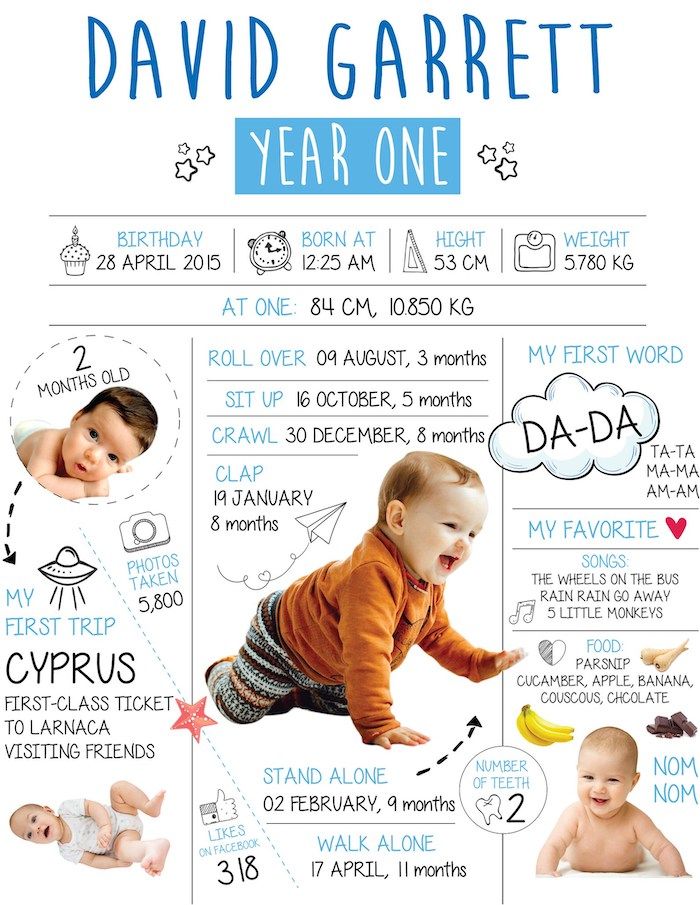 11. Custom Infographic
This infographic is a great way to make sure you've got all the big stuff from your baby's first year covered, and it makes an awesome decoration for a first birthday party! You can get one made by this studio on Etsy.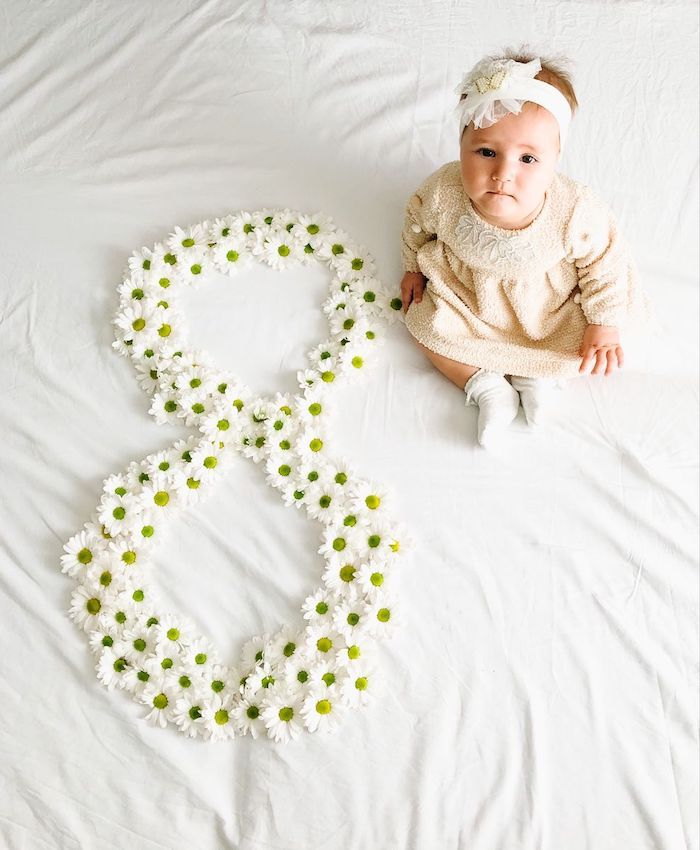 12. Flower Power
There are tons of fun ways you could incorporate flowers into monthly milestone pictures, like using your baby's birth month blooms or picking something that's in season. Grabbing some faux flowers from the dollar or craft store to reuse from month to month is also a great option!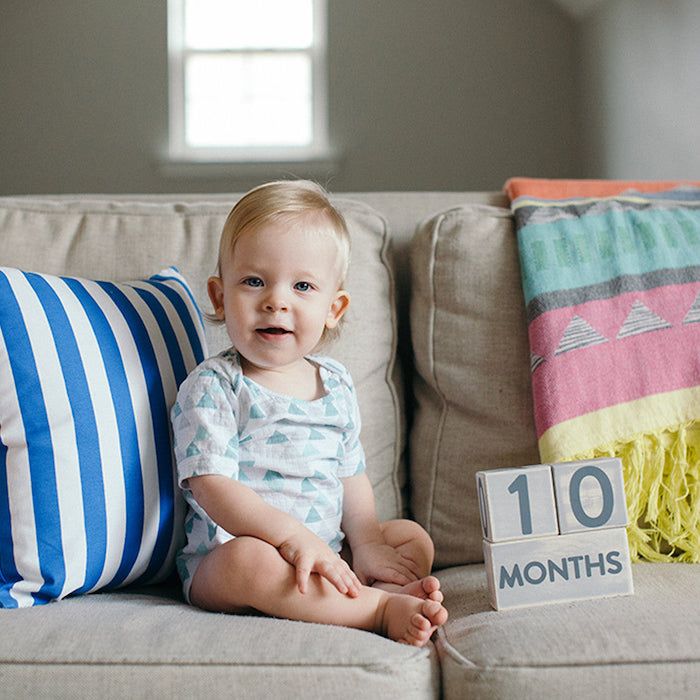 13. Milestone Blocks
Let's be honest – if you actually remember it's time for your baby's monthly milestone photo, you'll be lucky if you can find something to write down what it is you were celebrating. These Milestone Blocks from Pearhead make commemorating a new month easy peasy, and your kid'll probably have a blast knocking them down after. Grab your Milestone Blocks from Pearhead on Amazon.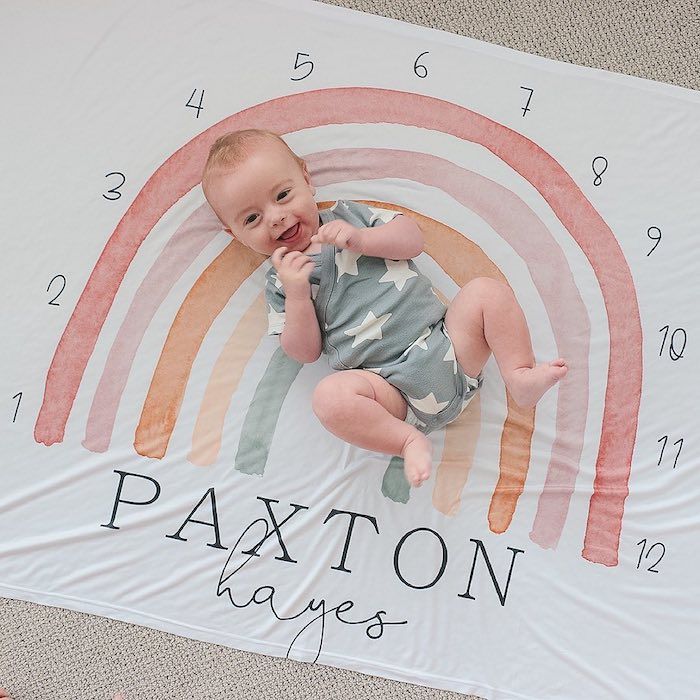 14. Milestone Blanket
Milestone blankets like this one from Caden Lane do double duty. Not only are they comfy to snuggle up in and play on, they're also the perfect backdrop for your baby's monthly photo op. Use a little Photoshop magic to throw a circle around the number of the month (or week or year if you're feeling festive) and you're ready to post or print. Get this Milestone Blanket from Caden Lane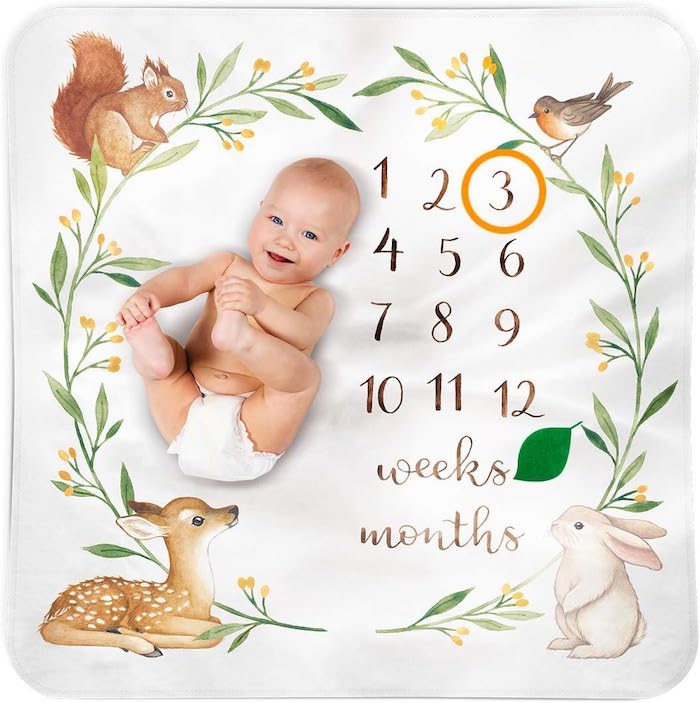 15. Woodland Blanket
If the only photo editing software you know your way around is Microsoft Paint, don't sweat it. Many milestone blankets come with cute little props to help you mark your weeks and months, so you can snap your photo and be ready to roll – hopefully before your baby decides to. Get your low-tech Milestone blanket from Bubzi on Amazon.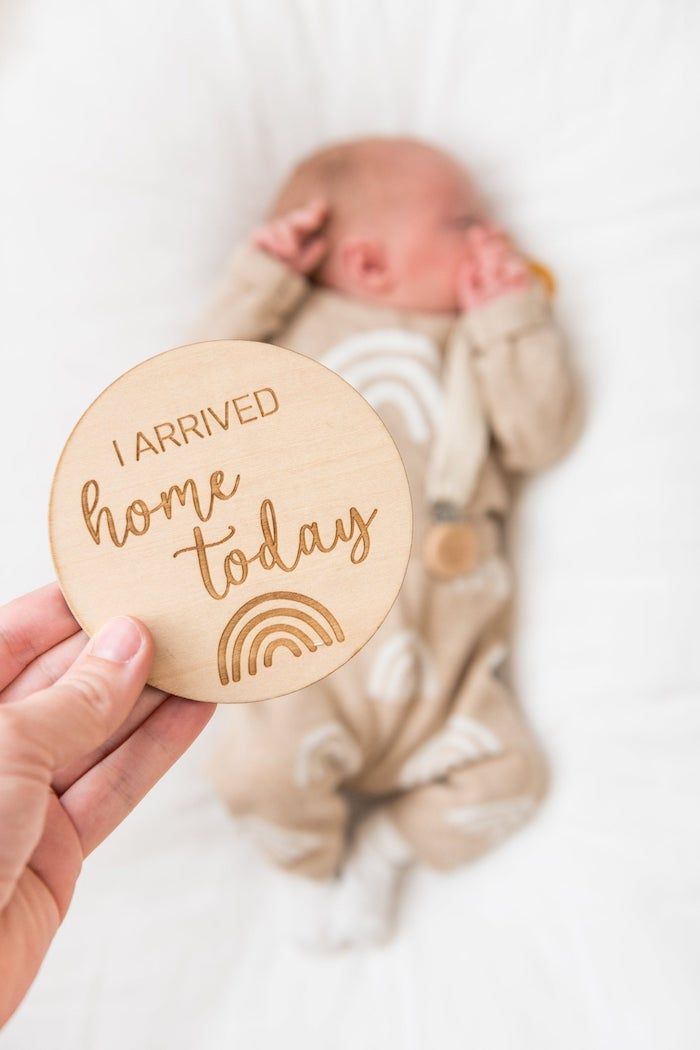 16. Milestone Markers
These Baby Milestone Wooden Discs are from Kiin Baby in Australia but Amazon also has a nice assortment. In addition to the classic month to month photo, there are also prompts like "Today I laughed" and "I took my first steps" which are great reminders to snap a photo or capture a video when you might not think of it in the excitement of the moment.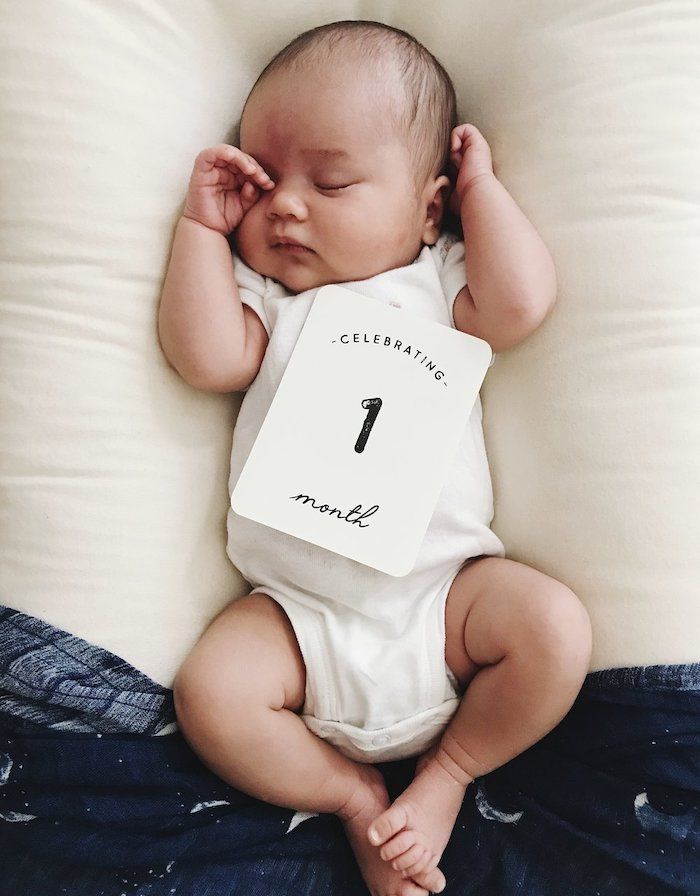 17. Baby Milestone Cards
Setting up for a monthly baby photo shoot is half the battle, but it doesn't have to be. Grabbing a cute milestone card from a deck makes things just about as simple as they can be. Now all you have to worry about is getting your babe to sit still enough to get the perfect shot. Get the Milestone Cards Amelia Collection Basic Black from Free Pancakes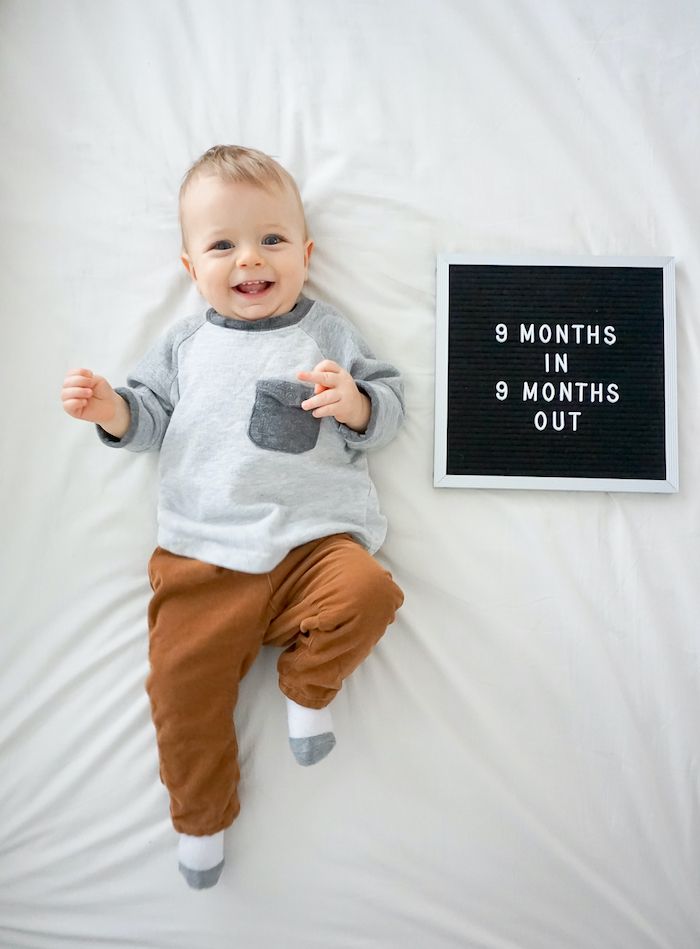 18. Letterboard Milestones
Letterboards have become popular decor in the last few years and it's easy to see why. They're fun, they're versatile, and they're ready for a good time any time. The only limitation is the quality of your dad joke game (and how well you keep the letter stash hidden from the hands of your curious kiddos). I found a similar 10 x 10 letterboard on Amazon.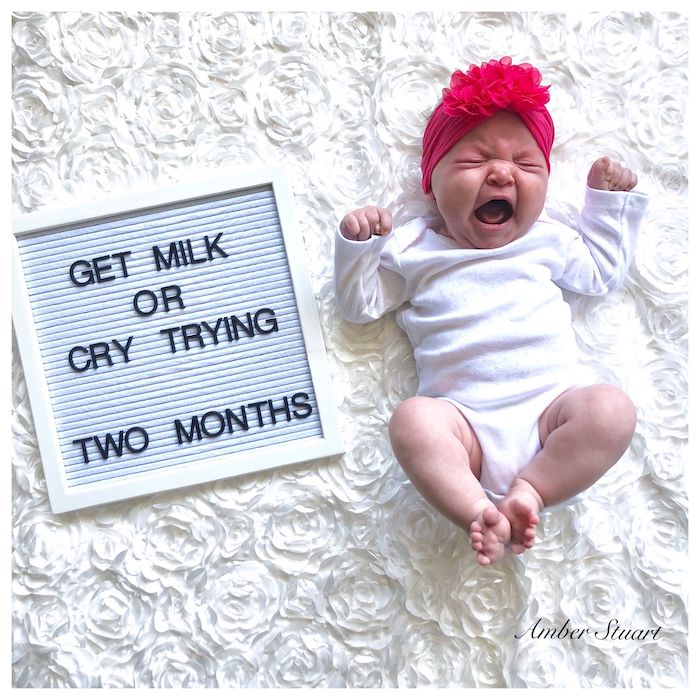 19. Letterboard Quotes
You have 30 days to come up with your next perfect pun. Get your thinking cap on and grab a similar 10 x 10 white letterboard on Amazon.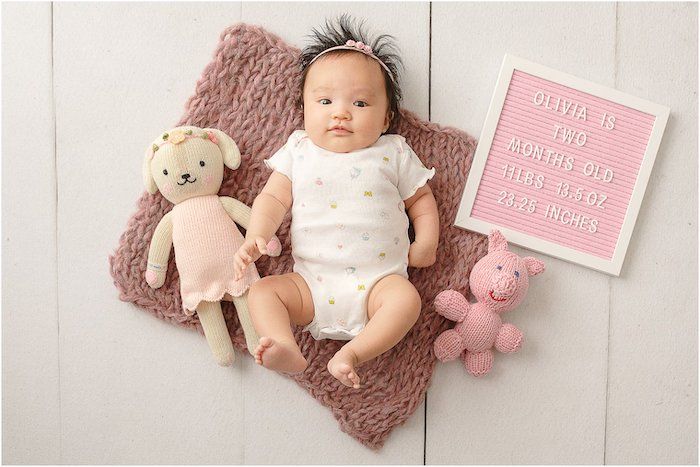 20. Think Pink
Another great thing about letterboards is that they often come in a variety of colors, sizes and shapes. You can also find different letters and emojis to really customize the look of your board. Amazon has a similar pink letterboard here.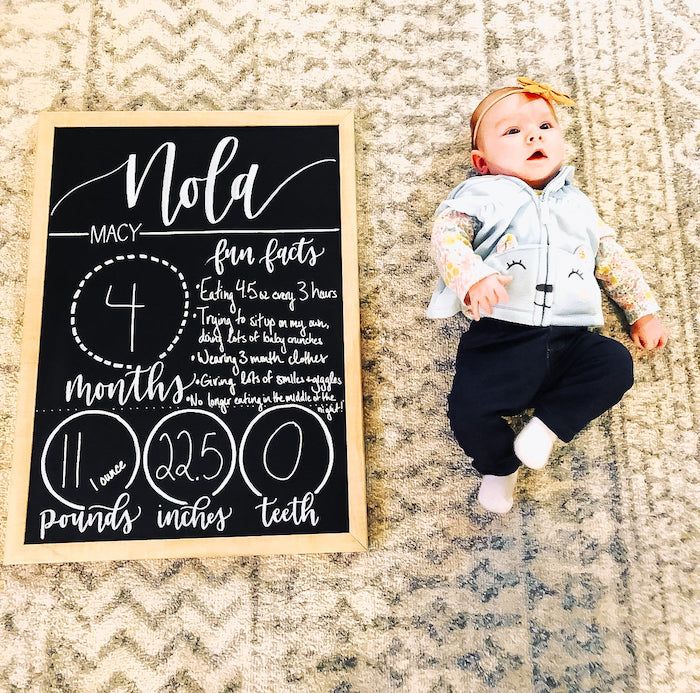 21. Chalkboards
Here's a hot parenting tip I must admit I learned the hard way: You think you'll remember every important thing your baby ever does, but if you don't document it somehow, you probably won't. A milestone chalkboard like this one from Adorning Oaks can help you look like you've got it together at least once a month, and for all the years ahead. These handpainted baby milestone chalkboards are done by Adorning Oaks.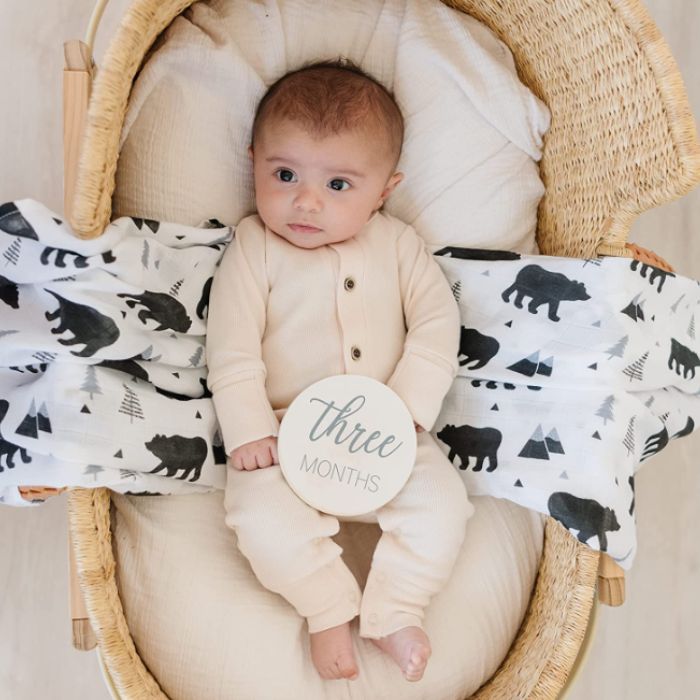 22. Moses Basket
These wooden milestone markers allow you to get a consistent look regardless of the angle you're using. I like how this new mom used a Moses basket to show a little scale for the context of her baby's age. You could even use a basket of laundry for this (You most likely have one around constantly with a new baby). This set is from Pondering Pine but Amazon carries a ton of options.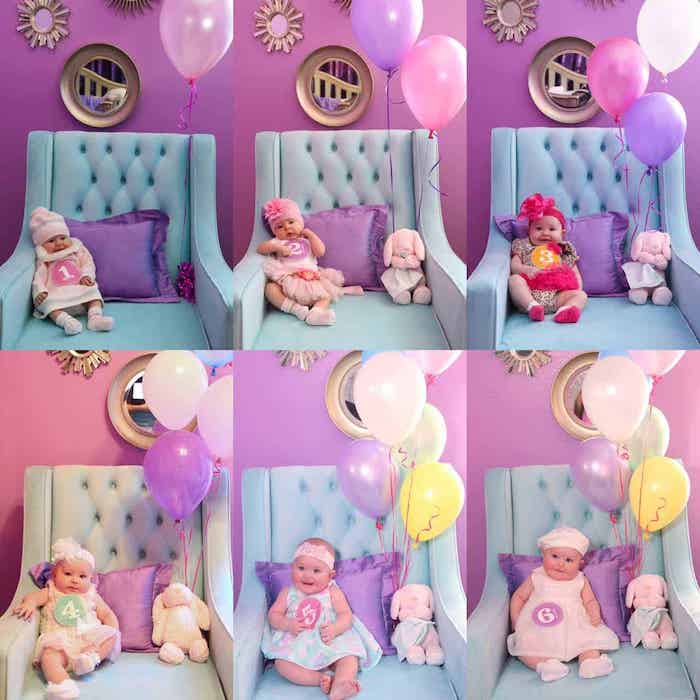 23. Balloon up
I don't know if there's a baby around who doesn't get a kick out of a balloon, so fill a few of those suckers up with helium and get snappin'. The real fun for your baby comes once they get into those double digit months.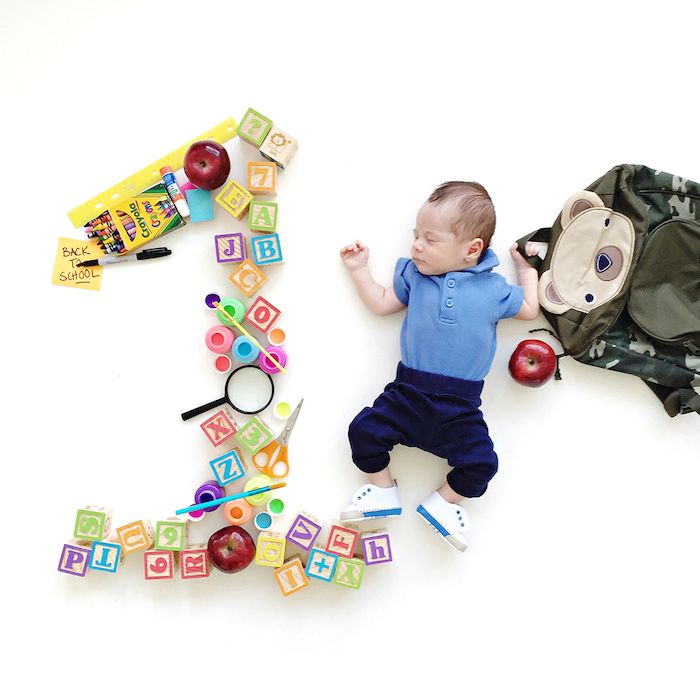 24. Numbers game
If you've got time, creativity, and a few great props on your side, making themed monthly numbers, like this "Back to School" 1 is a fun way to add a bit of oomph to your monthly milestone pic.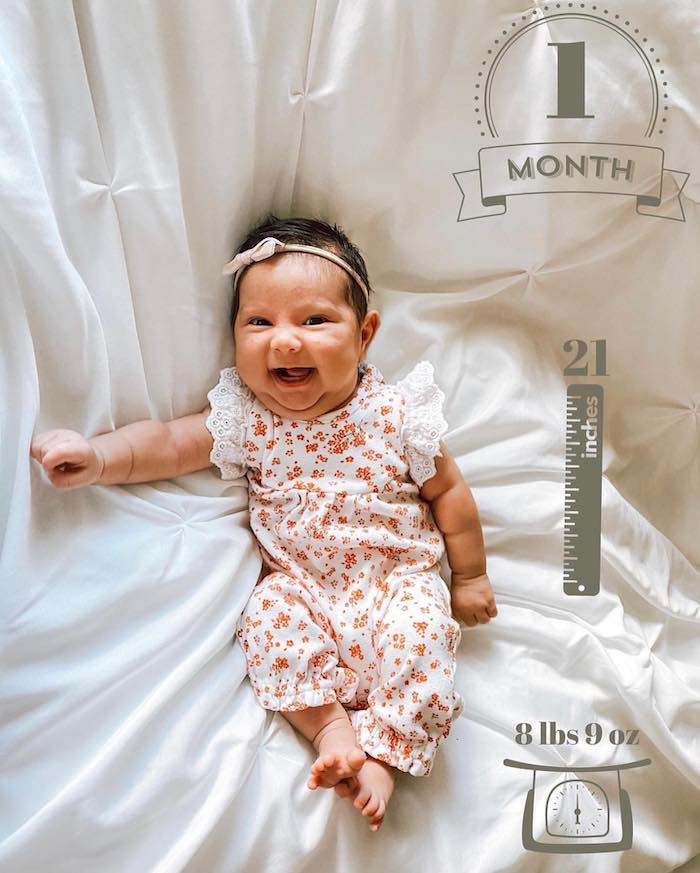 25. Apps
I always felt like the pressure was on when it was time to take monthly photos of my son, and often forgot altogether with my second born (oops). Download an app like Baby Pics and you can add monthly facts to any photo on your camera roll. Bam.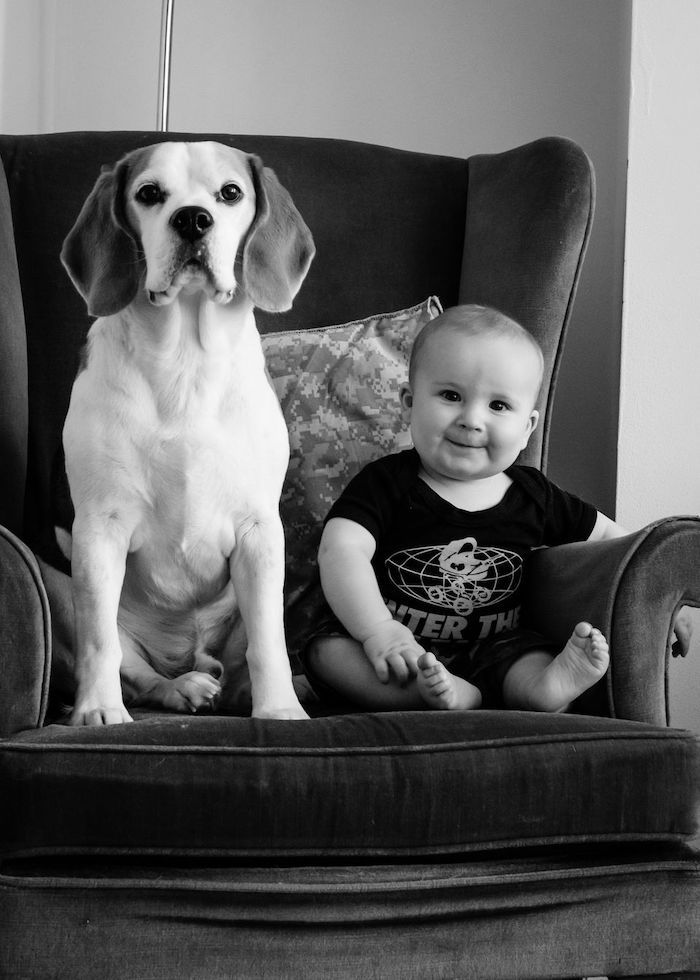 26. With The Family's Pets
If you're up for the challenge of getting two squirmy creatures to sit together and pose once a month, I think you'll agree that the adorable results are definitely worth the effort.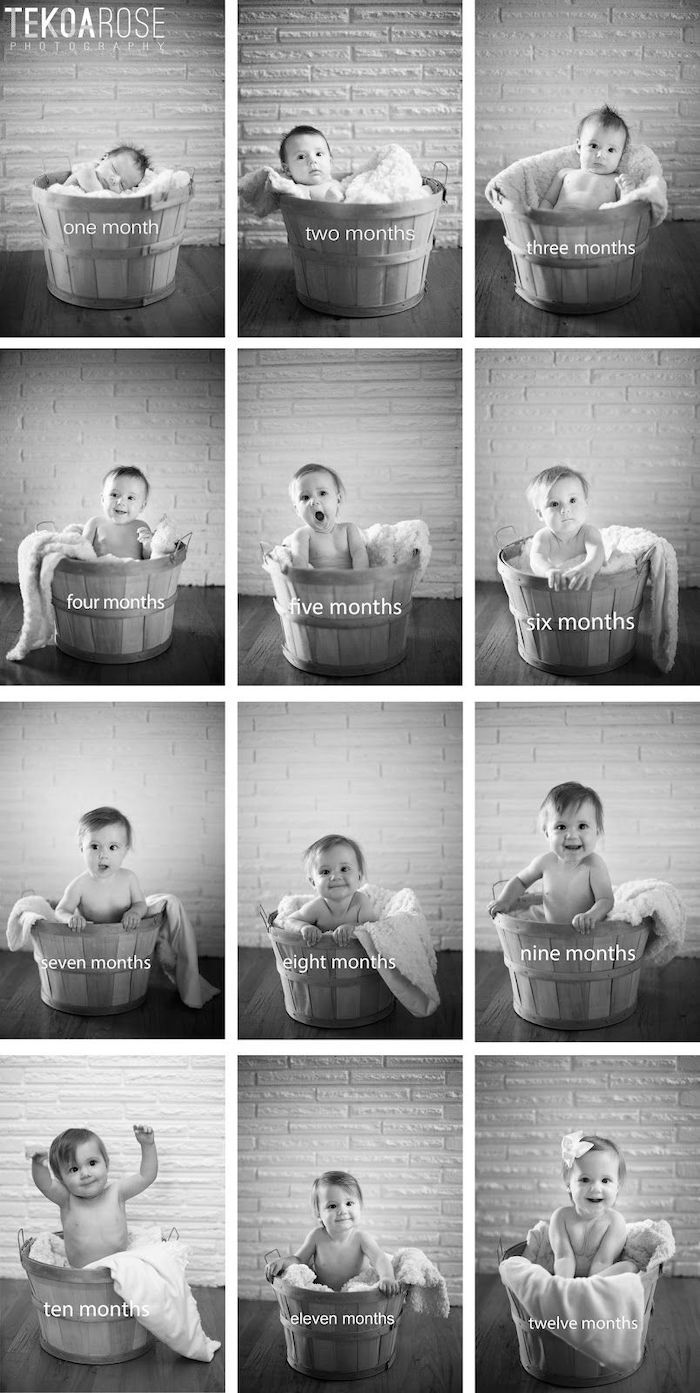 27. Baby in a Basket
Not only does sticking your baby in a basket make for a super cute picture, as an added bonus, it also keeps them contained…until they learn how to climb, at least. Superimpose the corresponding month over your photo with whatever editing app you like best, and you're set.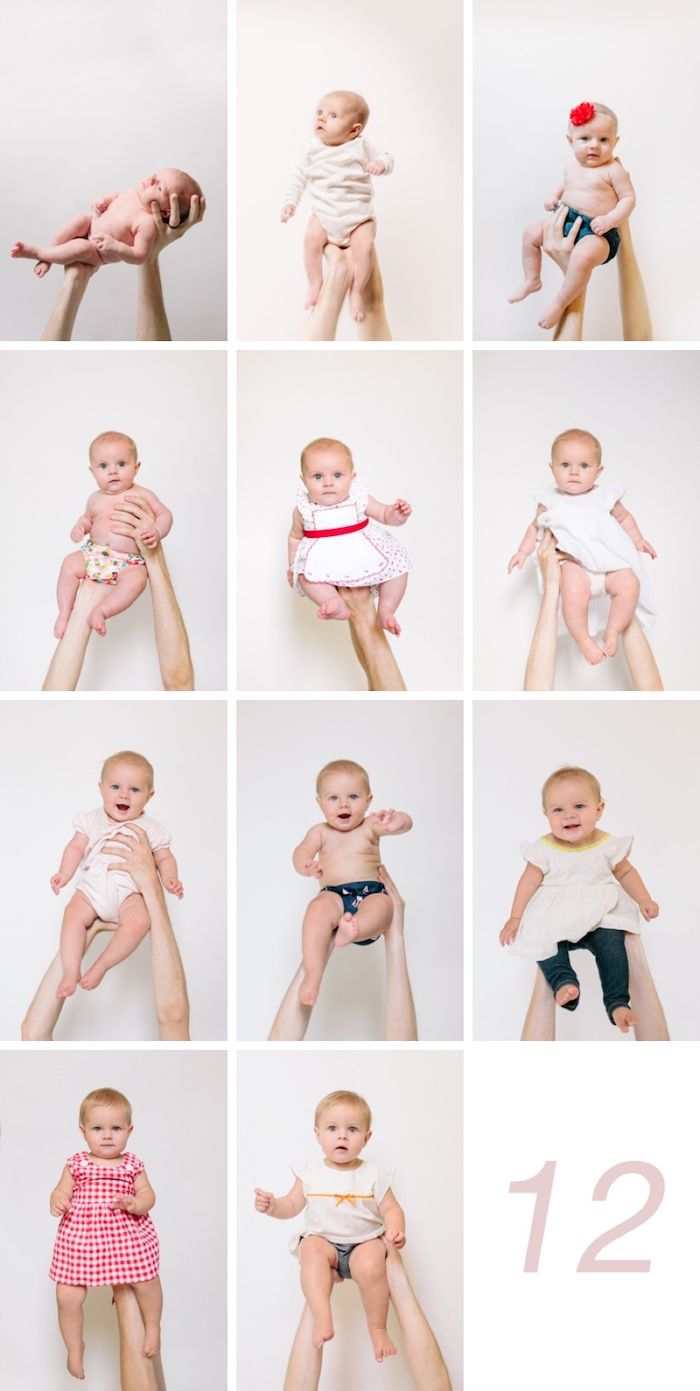 28. Hold up
Aside from the fact that there's something super satisfying about holding your baby up for the world to see, a la Rafiki in The Lion King, this is the perfect solution for getting your baby to look right at the camera before they can escape to crawl after the dog.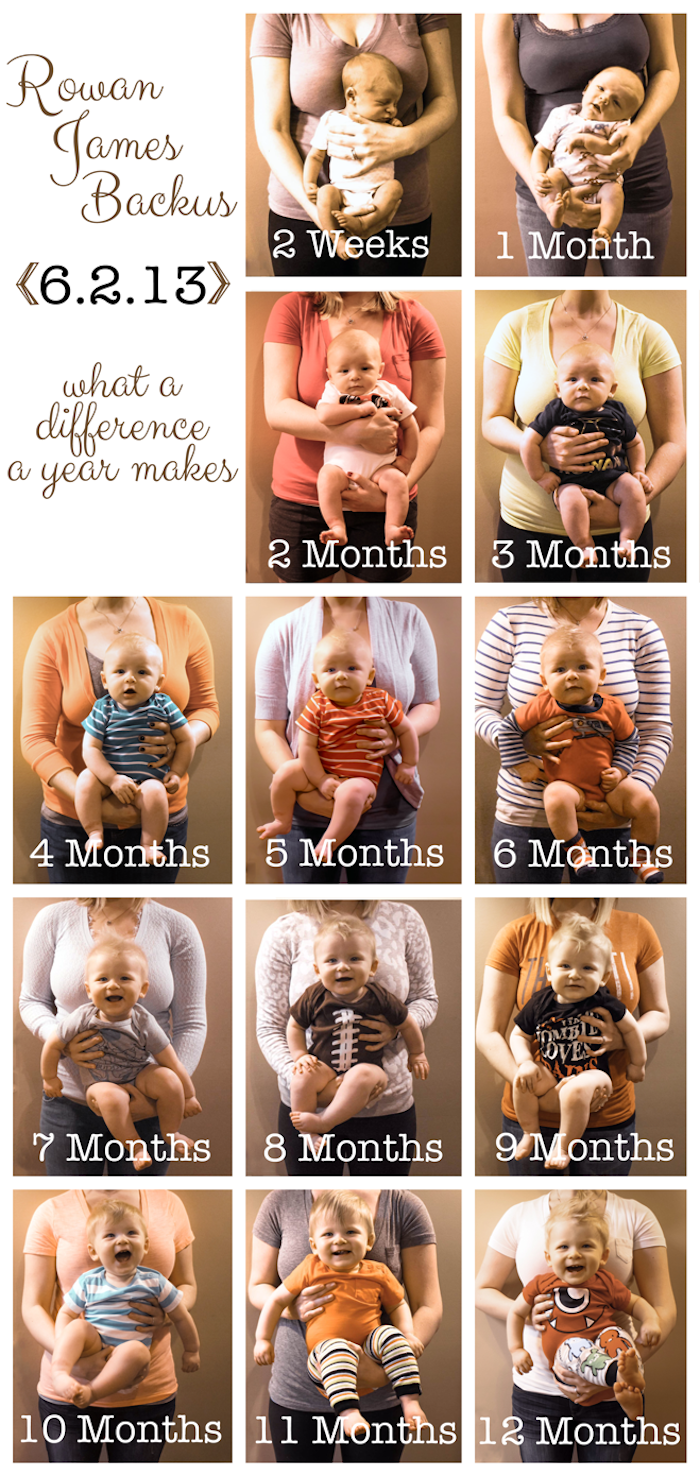 29. Parent Backdrop
For all the parents who lament about never having any pictures with their baby, but also lament about not wanting to get dressed up to take photos with their baby, this is a pretty good compromise. All jokes aside, this is a sweet way to capture photos of the two of you together as you grow and change over the course of your first year.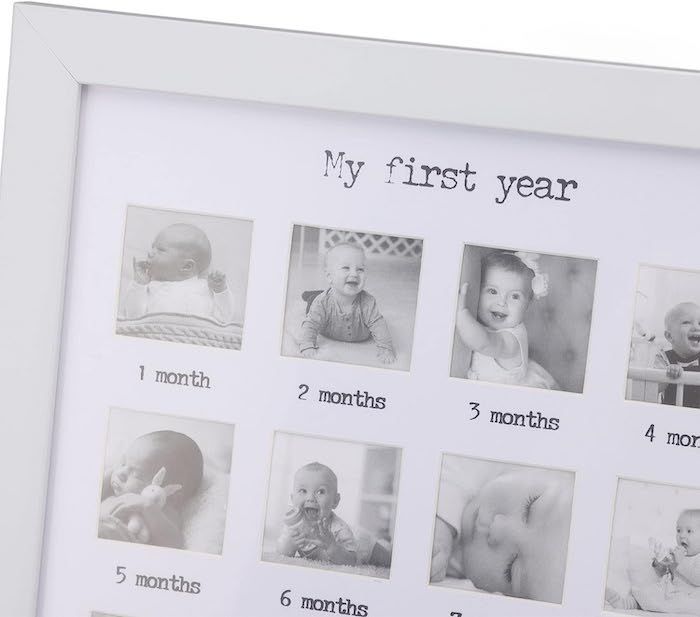 30. Black and White
If you're like me and you're just not coordinated enough to remember to get your baby in front of the same backdrop every month for a year, go ahead and get a photo frame that does the job for you. All you have to do is pick your favorite baby photo from each month of their first year, print it off and plunk it in the frame. You can get First Year of Life Frames on Amazon.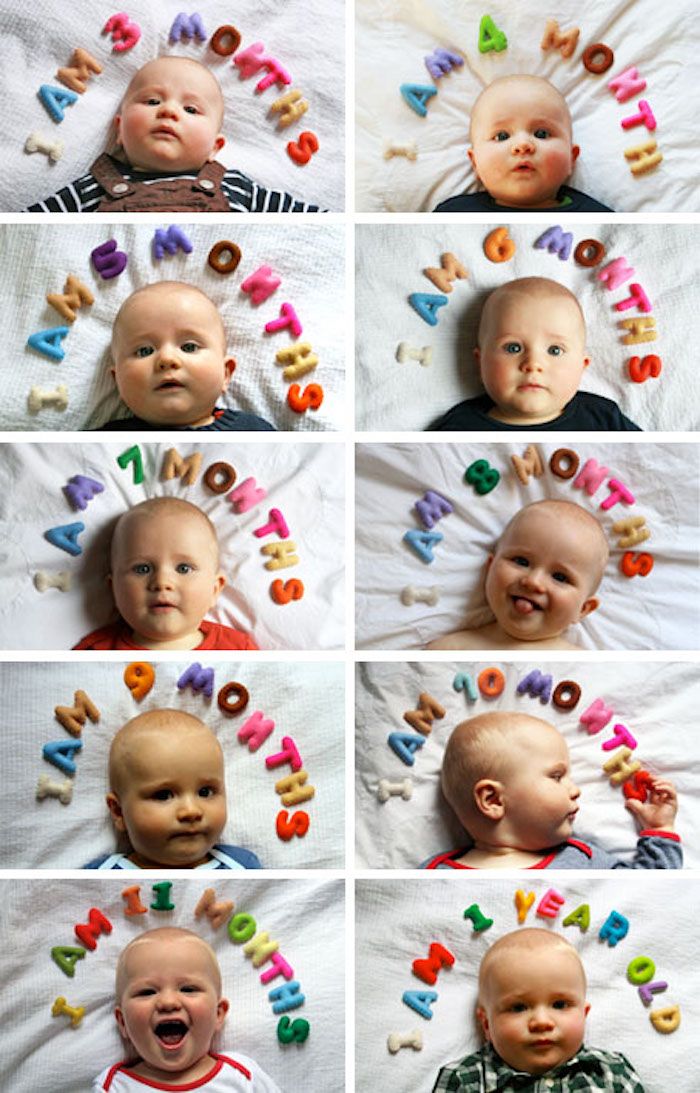 31. Spell It Out
Felt letters are a fun and colorful way to spell out the months of your baby's first year. You may have to move quickly to catch your baby's gaze before they realize that their head is surrounded by soft, rainbow-hued squishies, but it's too cute not to try.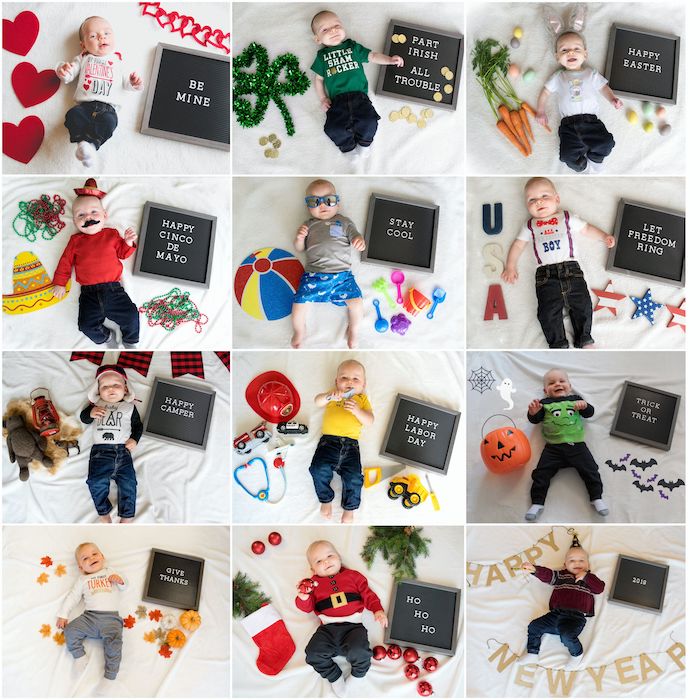 32. Seasons
If you wanna go all out with your baby's monthly pictures, there's really no better way to do it than by getting themed outfits, photo props, and sealing the deal with a carefully curated letterboard message. Hit up Easter eggs in, Christmas costumes, Halloween pumpkins and channel your inner professional photographer. Sure, it'll involve a bit more coordination and planning on your part, but it'll be worth the squeals when you share the photos or look back on them when your baby's all grown up. Check out 35 Best 'Baby's First Christmas' DIY Photoshoot Ideas for inspiration there too.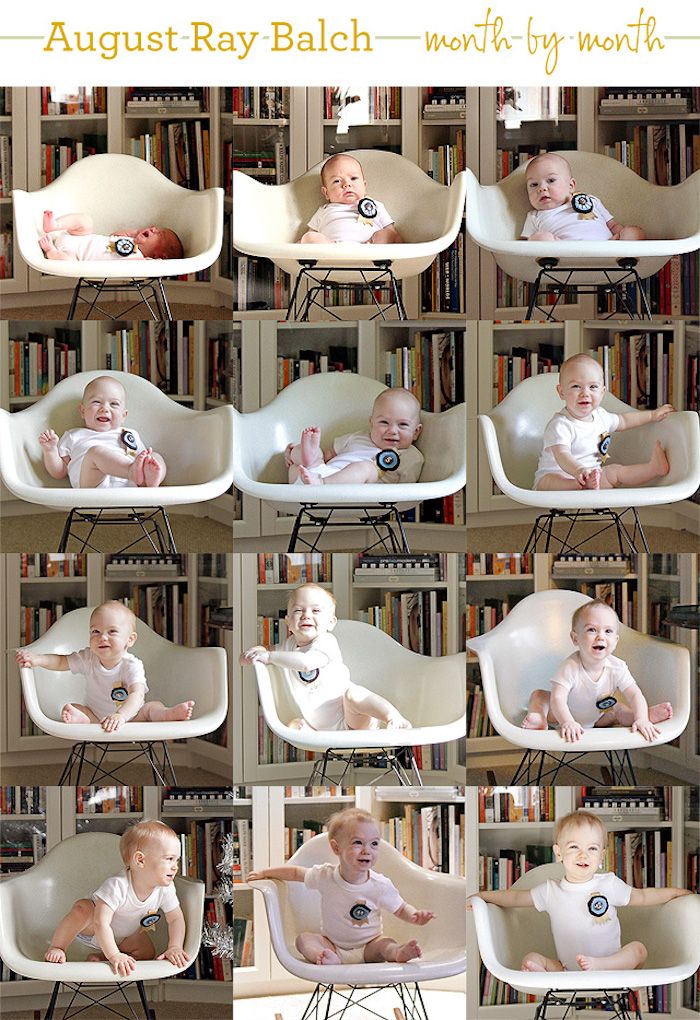 33. Sitting Pretty
Anyone who's ever been a baby or been around one has probably heard the phrase, "I remember when you were only this big!" Whether your babe has grown too heavy to sit on your lap or can finally sit upright on your favorite chair, it's pretty fun (and maybe a little heartbreaking) to keep track of how they start to fill up a piece of furniture over time.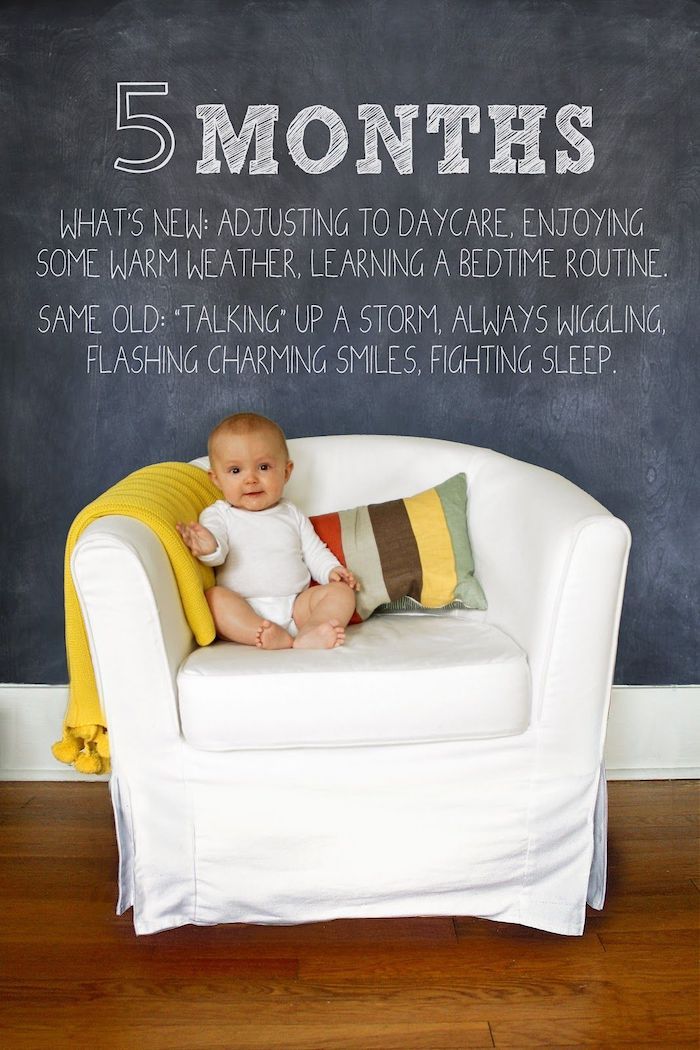 34. Chalkboard Wall
A chalkboard wall is the perfect backdrop to capture all the fun stuff your little baby gets up to each month. If you don't have access to the real deal, you could also find a dark wall and use your favorite photo editing software to get the same effect. It's really up to you whether or not to include milestones like "Flushing mommy's Airpods down the toilet" or to hope those memories fade over time.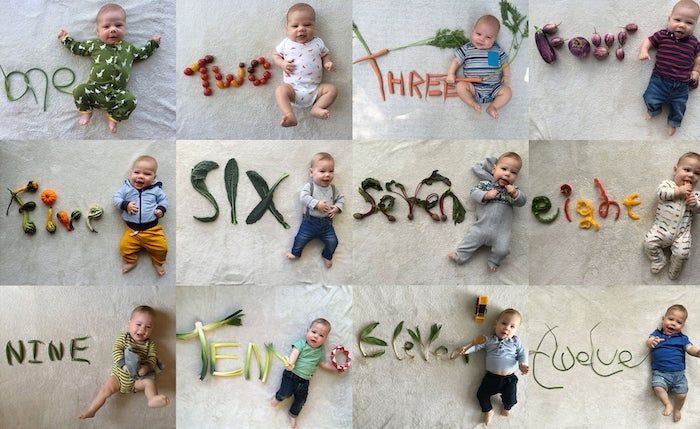 35. Veggies
Wondering what to do with all of those delicious veggies your kid refuses to eat? Why not repurpose them in a fun and beautiful homage to their monthly growth (and maybe another failed dinner experiment?) Ah, yes. I'll never forget the way he revolted against bok choi, but he sure was cute, wasn't he?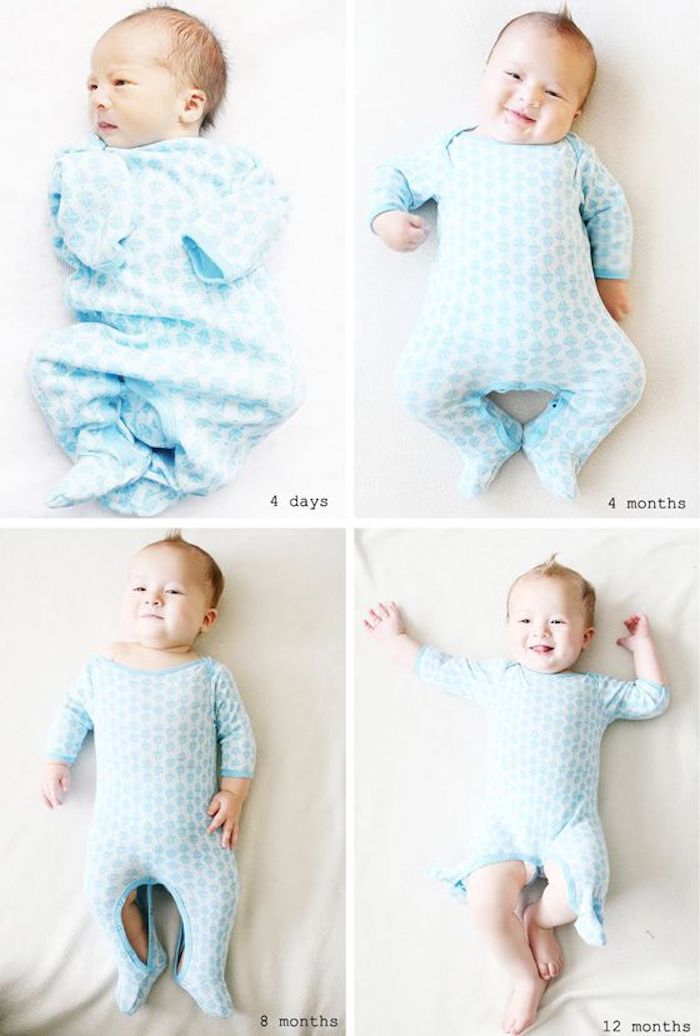 36. Same Sleeper
Watching your teeny newborn baby grow out of the adorable clothing that fit them once upon a time is an emotional experience for sure. Documenting them each month as they get a little bigger is a genius way to capture the experience and to get to see them in that favorite outfit a few more times.
Getting the perfect shot
With so many creative ways to capture the first year of your baby's life, it's no wonder why monthly milestone photos are so popular. Best of all, commemorating each monthly moment doesn't have to be a big deal or involve a lot of prep, making it easier than ever to jump in on the trend.
Grab a soft blanket, a couple of pillows and experiment with different angles to see what works the best. Natural lighting is alway the best lighting so set yourself up near a window where the light is hitting your baby (not behind them).
I also find setting the alarm on your phone or scheduling this shoot in your calendar helpful. It's amazing how time can get away from you when you're sleep deprived, and it's hard to recreate a three month old picture with an 8 month old.
Do you have Monthly Milestone Pics?
I'd love to see all your creative baby photoshoot ideas!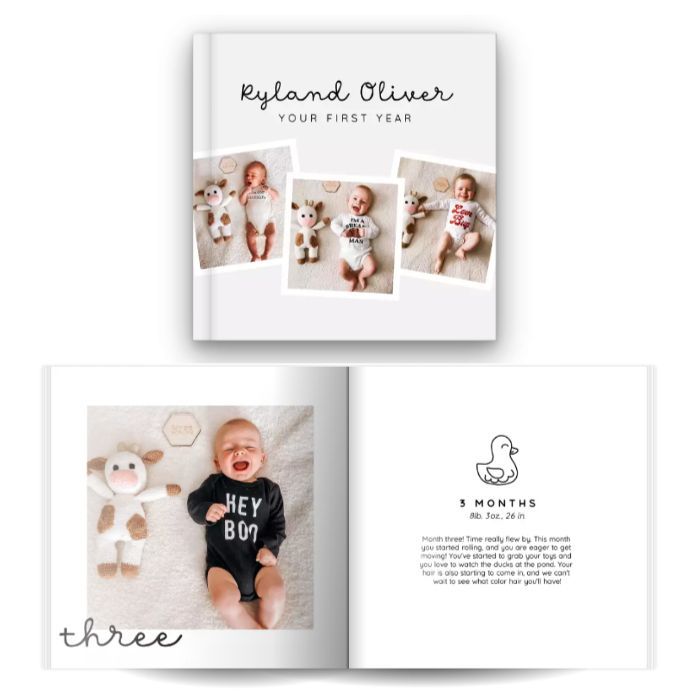 Don't forget the photobook!
This whole post was inspired by Mixbook and what you can do with your monthly baby photoshoot ideas. The book I have here is called Baby's Monthly First Year, but they have quite a few baby books if you want to check out all the designs.
These books are easy to put together and make a beautiful keepsake so these images aren't just sitting on your phone.
Be sure to use the code MIXPC50 to get up to 50% off Mixbook – sometimes, the promos they are running on the site are even better, so check them both. (see below for the nitty gritty.)
Get up to 50% off Mixbook with the code MIXPC50
50% Off $129+, 40% Off $99+ or 30% Off PLUS Free US & CA Standard Shipping on orders $70+: Free U.S. & Canada Standard Shipping applies to orders over $70 within the continental United States or Canada only.
This offer is only valid with coupon code MIXPC50.
Enjoy 50% off orders over $129,
40% off orders over $99,
or 30% off everything else.
Order must total $129 or more before discount, shipping and tax is applied to qualify for 50% off discount, or $99 or more before discount, shipping and tax is applied to qualify for 40% off discount.
This offer cannot be combined with other coupons, vouchers, Groupons, or applied after an order has been placed. 6×6 photo books are excluded from this offer. Discount applies only to completed projects. No adjustments on previous purchases. Taxes will apply. Offer expires 07/31/2023 (11:59 pm PT).
---
Also check out: Best Custom Photo Books for Every Type of Parent