Oh man, do I love naming. My dream job was naming lipstick and nail polish colors, that is until I became pregnant. Then my all time favorite thing to do was name babies. The only problem was my dumb husband weighed in with his opinion. "What do you mean you don't like that name?! That's the best name on the planet!" Once you mixed my hormones in with my outrage, you can imagine I was about as pleasant as a cat in a bathtub.
I scoured every book, and every site and crossed referenced it with Google searches to make sure we weren't naming him after a serial killer, Rhymezone to make sure my baby's name didn't rhyme with "mucous" or "twat." Domain registers to purchase their name as a .com so someone couldn't buy it and say horrible things about them when they were 17 (I read an article and went off the deep end).
It was a science I tell you, and a minor miracle we ended up with any names at all, let alone two we actually liked. So I thought that I might as well share my uptight tendencies with you in case you require a good baby name too.
Here are some of my favorite baby name websites:
Most sites break it down by category. Some are divided out in alphabetical order, and some let you select between boy names and girl names, and many offer options for gender neutral or unisex names if that's more your jam. Let's have some fun with baby name generators, shall we?
A feature that I love about this site is that if you search for a name, it gives you all the forum board results as well. So, you get a feel for what people are considering along with that name, middle name thoughts, variations, etc. I also like how they make the more popular baby names larger in search results. It's well organized and makes clear lists of things like celebrity baby names, unisex names, trends and more.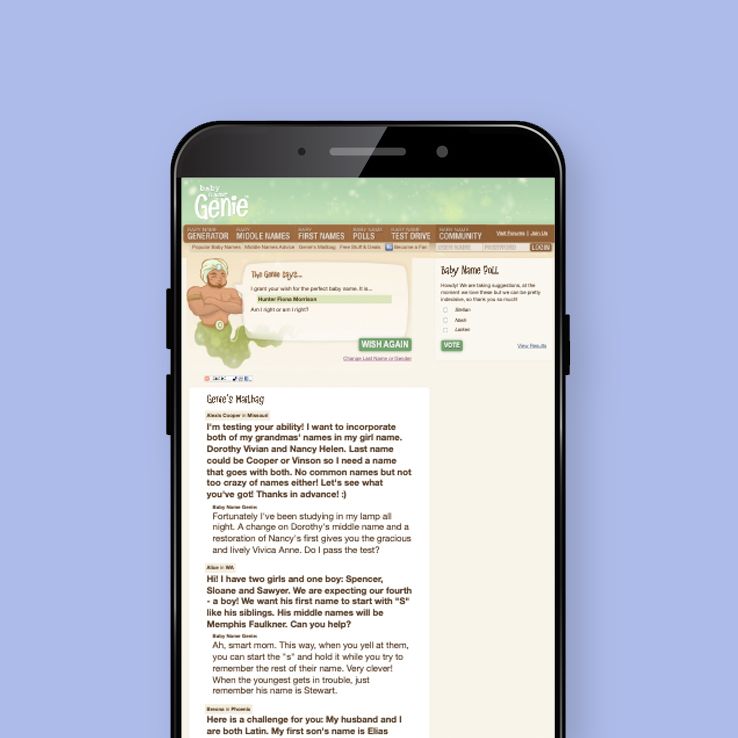 This site is fun. It's more for the easy-going set and not for the highly strung like me. There's a great name generator right at the beginning where you plug in your last name, toggle between male, and female or surprise me, and it spits out a suggestion. There's a fantastic middle and first name generator where you have either name decided on but need suggestions for the other. You can create a poll for your name so people can vote on which one they like best. Although, the thing I loved the most has to be the Test Drive feature. You plug in the name you're considering and it generates everyday situations where you'd use that name "Hello, Wellington Inc. this is Jacob" or "Hey Jacob. How are you doing?" I love it.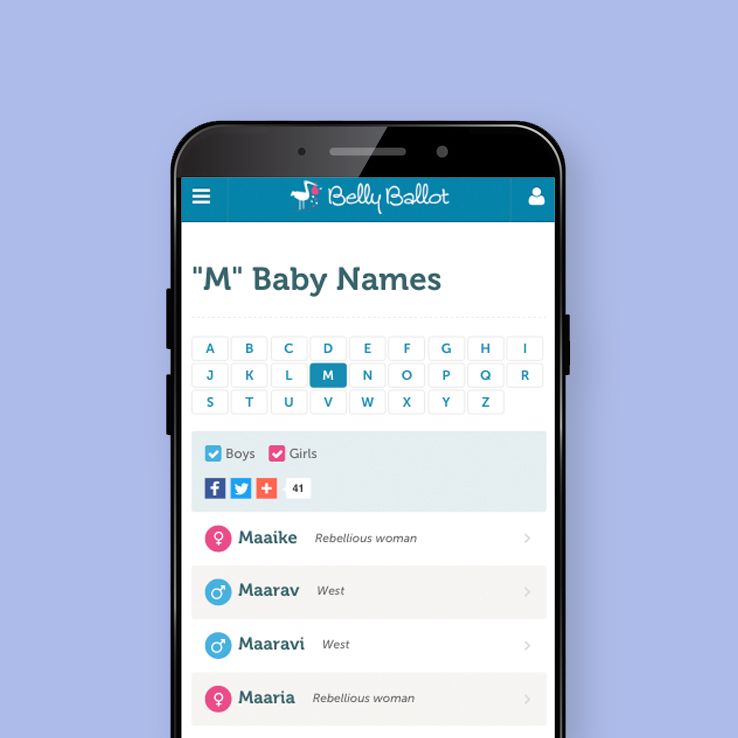 With this neat site you pick 5 favorite names for your BellyBallot, then you invite friends & family to vote on them. There's an extensive list of names, and you can get inspiration from several different categories, like nature names, top baby names from different decades, or even rockstar names. It looks like you can win stuff on this site too which is pretty cool. If nothing else, you can throw a name in there to poke the bear to get your family all riled up, like "Should we name the baby: Michael, Mitchell, Adolf or Atey-Eight?"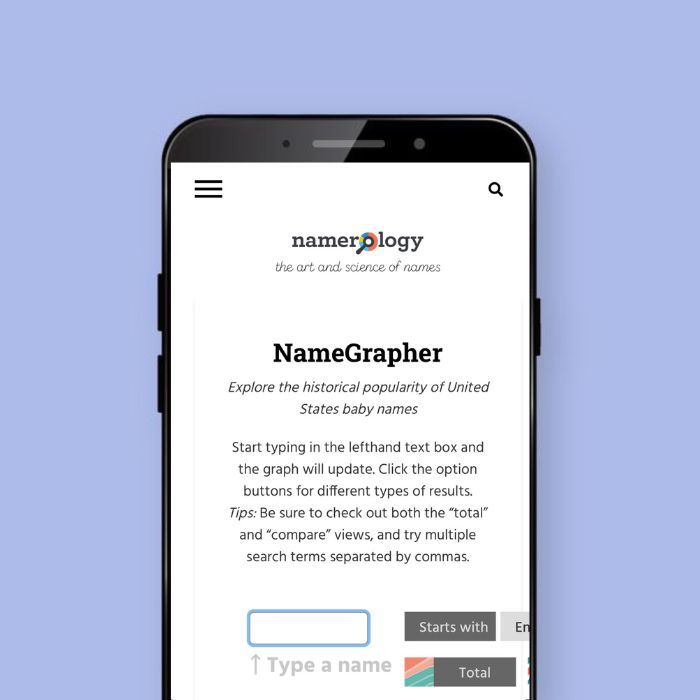 Namerology.com was created by the same person who founded (and sold) BabyNameWizard.com. Use the name grapher to see how popular a name is over time visually and the Baby Name Atlas to see how popular names are around the world. This site seems to work best on a desktop vs. mobile.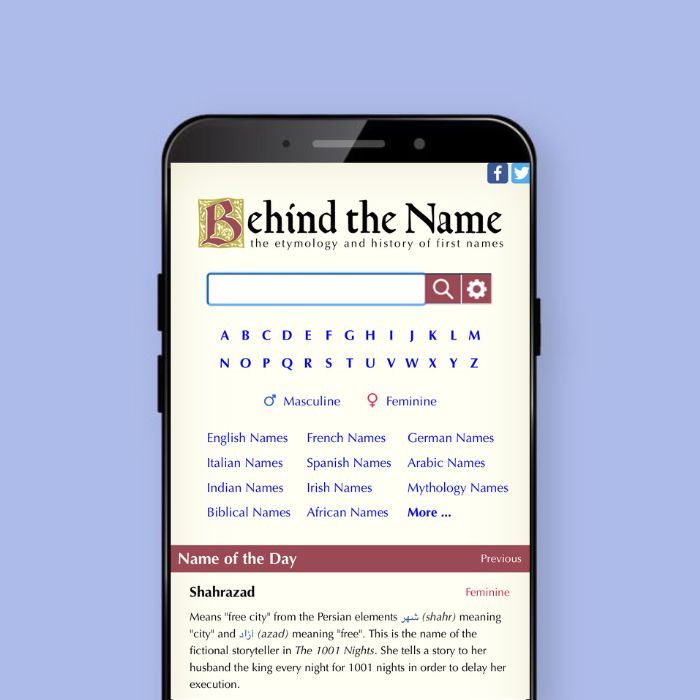 This site has some cool features, like a Random Name Generator where you can pick the letter, category, etc., and it will spit out a name (I really loved a couple of them). It also has all the names that were popular by year and country, along with some other tools to help narrow down your name choice.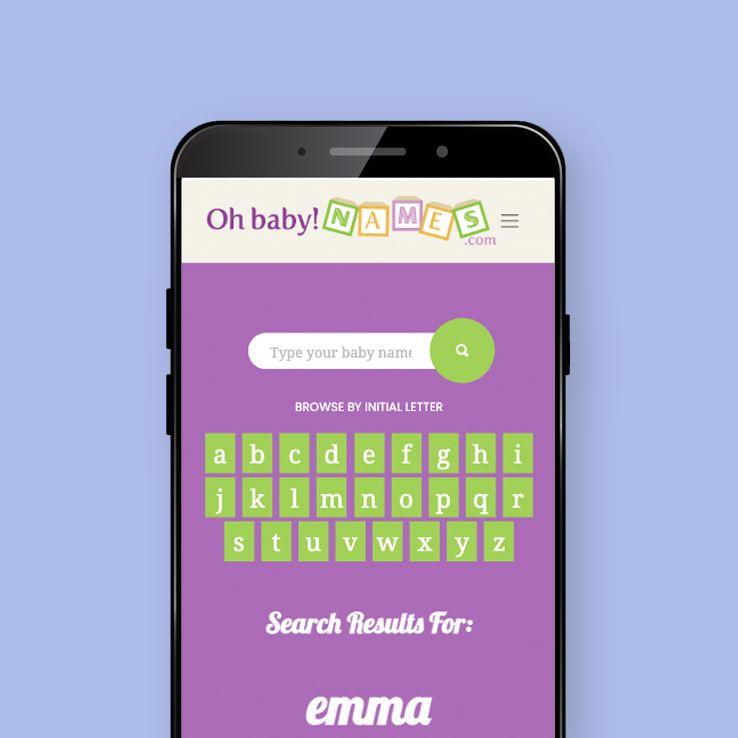 If I had found this site when I was pregnant, I wouldn't have left my office and would have been bottling my urine like Howard Hughes. It's got everything: popularity of names, origin, uniqueness, celebrity; you name it – all in an easily searchable format.
Each name has a breakdown that offers insight into the historical origin, popularity, famous people and/or their children, and historical figures, to name a few. I think one of my favorites, though is the cultural reference section. It lists all the literary characters, songs and children's books that include the name. Even if you've already named your baby, new parents can geek out and do a deep dive into every detail behind their perfect name. It's also a great place for gift inspiration if you're looking for something sentimental and meaningful.
And if you just need a little inspiration, it's easy to search, even just by the first letter of your possible name.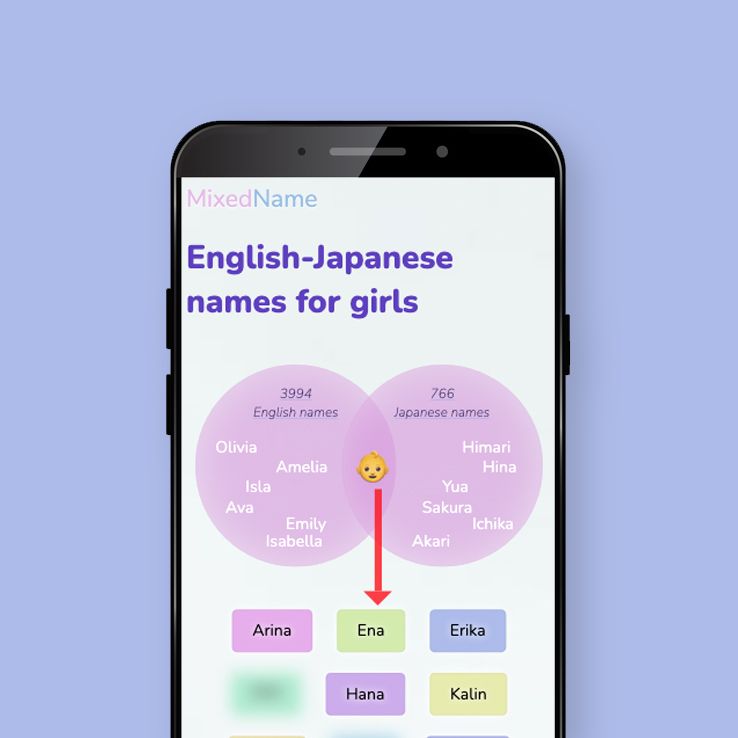 What makes this site original is it allows you to research bilingual names based off whatever two languages you'd like to blend. In addition to the usual worldly tongues, it also offers some fun options with Klingon and Dothraki, which, honestly, sometimes works! It also has a feature that allows you to blend two names, if blending your genes wasn't enough.
The basic option is free, and if seeing those fuzzed out boxes drives you nutty, you can upgrade for $10.
One quick note about websites – there used to be a really popular site called Baby Name Wizard that shut down, but now directs to a similar site.
As for baby naming apps…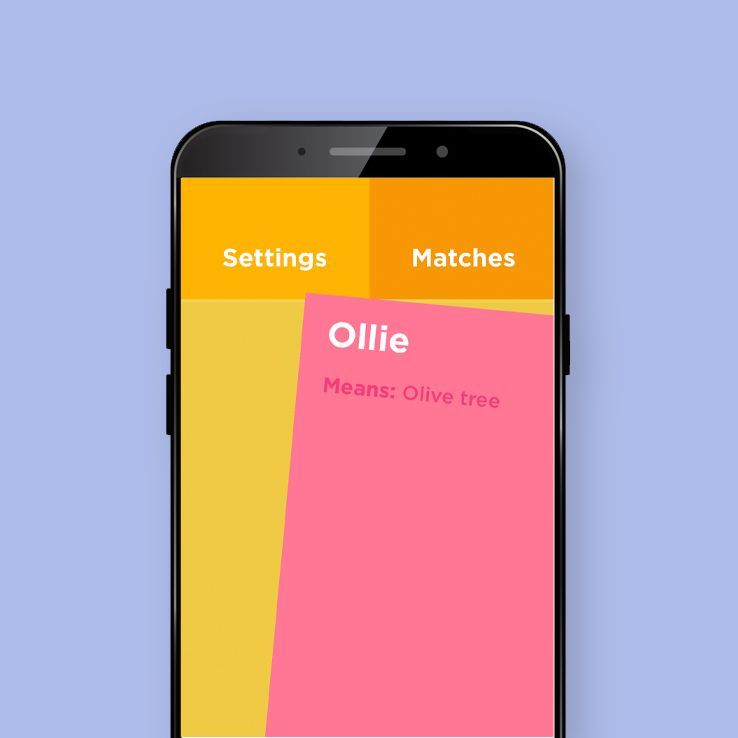 Basically the Tinder of the baby naming world, this app lets you and your partner swipe left or right on different names and then consolidates those you both like into a list. It's a fun and interactive way to explore names and maybe expose you both to one you love.
And a few ideas from readers for landing on the perfect baby name
Your favorite characters from a book, movie or TV show
The social security administration website
Maps (a few readers specifically recommended maps of Texas and Scotland)
Looking at your family tree or using something like Ancestry.com
Meaningful historical figures, musicians, or residents of your local cemetery (hey, you never know what will stick!)
Street signs
Movie credits
Name of the Day (a fun website that assigns a name for each day of the year)
Census name records from a certain time period
And last but not least, from a reader: "I found my middle boy's name on the 'winners' wall at a dart bar." Well played, ma'am. Well played.
Whether you're looking for unique baby names, popular boy names, top girl names, rankings, or even expert advice, there are tons of resources to help you come up with the perfect baby name. And if all else fails, waddle over to your local dart bar, and see what sticks.
Are there other fantastic baby naming sources we've missed?
Drop 'em the in the comments section below!
Our next recos: Ultimate List of Names for Grandparents