When it comes to bringing food to a new mom, sometimes it's hard to think outside the lasagna box. Yes, lasagna is delicious and easy to tote over, but casseroles and lasagna are the default meal for many, and there are only so many baking dishes one can store in their fridge or freezer. Not to mention, dinner is only one meal of the day, and in my experience, I was hungry roughly 23 hours of every day in the beginning.
Here are 15 simple meals to bring new parents to break up the casserole conga line:
Breakfast
Breakfast might not be the first thing that comes to mind when thinking about feeding a new family, which is exactly why you should consider making it your signature dish.
Muffins
Homemade or fresh from a local bakery (or Costco), muffins are both filling and tasty. Drop them off with some coffee, tea, or juice and you will be a breakfast champion.
Breakfast burritos
Delicious, versatile, and able to be scarfed down with one hand any time of the day or night. Split up the haul into portions of both fresh and frozen, and they'll be able to eat them for weeks to come… if they don't eat them all at once, that is.
Breakfast casserole
For those who want to make a casserole but want to stand out, this was mentioned several times as a hit with our readers.
Granola with yogurt and fresh fruit
Whether you use homemade or store bought granola, parfaits feel fancy and fill you up with good stuff.
Egg and Cheese bites
Protein packed, toddler-friendly, and can be eaten with one hand, these nutritious breakfast snacks require zero dishes and leave behind zero mess for the new parent. Unless you're a toddler, in which case you'll probably find them on your couch, your window and the cat.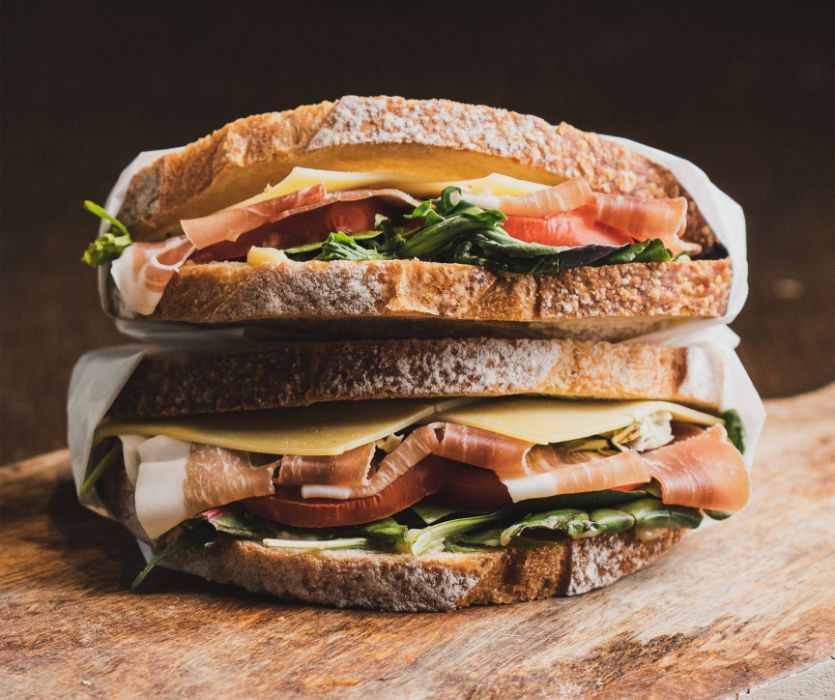 Lunch or Dinner
Of course any meal can be served any time of the day, but some of these are lighter, more lunch-y options if you're wanting to keep hunger at bay as they approach the one-two punch of Witching Hour and bedtime.
Pull apart quesadillas
Kid-friendly, easy to make, and can be filled with as much or as little as you'd like, these are basically cheesy cones of happiness. The fact you can eat them one-handed, and don't really even need more than a napkin are also huge perks.
Slow cooker meals
From dump and go recipes to frozen soups, these were brought up several times by our community. Dump it in the slow cooker in the morning and it will be ready to roll whenever they come up for air at dinner.
Stromboli or calzones
Good hot or cold, easy to eat with one hand, and can be filled with whatever ingredients the new parents prefer. Both offer everything you love about pizza without the mess or the giant box.
Empanadas
These are another pocket of deliciousness but with different flavor profiles than calzones. From savory stewed meats and veggies to sweet options like pumpkin or sweet potato, the sky's the limit with what you can tuck into these tasty treats.
Above average sandwiches and salad
Sandwich fixings received high marks in our community, as did really beautiful salads. If you're going this route, getting primo bread and toppings and opting for a salad that doesn't come out of a bag will make this meal stand out.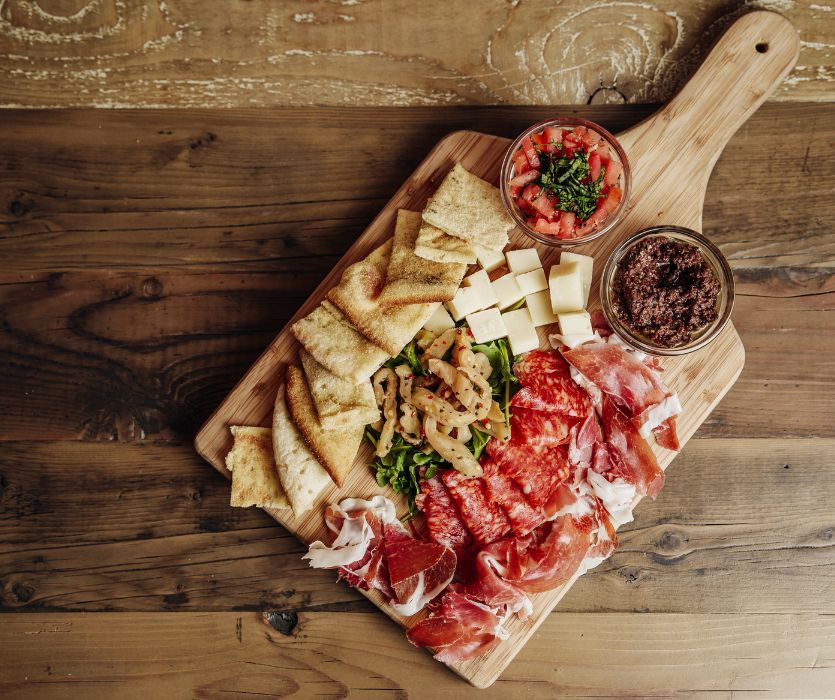 Snacks
Who doesn't love access to a plethora of snacks? Snacks are the perfect offering if you're feeling unsure of what to make, or if you just want to pull something together quickly that will make their day.
Pre-cut fruit and vegetables
This is so simple but also so brilliant. Great for parents who have run out of fresh stuff in the newborn haze and for toddlers who live on fruit and crackers. This simple offering is about as far away from a casserole as you can get.
Energy balls
There are 90,000 different ways you can pull these together, and they are great for about 90,000 different reasons.
Charcuterie board
Swing it by with a bottle of bubbles (or bubbly water if that's more their jam) and let them feel *fancy* with a board of snacks, crackers, cheese and anything else that would make a grown-up 'lunchable'.
Lactation cookies
Lactation cookies are really just cookies that contain ingredients like oats, brewer's yeast, and flaxseed which help with milk production.
Snack packs
Containers of nuts, a variety of bars, dried fruit, pretzels – really anything she can munch on with one hand and feel sated is key. Here's our post, 20 One-Handed Snack Ideas for New Parents for more inspiration.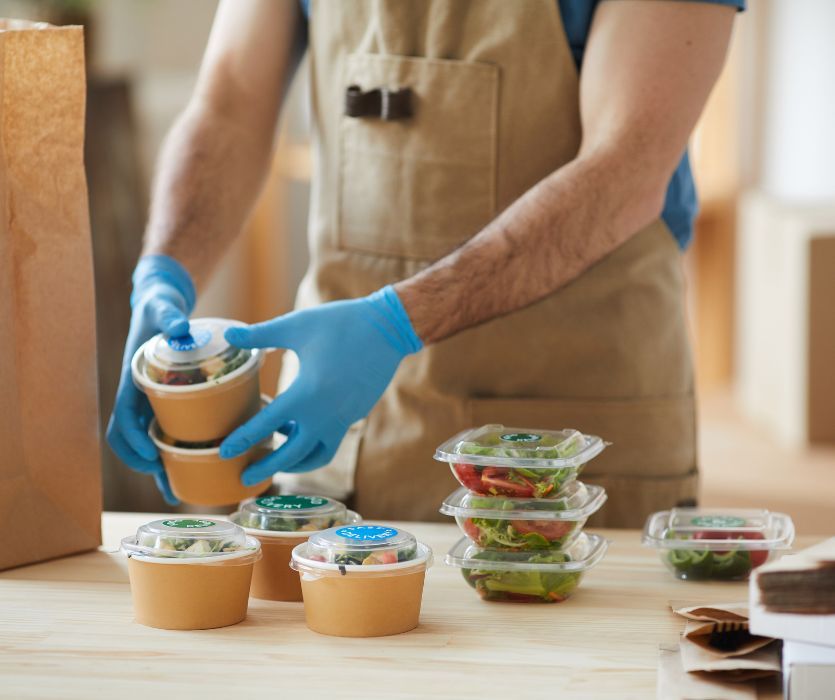 Ways to Feed a Family Without Cooking
You don't need to cook to treat someone to a meal. Take out from their favorite restaurant, Door Dash or Grub Hub gift cards, even a gift card for Amazon Fresh if they live somewhere groceries can be delivered – any of these are all helpful to new parents.
Proper Good makes good-for-you meals with clean label ingredients that are delivered right to her door. You can get 6 meals for under $40 and they are all shelf stable so she doesn't need to find fridge room. The oatmeals were my favorite.
There's also always dessert, which of course, can be made or can just be a tub of ice cream and a tray of cookies. Anything that says, "Hey, we're thinking of you, and here's some Rocky Road to cry into while you rock that baby for the 18th hour straight today."
There are a few other things to consider before you go full on Julia Childs:
Allergies or intolerances – is anyone in the house allergic to anything? This will influence not only what you make but also how you make it, depending on the severity of the allergy.
Dietary restrictions – are there any dietary restrictions? This is different from allergies, but very important to respect and/or disclose if you've cooked something only to find out they can't/don't eat a certain ingredient.
Picky kids – do they have toddlers or other kids in the house who may not be down with what you're making? It's fine to cook just for the new mom, but it doesn't hurt to come up with something the full family can eat.
Dishes – sending things over in disposable containers or a dish you don't need back can help reduce the mental load of them trying to remember what dish belongs to who. Pick up a baking dish or tray from the thrift store so they don't have to think about returning it.
Ease of prep and clean-up – the ideal dish is easy to prep and leaves little to no mess for the new parents to clean up after. Paper plates and napkins make a great gift to cut down on the clean up when someone is in the thick of those early days.
To Sum Up
There is no one-size-fits-all perfect meal. Certain things make a meal more or less desirable, though. Focusing on meals that are quick to prep and clean up after, are easy to eat with one hand, and don't add anything to a new parent's mental load (like returning a dish) are all major pluses when planning out what you're going to bring. Eating and enjoying them hot or cold is also a huge perk.
What would you add?
What's your go-to meal to bring to new parents, or what was something someone brought you you absolutely loved? Let us know in the comments below!
You might also like: 10 Thoughtful Gifts to Bring a New Mom