You can't measure what you can't see. 📊
As a business leader, you make a lot of important decisions that impact your enrollment and profitability. That's why it's important to regularly report on business performance to continually improve enrollment, marketing, and operations. 
With the right childcare software, you can use standard reports to quickly view performance and custom reports to get in-depth insights.  
In fact, our top performers use 4X more custom reports to get a deeper insight into business trends.
Uncover how to get this information at your fingertips, so you can make data-driven decisions to improve your business. 📈
The Impact of Consistent Reporting on Your Business Performance
Our survey revealed that many childcare businesses spend a significant amount of time each week (between 4-9 hours) compiling reports by hand. So how much time could you save if you automated your reporting? 
One company reported saving 8 hours per day when they started scheduling reports automatically using their childcare software.
With reporting, you can manage your business performance at-a-glance and track things like staff productivity, conversion success, lead sources, and family engagement by individual locations, regions, or at the corporate level. 
Download our report to get the insight that matters most. 📉
Best Practices for Regular Reporting
1) View key enrollment performance metrics.
In our survey, 37% of childcare professionals said that collecting and preparing data manually takes a significant amount of time and hinders their team's success. 
If you run a multi-center childcare business, it can be especially tough to keep track of how well your marketing, enrollment, and retention efforts are performing. You probably find yourself constantly texting, calling, or emailing staff for updates on leads, enrollments, and re-enrollments.
But even then, you might not get the answers you need. This can be frustrating for you, your directors, and your center staff. 
Built-in business performance reports help you see enrollment data in real-time to figure out what's working and what's not in your centers. Plus, you can review your marketing efforts to make them even better.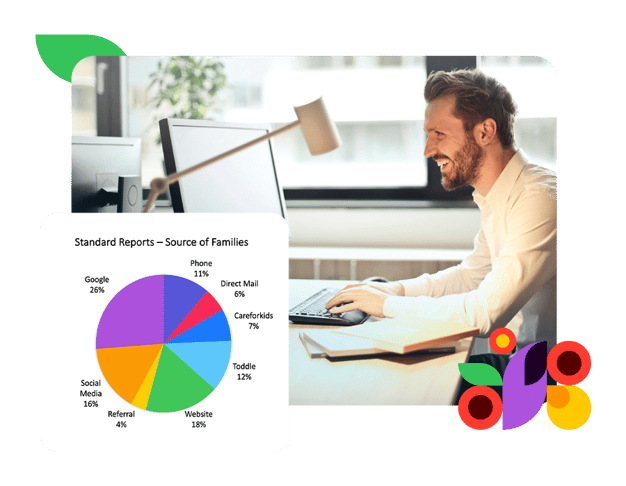 LineLeader: Example Source of Families report
2) Measure staff and family engagement.
Low staff engagement has negative consequences for both your workplace and employees. It leads to poor performance, high turnover rates, and lower satisfaction among staff. 
On the other hand, a highly engaged workforce can increase profitability by 36%. One way to track and improve staff engagement is to use childcare software that provides a Scheduled Task report. This report shows you how many communication tasks, like emails and phone calls, were completed by each staff member.
It also shows you how many meetings and tours each staff member conducted. Additionally, you can use a Time Tracking report to monitor staff hours and ensure they have enough time to engage with families. 
It's also important to focus on family engagement, as 76% of parents want to hear from schools at least once per week. One way to encourage, assess, and measure parent engagement is to use childcare software that includes digital surveys to gather parent feedback. You can also track parent reactions to developmental milestones and shared moments with an Activities report.  
3) Re-engage families who may need additional support.
Occasionally, families may need to drop out of your care due to unforeseen events such as illness, a move, or the loss of a job. It's important to periodically check in with these families to see if their circumstances have changed. 
You can use reports to build a list of families to reach out to and re-engage. Re-engagement campaigns are effective, as 45% of recipients who receive re-engagement emails typically read them. 
Send emails and text campaigns highlighting any changes you've made to your program or facility, or just update the families on center news and events they may have missed.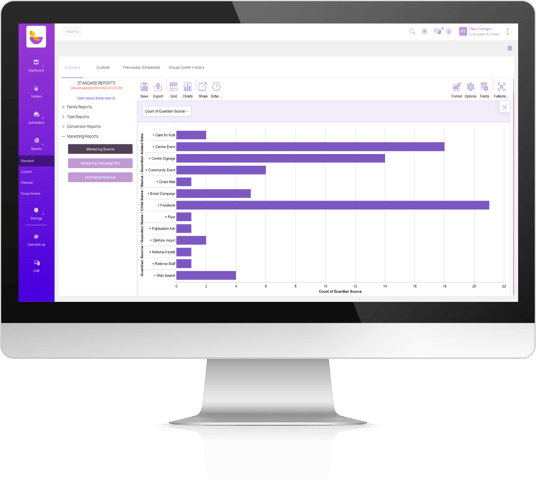 LineLeader: Standard reports
4) Forecast key financials for your business.
To easily understand your current and projected revenue and monitor billing, use childcare software to view financial forecasts with a Tuition Tracking report. Forecast for the future and plan ahead with an Estimated Revenue or Enrollment Forecast report.
These reports show the ratio between the dollar value of your enrollment funnel and upcoming revenue from lead conversions. Calculate center-level details for full-time enrollments, project classroom ratios, and forecast revenue for a future time frame. 
Improve your business performance in a matter of clicks! 🖱️
5) Give directors the insight they need to be successful.
In our survey, nearly 55% of childcare businesses spend between 4-9 hours per week compiling reports by hand. Automating reports can save time and improve efficiency. 
For example, childcare software can provide an automated Capacity Planning report, which shows the day-to-day availability within your center. This report combines children's schedules with classroom capacities. Automating this report and sharing it with directors and other staff members gives them real-time insights to optimize the experience for families and staff. 
Investing in your staff and family experience.
Understanding your business performance is only half the battle.
Save time, grow enrollment, and simplify center management with LineLeader, the first and only platform to offer full-featured customer relationship management (CRM) software, a family engagement app, and childcare management software (CMS) in one unified platform. 

Not a User Yet?
Schedule a demo to see the value of LineLeader reports, first-hand. 📊
Want to get hours back in your day? 
Download the benchmark report to get the insight you need to make data-driven decisions. 👩‍🏫
Additional Content Resources